Milwaukee Contested Divorce Attorneys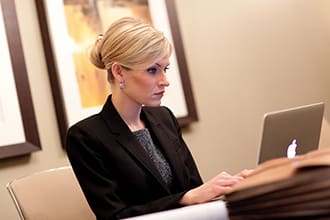 Join one of our experienced family law attorneys and learn about the divorce process, common issues, and participate in a Q and A session.
RSVP here.
Upcoming dates:
Tue, Dec 5 at 5:30pm
With
Attorney Mike Kyrios
Milwaukee Contested Divorce Lawyers at Sterling Lawyers, LLC
Legal Options that Work for You
There are three basic separation paths depending on your situation. If you're not sure what to choose or are ready to take the next step, call to speak with an attorney for case-specific advice.
Uncontested
Help from the Pros for Simpler Cases
Starting at $2750
Best when you both agree on most separation issues
Get help preparing the paperwork
Ask question at legally complex points
Have peace of mind with your settlement
Mediated
Greater Level of Help for Amicable Situations
$3,500 - $6,500/couple
Most amicable process for long-term harmony
Neutral mediation attorney guides you from start to settlement
Reduce conflict by deciding on property division and custody matters together
Fraction of contested divorce costs
Contested
When You Need an Advocate in Your Corner
$499/mo - $100,000
Best for adversarial relationships
Necessary if abuse, substance abuse, or violence is present
Your personal negotiation and litigation team
Critical when trust is an Issue
Family law cases, especially contested divorces, can be some of the most challenging experiences that a person can go through. We know that dealing with the complexities of a divorce can be overwhelming and stressful, and that is why we are here to help. Our team of experienced family law attorneys is dedicated to providing our clients with top-notch legal representation and support during this challenging time, so you can focus on moving forward with your life.
Highly skilled Milwaukee divorce attorneys can prove to be an invaluable asset when it comes to navigating the complexities of such legal proceedings. This is because divorces can often be emotionally charged and legally intricate, requiring a legal professional who can work tirelessly to ensure that the rights and interests of their clients are protected. Whether it's property division, child custody, or spousal support, a contested divorce lawyer can provide the legal k and guidance necessary to help their clients achieve the best possible outcome. So if you're facing a divorce, don't hesitate to seek out the services of a qualified and experienced attorney.
Our attorneys are well-versed in contested divorce cases and have a proven track record of achieving favorable outcomes for our clients. We understand that each case presents unique challenges, and we work closely with our clients to develop tailored strategies that meet their specific needs and goals.
When dealing with any case, our attorneys recognize that it is essential to maintain open communication with our clients. We keep our clients informed of all developments in the case, including any new information that may impact the outcome. We believe that this transparency is critical to building trust with our clients and ensuring that they are fully informed about their options.
We believe that it is in our clients' best interests to resolve issues through negotiation or mediation whenever possible. This approach can often result in a more cost-effective and amicable resolution. However, if litigation is necessary, we are prepared to vigorously advocate for our clients in court.
Our team of Milwaukee contested divorce attorneys is committed to providing our clients with compassionate and effective representation throughout the entire legal process. If you are facing a family law related issue, we encourage you to contact Sterling Lawyers to schedule a consultation with one of our experienced family law attorneys. We will provide you with a thorough assessment of your case and help you understand your legal options. With our guidance and support, you can feel confident that you are making informed decisions about your future.
For Immediate help with your family law case or answering any questions please call (262) 221-8123 now!
Frequently Asked Questions
What should I look for in a contested divorce lawyer in Milwaukee?
When searching for a contested divorce lawyer in Milwaukee, there are several key factors to consider. First, look for a lawyer with extensive experience in family law. They should have a strong track record of successfully handling similar cases. Additionally, seek a lawyer who is a skilled negotiator and litigator, as they will need to advocate for your interests in court if necessary. Communication is crucial, so choose a lawyer who is responsive and attentive to your needs. Finally, consider their approach and philosophy towards divorce, ensuring it aligns with your goals and values.
What are the benefits of hiring a contested divorce lawyer from Milwaukee?
Hiring a contested divorce lawyer from Milwaukee can provide numerous benefits. Firstly, they can help you understand your legal rights and options which can be confusing during the divorce process. Secondly, they can represent you in court and fight for your rights in case the divorce goes to trial. Thirdly, if you and your spouse can come to an agreement on your own, a lawyer can help you negotiate a fair settlement. Fourthly, an attorney can protect your interests including financial interests, property interests, and child custody rights throughout the divorce process. Lastly, they can provide you with emotional support during this difficult and emotional time.
How much does it cost to hire a contested divorce lawyer in Milwaukee, WI?
The cost of hiring an attorney in Milwaukee depends on your case's complexity and the lawyer's experience. Factors that influence the cost include the complexity of the case, the lawyer's experience, and their location. If you need representation in court, the cost will be higher than if you only need help with paperwork and negotiations.
Sterling Lawyers, LLC in Milwaukee is formerly known as 'Sterling Law Offices, S.C.'