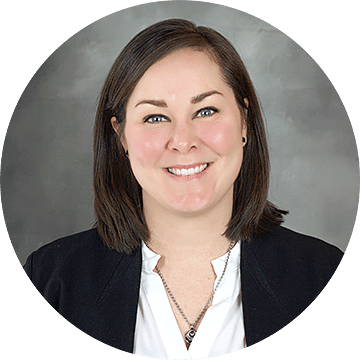 Practice Areas:
Divorce, Child Custody, Child Support, Mediation
Primary Location:
Milwaukee, WI
Experience:
Licensed Since 2017 (Wisconsin)
Licensed Since 2013 (Illinois)
Average Client Rating for
Ellen Rhodeman

About Ellen J. Rhodeman
(also known as Ellen Rhodeman, Ellen Justine Rhodeman, Ellen Grennier, Ellen J. Grennier, Ellen Justine Grennier)
As someone who grew up in the midst of a contentious divorce, attorney Ellen J. Rhodeman understands the toll it can take on families and their children. As a family law attorney, she enjoys helping people transition to the next chapter of their lives.
Divorce is not the end, but an important step forward and a chance for a new beginning. Ellen is there to make the transition as painless as it can possibly be.
Ellen currently practices in the areas of divorce, child custody, child support, and mediation. In the past, she has successfully won tricky and complicated cases for her clients. In particular, she was able to win a modification of custody of three children from their mother to the father. It was an emotional case, but she was proud to fight for a father who was so dedicated to his children. She also worked on a high-stakes child support cases. In one particular case, the father was earning over $250,000 annually, was hiding money, and deliberately not paying child support. Thanks to Ellen's tough stance in the courtroom, she was able to collect $90,000 in child support owed to the mother for her two children.
Ellen graduated from Washburn University School of Law in Topeka Kansas. During law school, she earned her Children & Family Law Certificate, worked in the Immigration and Family Law Clinics, and worked as a clerk for Cavanaugh & Lemon, PA.
Additionally, she was the student Editor-in-Chief for the ABA's Family Law Quarterly. She then moved on to work at Randall. A Wolff & Associates, Ltd, a general practice law firm in Chicago and Arlington Heights, Illinois where she was a civil litigator and specialized in Family Law.
The goal of any divorce is to make a successful transition from a hurtful and uncomfortable place towards a peaceful and exciting new chapter in life. During that transition, it is important to create realistic expectations, and Ellen's focus is on creating a workable solution that is tailored to her client's needs and families.
Ellen is compassionate and enjoys listening to her clients life stories, and when at one of the lowest points in their life, that is an important first step.
Are you ready to move forward? Call (262) 221-8123 to schedule a strategy session with one of our attorneys.
Ellen is currently married with two daughters and enjoys spending time with her family by taking her daughters to the library and swimming at Lake Michigan. When not advocating for clients, she enjoys local restaurants like Odd Duck or Comet Café, photography, playing cards, hiking, and yoga.