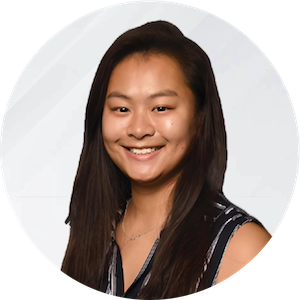 Practice Areas:
Divorce, Child Custody, Child Support
Primary Location:
Madison, WI
Experience:
Licensed Since 2023
Average Client Rating for
Jodi Chung

Attorney Jodi Chung is a dedicated attorney with extensive knowledge in family law. Through her vast experience and deep-rooted commitment, she brings a holistic understanding to the challenges faced by families, ensuring that they feel seen, heard, and valued.
Jodi graduated with highest honors from the University of Wisconsin – La Crosse in 2019, where she earned a Bachelor of Science in Sociology with minors in Psychology and Chinese Studies. Her keen interest in understanding societal inequities and human behavior led her to pursue this academic path. Jodi later graduated from the University of Wisconsin Law School in May 2023, where she not only completed her Doctor of Jurisprudence requirements but also graduated with a concentration in Labor & Employment.
Jodi's legal journey began as a law clerk at the Department of Corrections and later as a summer associate focusing on labor and employment litigation. One of her proudest accomplishments during law school was being elected to serve as a Co-President of the newly created and rapidly expanding organization, First Generation Lawyers. Through her leadership, Jodi was pivotal in building an environment that fostered mentorship and community, successfully expanding the organization to over 150 members. This experience showcased her dedication to creating supportive communities wherever she goes.
Throughout her journey, she has been recognized for her contributions, including being awarded the 2L Student of the Year Award by the Asian Pacific Islander Desi American Law Student Association (APIDALSA) and the Bruce Beilfuss Memorial Award for outstanding service to the law school. She was also inducted into the Pro Bono Society for her dedication to pro bono work. Apart from her notable achievements, she has been featured in media outlets like the State Bar of Wisconsin News and UW Law School's Gargoyle Magazine.
Are you ready to move forward? Call (262) 221-8123 to schedule a strategy session with one of our attorneys.
Jodi's journey to becoming an attorney is also deeply personal. As a product of the orphanage system and as an adoptee who moved to the United States at a later age, she recognizes the vital role of family and advocacy in shaping lives. Her prior experiences working with at-risk children, adults with disabilities, and impoverished family law clients have given her unique insights into the complexities of family structures. Outside the courtroom, Jodi cherishes time with her family and newborn nephew, her partner, and her two rescue tabby cats. Fall is her favorite season, and she enjoys outdoor activities, exploring breweries/coffee shops, and traveling to beautiful destinations like Prague and Taiwan.
Attorney Jodi Chung understands the intricacies of family dynamics and is fiercely committed to advocating for the rights of parents and children alike. If you're seeking a compassionate and relentless advocate, reach out to Attorney Jodi Chung for a consultation. Let her be the voice you need in your corner.

University of Wisconsin Law School
Doctor of Jurisprudence (2023)
Legal Technology Certificate
law.wisc.edu

University of Wisconsin – La Crosse
Bachelor of Science in Sociology (2019)
Minor in Psychology and Chinese Studies
www.uwlax.edu