Milwaukee Collaborative Divorce Attorneys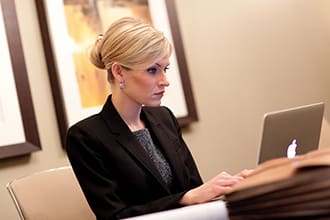 Join one of our experienced family law attorneys and learn about the divorce process, common issues, and participate in a Q and A session.
RSVP here.
Upcoming dates:
Tue, Dec 5 at 5:30pm
With
Attorney Mike Kyrios
Milwaukee Collaborative Divorce Lawyers at Sterling Lawyers, LLC
Legal Options that Work for You
There are three basic separation paths depending on your situation. If you're not sure what to choose or are ready to take the next step, call to speak with an attorney for case-specific advice.
Uncontested
Help from the Pros for Simpler Cases
Starting at $2750
Best when you both agree on most separation issues
Get help preparing the paperwork
Ask question at legally complex points
Have peace of mind with your settlement
Mediated
Greater Level of Help for Amicable Situations
$3,500 - $6,500/couple
Most amicable process for long-term harmony
Neutral mediation attorney guides you from start to settlement
Reduce conflict by deciding on property division and custody matters together
Fraction of contested divorce costs
Contested
When You Need an Advocate in Your Corner
$499/mo - $100,000
Best for adversarial relationships
Necessary if abuse, substance abuse, or violence is present
Your personal negotiation and litigation team
Critical when trust is an Issue
If you're looking for a skilled Milwaukee divorce lawyer, look no further than Sterling Lawyers. Our legal team is proficient in all aspects of family law and can skillfully handle all your legal needs. From child custody to child support and more, we have the knowledge to provide you with the best possible representation. Trust us to provide you with the high-quality legal services that you deserve.
At Sterling Lawyers, we understand that family law matters can be complex, emotional, and stressful. That is why we are committed to providing our clients with personalized legal solutions that are tailored to their unique needs and circumstances. Our collaborative approach to family law ensures that our clients receive the best possible outcomes, while also minimizing the stress and conflict often associated with legal proceedings.
Our team of collaborative divorce lawyers are dedicated to making the entire process as seamless as possible for our clients. We understand the emotional and financial toll that a divorce can take, and that's why we strive to make the process as painless as possible. Our extensive experience in this field has taught us that a collaborative approach to divorce is the best way to ensure that both parties achieve a fair and equitable outcome. We are committed to providing our clients with the highest level of legal representation, and we will work tirelessly to ensure that their interests are protected at all times.
Our attorneys are also well-equipped to handle complex child custody and support cases. We understand the importance of cooperation and communication during this delicate process and strive to find resolutions that work best for all parties involved. With our extensive knowledge of Wisconsin family law and commitment to advocacy, we ensure that our clients' rights and interests are protected in court.
In addition to our prowess in family law, Sterling Lawyers is also known for its excellent client service. We understand that legal proceedings can be overwhelming, which is why we make every effort to be approachable, responsive, and compassionate towards our clients. We take the time to listen to our clients' concerns and provide them with clear and honest advice that is tailored to their individual needs and goals.
We want our clients to receive top-notch legal representation at Sterling Lawyers. Our attorneys have extensive experience and knowledge in family law, making us one of the most trusted law firms in Milwaukee, Wisconsin. We are dedicated to delivering the best possible outcomes for our clients while providing compassionate support during legal proceedings. If you are looking for a trusted and experienced family law firm in Milwaukee, look no further.
For Immediate help with your family law case or answering any questions please call (262) 221-8123 now!
Frequently Asked Questions
What are the advantages and disadvantages of using collaborative divorce lawyers from Milwaukee?
Collaborative divorce is an option that can be quicker and less expensive than a conventional divorce. It also enables the restructuring of lives with respect. However, if the process is unsuccessful, both parties will have to find new lawyers and professionals, which will result in additional costs and delays. By working with attorneys in Milwaukee, you are able to travel in close proximity to your home and support your local business.
How much do collaborative divorce lawyers cost in Milwaukee?
The price range of an attorney can significantly differ based on several factors. To obtain an exact and practical cost estimate, it is advisable to reach out to a Milwaukee family lawyer.
Is using a Milwaukee collaborative divorce lawyer a good idea?
Using a lawyer in Milwaukee can be a beneficial choice for many couples seeking an amicable and cooperative approach to divorce. It is highly recommended by courts in every state for couples to work together to resolve disputes, as this can make the process much smoother. By working together, couples can minimize the time, expenses, and emotional stress commonly associated with divorce.
Sterling Lawyers, LLC in Milwaukee is formerly known as 'Sterling Law Offices, S.C.'