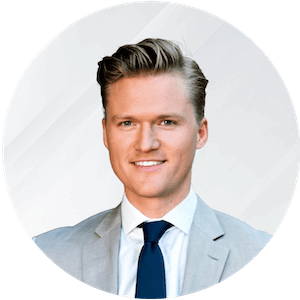 Practice Areas:
Divorce, Child Custody, Child Support
Primary Location:
Appleton, WI
Experience:
Licensed Since 2023
Average Client Rating for
Jack Braaten

About Jack Braaten
(Also known as Jack B.)
Jack Braaten is a dedicated family law attorney serving clients throughout Wisconsin's Fox Valley region and beyond. He received his law degree from Marquette University Law School, graduating in May 2023 and gaining admission to the Wisconsin Bar that same month.
Though new to practicing law, Jack brings a lifelong passion for helping families during difficult transitions. Both of his parents are seasoned family law attorneys, instilling in him from a young age the intricacies and rewards of this field. After exploring political science during his undergraduate studies at UW-Madison, Jack knew he wanted to follow in his parents' footsteps.
At Marquette Law, Jack immersed himself in every family law course available. Classes like Juvenile Law, Alternative Dispute Resolution, and a Child Protection Seminar confirmed Jack's calling. He found great fulfillment in learning creative ways to craft solutions tailored to each family's unique needs. Jack further developed his skills through Marquette's Volunteer Law Clinic, meeting with divorce clients to provide needed documents and resources.
Academically, Jack shined at Marquette, named to the Dean's List multiple semesters. He received three CALI Awards for the highest grade in Juvenile Law, Child Maltreatment, and Employment Law classes. Jack graduated with Pro Bono Honors for completing extensive volunteer service. These achievements demonstrate Jack's stellar intellect and work ethic that clients can rely on.
Professionally, Jack gained valuable insights clerking at reputable Wisconsin firms. At a previous firm, he assisted with family law, insurance mediation, and real estate litigation. As a clerk for the Department of Homeland Security, Jack researched complex search and seizure cases. These experiences helped Jack refine his legal research and writing abilities.
As an attorney, Jack strives to fully explain legal processes, so clients feel empowered. He knows family law issues are highly emotional, and he provides both practical legal counsel and compassionate support. Jack is devoted to achieving optimal outcomes through assertive negotiation while avoiding unnecessary litigation costs. When court is necessary, he argues skillfully for favorable rulings.
Are you ready to move forward? Call (262) 221-8123 to schedule a strategy session with one of our attorneys.
To destress and refuel outside of the office, Jack enjoys running, reading non-fiction, and spending weekends up north. Jack appreciates the diversity of experiences Wisconsin has to offer, from bustling cities to quiet lakeside towns, allowing him to balance small town charm with a thirst for adventure.
Jack Braaten delivers diligent representation to guide clients through divorce, child custody, and other family law matters. Let him capably protect your interests while providing caring counsel during this challenging transition. To learn more about how Jack can assist with your specific needs, schedule a consultation today.