Milwaukee Uncontested Divorce Attorneys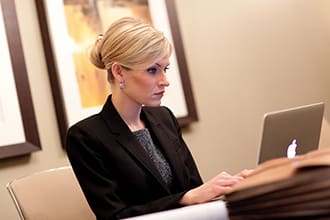 Join one of our experienced family law attorneys and learn about the divorce process, common issues, and participate in a Q and A session.
RSVP here.
Upcoming dates:
Tue, Dec 5 at 5:30pm
With
Attorney Mike Kyrios
Milwaukee Uncontested Divorce Lawyers at Sterling Lawyers, LLC
Legal Options that Work for You
There are three basic separation paths depending on your situation. If you're not sure what to choose or are ready to take the next step, call to speak with an attorney for case-specific advice.
Uncontested
Help from the Pros for Simpler Cases
Starting at $2750
Best when you both agree on most separation issues
Get help preparing the paperwork
Ask question at legally complex points
Have peace of mind with your settlement
Mediated
Greater Level of Help for Amicable Situations
$3,500 - $6,500/couple
Most amicable process for long-term harmony
Neutral mediation attorney guides you from start to settlement
Reduce conflict by deciding on property division and custody matters together
Fraction of contested divorce costs
Contested
When You Need an Advocate in Your Corner
$499/mo - $100,000
Best for adversarial relationships
Necessary if abuse, substance abuse, or violence is present
Your personal negotiation and litigation team
Critical when trust is an Issue
Getting a divorce is never an easy time in life, which is why you need an attorney that makes the legal process as streamlined and hassle-free as possible. At Sterling Lawyers, our team of uncontested divorce lawyers in Milwaukee, WI works hard to relieve your stress and navigate the complex divorce process quickly and simply.
When working with a Milwaukee divorce attorney, they take the time to thoroughly understand your unique situation and needs before providing you with a transparent quote for our legal services. Unlike other law firms that bill by the hour, our flat fee structure guarantees that you know precisely how much your uncontested divorce will cost. Our goal is to provide you with top-notch legal assistance that is both cost-effective and tailored to your specific circumstances.
With years of experience providing legal services to clients throughout the Greater Milwaukee area, we understand the challenges and difficulties that our clients are facing when it comes to filing for an uncontested divorce. We manage a high volume of divorce cases each year and strive to make the entire process as streamlined, straightforward, and affordable as possible for our valued clients.
Our professional divorce lawyers have extensive experience in uncontested divorces and can quickly and efficiently take care of the legal proceedings, like dividing property and debt, settling child custody and support, as well as alimony. Our objective is to make your divorce process effortless and fast, while guaranteeing a clear resolution for both you and your spouse. We strive to ensure that the settlement agreement reflects both your mutual decisions so that you can both move forward into the next chapter of your lives with confidence and peace of mind.
Here at Sterling Lawyers, we understand the financial burden that can be caused by a divorce. That is why we offer flexible payment plans to make our fees as achievable and affordable as possible. We want to help you reduce the stress of this difficult transition by removing any financial strain associated with it.
When you're making the important decision to choose a divorce lawyer, experience and a proven track record of success should be paramount considerations. The attorneys at Sterling Lawyers have already successfully helped thousands of individuals navigate through their individual divorce proceedings and achieve resolution on their desired terms.
If you are looking for quality legal assistance in an uncontested divorce and want to ensure that your legal team is focused on providing you with the best possible client care, then Sterling Lawyers is here to help. Our team of experienced attorneys will be more than happy to discuss your individual case as well as your goals, in order to determine if we are the right firm for you. We place a high value on personalized service and are committed to helping each of our clients navigate this difficult process with ease.
For Immediate help with your family law case or answering any questions please call (262) 221-8123 now!
Frequently Asked Questions
How long does it take to get an uncontested divorce lawyer?
The duration for finding divorce lawyer can vary greatly depending on the circumstances. It really depends on the effort of looking for an attorney and the resources you are using to find a quality attorney. Once an attorney is obtained, it can take as little as four to five weeks or as long as a year to finalize an uncontested divorce. The overall process usually takes between 3 - 6 months. However, it's not uncommon for a divorce to take several months.
What paperwork do I need to file with my uncontested divorce lawyer?
To initiate the divorce process, you will have to submit a petition or complaint and deliver it to your spouse. The document should clearly state your request for a divorce and include details regarding the division of assets and liabilities, child custody, and support. Your spouse will have the opportunity to respond to the complaint or petition.
Do I need to appear in court when working with an uncontested divorce lawyer?
Typically, there is no need for you and your partner to attend court proceedings.
Sterling Lawyers, LLC in Milwaukee is formerly known as 'Sterling Law Offices, S.C.'