Milwaukee Divorce Mediation Attorneys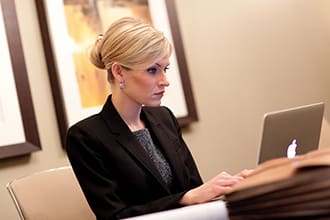 Join one of our experienced family law attorneys and learn about the divorce process, common issues, and participate in a Q and A session.
RSVP here.
Upcoming dates:
Tue, Dec 5 at 5:30pm
With
Attorney Mike Kyrios
Milwaukee Divorce Mediation Lawyers at Sterling Lawyers, LLC
Legal Options that Work for You
There are three basic separation paths depending on your situation. If you're not sure what to choose or are ready to take the next step, call to speak with an attorney for case-specific advice.
Uncontested
Help from the Pros for Simpler Cases
Starting at $2750
Best when you both agree on most separation issues
Get help preparing the paperwork
Ask question at legally complex points
Have peace of mind with your settlement
Mediated
Greater Level of Help for Amicable Situations
$3,500 - $6,500/couple
Most amicable process for long-term harmony
Neutral mediation attorney guides you from start to settlement
Reduce conflict by deciding on property division and custody matters together
Fraction of contested divorce costs
Contested
When You Need an Advocate in Your Corner
$499/mo - $100,000
Best for adversarial relationships
Necessary if abuse, substance abuse, or violence is present
Your personal negotiation and litigation team
Critical when trust is an Issue
For years, Sterling Lawyers has been the trusted source of assistance and counsel for Milwaukee families in navigating through complex divorce and family law issues. With our experienced lawyers operating in the greater Milwaukee area, we strive to provide personalized solutions to all our clients as they grapple with matters such as divorce, child custody, support, prenuptial agreements, and many more. We make sure that all our clients get access to top-notch legal advice that will help them move forward with their lives in a positive direction.
We strive to provide sound legal advice while also promoting peace of mind through transparency and clear communication. When emotional turmoil threatens to overshadow rational thinking, each Milwaukee divorce attorney works tirelessly to ensure every client remains well-informed each step of the way. As one of few exclusively family law firms in the area, we've honed our knowledge through years of daily practice.
We offer our clients the most effective legal solutions tailored to their unique needs! Our lawyers work closely with each client to develop personalized strategies that deliver the desired results. We're excited to say that we encourage alternative dispute resolution methods like mediation and arbitration, which not only minimizes emotional and financial costs but also facilitates a more amicable resolution. However, when litigation is necessary to protect our clients' interests, we're always ready to take bold steps. With our team of skilled attorneys, you can rest assured that your legal matters will be handled with the utmost care and attention.
Our team is committed to making family law accessible to everyone. Each of our Milwaukee divorce mediation attorneys understand that dealing with family issues can be stressful, which is why we prioritize prompt responses and flexible meeting options. Our transparent and reasonable fees ensure that everyone can receive the legal help they need. And if you're worried about finances, don't worry – we offer payment plans to help make things more manageable. With our client-focused approach, you can rest assured knowing that you'll receive the best possible service. We're excited to help you navigate the complexities of family law and achieve your desired outcome.
Sterling Lawyers practices a client-focused form of family law, focused on alleviating worry through solid advice, open communication, and a genuine dedication to our client's long-term well-being. Contact us today for a consultation regarding your unique situation. Our lawyers look forward to discussing how we might provide the guidance and peace of mind you need during this difficult time.
For Immediate help with your family law case or answering any questions please call (262) 221-8123 now!
Frequently Asked Questions
How much do divorce mediation lawyers cost in Milwaukee?
Divorce mediators usually charge for their services either by the hour or per session. The fee is determined by several factors, including the mediator's qualifications, experience, location, and the complexity of the conflicts. It is essential to note that the cost of divorce mediation is not solely determined by the mediator's hourly rate, but also by their competency, level of skill, and experience, as well as the thoroughness of the mediation process.
How to become a divorce mediation lawyer in Milwaukee?
To practice and become a divorce mediation lawyer in Milwaukee, an individual must obtain certification or court approval in their respective state, which necessitates completing 20 to 40 hours of mediation training. Mediation training typically begins with a 30- to 40-hour course, which can be taken either online or in person. After earning a mediation certificate, new mediators can gain practical experience by volunteering to resolve disputes in their communities or organizations.
How do I work with a divorce mediation lawyer in Milwaukee?
Divorce mediation is a process where both partners work together with the help of a neutral third party to come up with the best possible agreements based on their family's unique circumstances. Mediation sessions usually take place in an informal office or online. This approach can be less expensive than going to trial and can help couples reach agreements on various issues. To begin with divorce mediation, both partners must agree to participate and then find an experienced mediator.
Sterling Lawyers, LLC in Milwaukee is formerly known as 'Sterling Law Offices, S.C.'