Jefferson Military Divorce Attorneys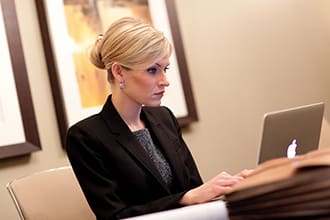 Join one of our experienced family law attorneys and learn about the divorce process, common issues, and participate in a Q and A session.
RSVP here.
Upcoming dates:
Tue, Dec 5 at 5:30pm
With
Attorney Mike Kyrios
Jefferson Military Divorce Lawyers at Sterling Lawyers, LLC
Legal Options that Work for You
There are three basic separation paths depending on your situation. If you're not sure what to choose or are ready to take the next step, call to speak with an attorney for case-specific advice.
Uncontested
Help from the Pros for Simpler Cases
Starting at $2750
Best when you both agree on most separation issues
Get help preparing the paperwork
Ask question at legally complex points
Have peace of mind with your settlement
Mediated
Greater Level of Help for Amicable Situations
$3,500 - $6,500/couple
Most amicable process for long-term harmony
Neutral mediation attorney guides you from start to settlement
Reduce conflict by deciding on property division and custody matters together
Fraction of contested divorce costs
Contested
When You Need an Advocate in Your Corner
$499/mo - $100,000
Best for adversarial relationships
Necessary if abuse, substance abuse, or violence is present
Your personal negotiation and litigation team
Critical when trust is an Issue
Going through a military divorce brings added complexities and challenges compared to civilian divorces. Between deployments, permanent change of station orders, and other logistics, pursuing dissolution of marriage while in military service often involves navigating intricate legal and emotional hurdles. Having compassionate Jefferson divorce lawyers can make all the difference during this difficult transition.
With so much at stake – from child custody to division of benefits – having an attorney well-versed in this niche area ensures your rights are protected while streamlining processes like asset division that can be more complicated in the armed forces. The legal knowledge and personalized support of skilled Jefferson military divorce lawyers alleviate stress, empowering you to make informed decisions regarding your future.
Finding Your Footing During the Turbulence of Military Divorce
Our team of dedicated family law attorneys understands the nuances involved when service members go through divorce. We simplify the process as much as possible, while still ensuring favorable outcomes for clients. With extensive experience specifically helping those in the military, we handle factors like out-of-state issues, pensions, and child custody between deployments efficiently.
Our attorneys focus on relieving the pressures and worries for clients. We minimize legal jargon, clearly explaining intricate policies and rulings so individuals feel empowered. Successful negotiations and personalized attention provide reassurance during an already challenging time. Our experience in handling military divorces of all types allows us to effectively serve in this uniquely focused area of law.
A Personalized Plan for Your Goals
Every military divorce case has its own specific needs and goals. We invest time upfront to understand your situation, goals, and concerns before providing transparent quotes and service options tailored to you. Whether you need aggressive litigation or more amicable dissolution assistance, our flexible representation options and fixed fee pricing prevent unwanted financial surprises while getting you the high-quality legal help required.
We realize divorcing while serving your country comes with uncertainties and complex factors. Our attorneys' military experience provides us insight to handle concerns appropriately and discreetly. By taking the time to understand each client's unique goals, we deliver individualized counsel to ease the process within military guidelines and requirements. The personalized attention optimizes satisfaction and empowers service members pursing divorce.
Seasoned Navigation Through Complex Family Law Cases
With years of experience representing military members and families, Sterling Lawyers has the knowledge to smoothly handle divorces specific to armed forces personnel and veterans. We understand the intricacies these cases frequently involve, such as retired pay division, overseas proceedings, and child custody between deployments. Our knowledge allows us to efficiently educate and assist clients pursuing dissolution.
Our dedication to an expedited process does not mean sacrificing excellence. We handle documentation, court appearances, negotiations, and settlements proficiently so service members can finalize their dissolutions promptly and affordably. Even when litigation is unavoidable, our substantial experience enables us to effectively make arguments on our clients' behalf, providing the means to pursue positive outcomes in military divorce cases.
Smoothing the Turbulence of Legal Proceedings
The attorneys at Sterling Lawyers understand the urgency of minimizing disruptions for those serving our country. Our military divorce lawyers aim to reduce delays and maximize swift resolutions so you can sustain readiness. We simplify complex military pension divisions and interstate custody disputes, ensuring a smooth transition for clients.
Knowledgeable on state and federal laws regarding the military, our legal team works diligently so cases proceed quickly through necessary steps like asset distribution and child arrangements. Skilled negotiation helps foster mutually beneficial agreements between parties to avoid unnecessary litigation in military divorce cases. With your best interests at heart, our lawyers work to secure the outcome you seek in an efficient manner.
Ongoing Support Through All Family Law Matters
The effects of a military divorce extend well beyond the initial legal proceedings. Factors like alimony modifications, custody arrangement changes, or retirement benefit alterations often arise later on. Sterling Lawyers recognizes life changes, and we continue supporting clients even after their divorce is finalized.
We help clients navigate alimony adjustments if circumstances warrant adaptions. Our team guides military families through child custody modifications associated with relocations or deployments. We also assist veterans in understanding changing retirement disbursements at the time benefits commence. These are just some examples of our comprehensive assistance. We offer the ongoing legal insights to help you thrive in your new future.
Choosing the Right Co-Pilot for Your Journey
Selecting a knowledgeable military divorce attorney is key to reaching a fair outcome while maintaining personal well-being. An experienced lawyer understands the complex legal process and unique custody concerns. They have familiarity with state and federal laws pertaining to dividing military benefits. This leads to smoother case proceedings and greater peace of mind.
The focus is securing positive arrangements involving property division, spousal and child support, and other critical divorce aspects. An attorney well-versed in military dissolutions will protect your best interests while abiding by armed forces guidelines. Their advocacy enables you to avoid preventable setbacks during an already stressful time.
In Jefferson, the military divorce attorneys at Sterling Lawyers leverage substantial knowledge to serve clients with understanding and efficiency. Our proven track record demonstrates an ability to successfully traverse the intricacies military members and spouses face when dissolving a marriage. We aim to provide the clarity and support needed during this transformative life event.
Charting Your Course Through Military Divorce
Pursuing a military divorce through proper channels establishes a solid foundation for all involved. Typically, the process involves filing initial paperwork, disclosing assets, negotiating agreements, and finalizing the dissolution according to state laws. Expect numerous forms and documentation needing completion within strict timeframes to progress proceedings.
Anticipate challenges like coordinating between multiple jurisdictions if stationed apart from your spouse. Be prepared to compromise, as negotiations seek equitable solutions agreeable to both parties. An experienced military divorce attorney helps navigate these complexities ably and discreetly while securing your objectives. Communicating concerns transparently with your lawyer leads to more empowered decision making during the armed forces divorce process.
We guide clients through each phase of their military divorce smoothly. Our proficiency with retirement benefit division, interstate custody matters, and military procedural requirements sets us apart. We employ proven strategies to help secure you the best possible result. Even if the case involves litigation, our substantial knowledge prepares us to represent your interests favorably throughout the process.
Understanding Military Divorce Cases
If contemplating divorce while serving in the military, consult with a skilled attorney to understand your rights and options. Eligibility, filing procedures, and laws vary by individual circumstances. The team at Sterling Lawyers helps analyze your situation and goals to determine the optimal path forward. Reach out to our Jefferson military divorce attorneys for responsive, personalized guidance.
Pursuing dissolution without proper legal counsel risks overlooking important considerations like pension division entitlements, child custody protections, or spousal support rights. An attorney consultation clarifies key legal intricacies and empowers informed decision making. Discussing your case early provides transparency around timeframes, documentation requirements, and processes to help set expectations.
We want you to feel empowered on your military divorce journey. Our consultations deliver the insights needed to make choices that align with your goals. We aim to provide clarity and confidence during this transitional and emotional time. Contact us today to take the first step toward the outcome you desire.
Divorcing while serving your country or as a veteran presents unique hurdles best navigated with experienced legal representation guiding you. The attorneys at Sterling Lawyers in Jefferson understand the intricacies military members face when dissolving a marriage. Our personalized, tailored counseling simplifies this complex journey.
With proven knowledge on family law, we secure favorable outcomes in an efficient manner. Ongoing support provides reassurance as circumstances evolve over time. When you need knowledgeable, compassionate counsel for a military divorce in Jefferson County, WI, contact Sterling Lawyers. Our in-depth understanding and dedicated advocacy empower your path forward.
For Immediate help with your family law case or answering any questions please call (262) 221-8123 now!
Frequently Asked Questions
Can I get military benefits like healthcare and commissary access after a military divorce in Jefferson, Wisconsin?
It depends on your status after the divorce. A Jefferson military divorce lawyer can help determine eligibility for keeping various military benefits after divorce. Generally, former spouses are eligible for healthcare and commissary access only if the marriage overlapped the servicemember's time in service by at least 20 years. Other benefits like base housing are lost after divorce.
How does deployment impact a military divorce in Jefferson, Wisconsin?
Deployment can complicate the process in a military divorce in Jefferson, Wisconsin. Deployed servicemembers are protected under the Servicemembers Civil Relief Act, which can delay proceedings. A Jefferson military divorce attorney can file for accommodation to allow the case to proceed while following all rules that protect the deployed spouse. Deployment may also impact child custody, visitation, and support determinations.
How are military pensions divided in a divorce in Jefferson, WI?
Military pensions are considered marital property under Wisconsin law. A Jefferson military divorce attorney can help determine the coverture fraction to divide the pension accurately between spouses. The Defense Finance and Accounting Service (DFAS) handles QDROs for military pensions after being ordered by the court. The survivor benefit plan must also be addressed.
Sterling Lawyers, LLC in Jefferson is formerly known as 'Sterling Law Offices, S.C.'