Jefferson Spousal Support Attorneys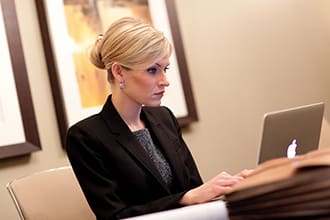 Join one of our experienced family law attorneys and learn about the divorce process, common issues, and participate in a Q and A session.
RSVP here.
Upcoming dates:
Tue, Dec 5 at 5:30pm
With
Attorney Mike Kyrios
Jefferson Spousal Support Lawyers at Sterling Lawyers, LLC
Legal Options that Work for You
There are three basic separation paths depending on your situation. If you're not sure what to choose or are ready to take the next step, call to speak with an attorney for case-specific advice.
Uncontested
Help from the Pros for Simpler Cases
Starting at $2750
Best when you both agree on most separation issues
Get help preparing the paperwork
Ask question at legally complex points
Have peace of mind with your settlement
Mediated
Greater Level of Help for Amicable Situations
$3,500 - $6,500/couple
Most amicable process for long-term harmony
Neutral mediation attorney guides you from start to settlement
Reduce conflict by deciding on property division and custody matters together
Fraction of contested divorce costs
Contested
When You Need an Advocate in Your Corner
$499/mo - $100,000
Best for adversarial relationships
Necessary if abuse, substance abuse, or violence is present
Your personal negotiation and litigation team
Critical when trust is an Issue
Spousal support – two words that can evoke a whirlwind of emotions and complexities. Sterling Lawyers, a distinguished law firm in Jefferson, Wisconsin, understands this all too well. The process of dealing with spousal support can be challenging and stressful. However, with seasoned legal guidance from a Jefferson divorce lawyer, navigating these murky waters can be smoother than one might imagine.
Your Allies in the Journey of Alimony
Sterling Lawyers prides itself on its dedicated team of seasoned lawyers dedicated to making the legal process less daunting. Clients seeking representation in Jefferson can find a great ally in this reputable law firm. A unique aspect of our team is our commitment to providing personalized attention to each client. This approach significantly enhances the client's experience and sets them apart from other legal practices in the city.
Our Personalized Approach
Understanding your unique spousal maintenance needs in Jefferson is at the heart of our philosophy. The team takes the time to understand each client's specific situation, ensuring that they offer transparent quotes and tailor their services to meet individual needs. They also offer a fixed fee pricing structure, which provides cost-effectiveness and eliminates the surprise of escalating costs often associated with hourly billing. This approach ensures clients receive comprehensive, high-quality legal representation without worrying about escalating costs.
Beyond the Ordinary
Sterling Lawyers has an impressive track record of serving clients' needs with excellence and diligence. The depth of knowledge and understanding of the spousal support process that the firm's attorneys possess sets them apart from their peers. They are dedicated to making the entire process affordable and as straightforward as possible without unnecessary delays or financial strain; hence clients can be confident that their cases are in capable hands.
Our Commitment to Streamlined Proceedings
We aim to minimize disruptions and maximize resolution during alimony proceedings. We strive to make the process as effortless and fast as possible, ensuring a smooth transition for clients while placing a high emphasis on timely resolution of cases. Our professional lawyers are equipped to handle various legal proceedings in family law, promoting collaboration and reducing conflict.
Ongoing Support with Our Family Law Firm
Spousal maintenance is a process that requires considering various factors, such as the impact on children, financial implications, and emotional well-being. Services like family law modification are also available since circumstances can change over time. The Jefferson spousal support attorneys at Sterling Lawyers guide clients through these changes, providing ongoing support. Beyond the initial consultation and legal representation, we offer several additional resources to support clients throughout their journey, including access to legal research materials, educational workshops, or referrals to other relevant professionals.
The Importance of Experience in Selecting an Attorney
Working with an attorney who has successfully handled similar cases in the past offers numerous advantages to clients. Sterling Lawyers' commendable track record and experience instill a sense of confidence in their clients. They focus on protecting the best interests of children, ensuring fair distribution of assets, and promoting peaceful resolutions. It's crucial to work with attorneys who have an in-depth understanding of family law, familiarity with local courts and judges, and experience in negotiation and litigation. Sterling Lawyers plays this vital role effectively, offering strong advocacy and guiding clients through every step of the legal process.
Understanding Strategies to Succeed in Family Law
The process typically involves initial consultation, filing documents, negotiation, and potentially court proceedings. There might be challenges along the way, such as legal requirements and documentation. Sterling Lawyers uses unique strategies and approaches to navigate these complexities, ensuring they guide clients through each stage effectively.
The Crucial First Step
It is crucial to consult with an alimony attorney when starting the process. Eligibility for spousal maintenance varies based on jurisdiction and individual circumstances. Early consultation with an alimony lawyer can prevent legal pitfalls, preserve evidence, and establish a strong foundation for a successful legal case.
Navigating the complexities of spousal support requires quality legal assistance. We offer a personalized approach to ease this difficult process. We are committed to serving their clients with compassion and diligence, making them a trusted choice for representation in Jefferson. The firm encourages prospective clients to take the next step and contact them to discuss how they can achieve a positive outcome. Schedule a consultation to evaluate your situation, understand your rights, and explore available options.
For Immediate help with your family law case or answering any questions please call (262) 221-8123 now!
Frequently Asked Questions
Can a Jefferson spousal support attorney help me modify an existing spousal support order?
Absolutely. Your Jefferson spousal support lawyer can assist you in filing a modification of an existing spousal support order. This process typically begins with reviewing your current spousal support order and then identifying any substantial changes that have occurred since it was executed. Such changes can include a significant increase or decrease in either party's income, a job loss, retirement, remarriage, or a significant change in the needs of the party receiving the spousal support. Your lawyer will gather relevant evidence, prepare the necessary legal documents for filing, and represent you in any court proceedings related to the modification request.
Are there any specific requirements to qualify for spousal support in Jefferson, WI?
Yes, to qualify for spousal support, also known as alimony or maintenance, in Jefferson, WI, the court will consider various factors and specifics of each case. A Jefferson Spousal Support Attorney will help you understand this process more clearly. Primarily, the length of the marriage is considered. The court will also evaluate each spouse's earning capacity, which includes looking into their education, skills, work experience, and the current job market.
How long does the process of getting a spousal support take with a Jefferson spousal support lawyer?
Yes, there are specific requirements to qualify for spousal support in Jefferson, WI. A Jefferson spousal support attorney can accurately explain the parameters set by Wisconsin law, which typically consider factors such as length of the marriage, earning capacities of both parties, and each everyone's physical and emotional health.
Sterling Lawyers, LLC in Jefferson is formerly known as 'Sterling Law Offices, S.C.'