Jefferson Uncontested Divorce Attorneys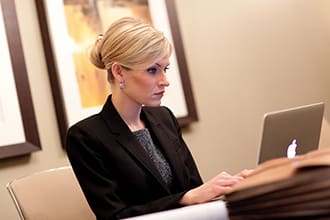 Join one of our experienced family law attorneys and learn about the divorce process, common issues, and participate in a Q and A session.
RSVP here.
Upcoming dates:
Tue, Dec 5 at 5:30pm
With
Attorney Mike Kyrios
Jefferson Uncontested Divorce Lawyers at Sterling Lawyers, LLC
Legal Options that Work for You
There are three basic separation paths depending on your situation. If you're not sure what to choose or are ready to take the next step, call to speak with an attorney for case-specific advice.
Uncontested
Help from the Pros for Simpler Cases
Starting at $2750
Best when you both agree on most separation issues
Get help preparing the paperwork
Ask question at legally complex points
Have peace of mind with your settlement
Mediated
Greater Level of Help for Amicable Situations
$3,500 - $6,500/couple
Most amicable process for long-term harmony
Neutral mediation attorney guides you from start to settlement
Reduce conflict by deciding on property division and custody matters together
Fraction of contested divorce costs
Contested
When You Need an Advocate in Your Corner
$499/mo - $100,000
Best for adversarial relationships
Necessary if abuse, substance abuse, or violence is present
Your personal negotiation and litigation team
Critical when trust is an Issue
Uncontested divorce, a challenge involving complex emotions and legal intricacies, is never an easy feat. Sterling Lawyers, based in Jefferson, Wisconsin, understands the emotional turmoil and is committed to making this process as smooth as possible. Although the legal system may seem daunting, each Jefferson divorce attorney uses their legal skills to unravel the complexities, providing a sense of relief amidst the turbulent times.
Understanding the Reliance of Jefferson Uncontested Divorce Lawyers
Being entrusted by numerous clients in Jefferson, Sterling Lawyers serve as vital advocates in any family law matter. Sterling's team is committed to relieving clients' distress by ensuring favorable outcomes. The firm's dedication to a quick and easy resolution, while protecting clients' interests, makes them a standout choice for legal representation in Jefferson. They give personalized attention, enhancing the overall customer experience.
Tailored Solutions to Personal Challenges
Understanding your unique needs in Jefferson, the law firm's approach is client-centered. Each client's requirements differ and the competent law practitioners tailor their services accordingly, with transparent quotes ensuring no surprises. The fixed fee structure offers cost-effectiveness, further enhancing the benefits of comprehensive, high-quality legal representation without the burden of escalating costs.
Wealth of Family Law Knowledge and Understanding
With a notable history of serving clients, Sterling Lawyers stand as pillars of excellence. The attorneys have in-depth knowledge about the divorce process. The firm strives towards affordable and quick resolutions for clients, easing any financial strains or unnecessary delays. Their vast understanding reassures clients that their case is in capable hands.
Our Pledge for Seamless Legal Processes
Sterling Lawyers is dedicated to streamlining family law proceedings and achieving a timely resolution for clients, protecting their interests, and ensuring a smooth transition. Sterling offers comprehensive legal proceedings such as property division, child custody and support, and alimony, fostering a collaboration that reduces conflict while ensuring both parties' wishes are met.
Continuous Guidance for Life's Unexpected Turns
Several factors, such as the impact on children, financial implications, and emotional well-being need consideration during the journey through family law cases. Specific services to adapt to changing circumstances are available, ensuring the availability of ongoing support from Sterling's Jefferson uncontested divorce attorneys. The firm aims to maintain long-term relationships, updating clients on their case and providing tools and resources for support throughout the entire journey.
The Paramount Selection of an Experienced Attorney
Working with an attorney with a proven track record provides clients with peace of mind and confidence. Protecting children's interests, fair distribution of assets, and fostering peaceful resolutions are essential aspects of any uncontested divorce. Selecting a law practitioner familiar with family law, local courts, and negotiation is of utmost importance. The role of an attorney as a guide through the legal process cannot be overstated.
Guiding Steps Towards a Peaceful Resolution
The process of family law includes an initial consultation, filing documents, negotiation, and possibly court proceedings. Challenges can differ from case to case, and proper communication with the attorney is paramount. Sterling Lawyers have the knowledge required to guide clients effectively through each stage, aligning strategies to ensure they achieve desirable outcomes.
The Value of a Legal Consult
Starting your journey can be initially confusing, but a consultation is a key step towards understanding your rights and exploring available options. Sterling Lawyers are available for consultation in Jefferson, Wisconsin, providing clients with a clear understanding of their potential outcomes. Early consultation leads to timely prevention of legal pitfalls, establishment of a strong foundation, and understanding the intricacies of the case.
Throughout Jefferson, Sterling Lawyers has been a beacon, providing personalized services to clients embarking on an uncontested divorce. Their extensive history and commitment to smooth procedures have made them a trusted choice for representation. With deep compassion and notable knowledge in family law, the firm stands ready to assist individuals towards achieving a positive outcome. Take the next step and seek consultation for any family law proceedings you may need assistance with.
For Immediate help with your family law case or answering any questions please call (262) 221-8123 now!
Frequently Asked Questions
Can spousal maintenance or alimony be included in an uncontested divorce in Jefferson, WI?
Yes, in an uncontested divorce you and your spouse can mutually agree to terms of alimony or spousal maintenance as part of your negotiations, which your lawyer/attorney will include in your marital settlement agreement. Your Jefferson WI uncontested divorce lawyer/attorney can help craft a fair and equitable alimony award based on statutory guidelines and factors like respective incomes, living expenses, employment history, and health conditions. The alimony terms will become an enforceable court order upon incorporation into the final decree.
How do we divide property in an uncontested divorce in Jefferson, WI?
You will mutually agree on how all property is divided, and detail those terms in your Marital Settlement Agreement. Your Jefferson uncontested divorce lawyer can advise you on options for equitable distribution of assets and debts, and ensure your written agreement accurately reflects your intentions. This agreement becomes binding once incorporated into the final divorce decree by the court.
How quickly can I get an uncontested divorce in Jefferson, WI?
Typically, this type of case can be completed in 3-4 months in Jefferson, WI, sometimes faster if there are no children involved and assets are simple. With no issues in dispute, an uncontested divorce saves significantly on time by avoiding discovery, settlement negotiations, and the trial process to resolve disagreements.
Sterling Lawyers, LLC in Jefferson is formerly known as 'Sterling Law Offices, S.C.'