Jefferson Property Division Attorneys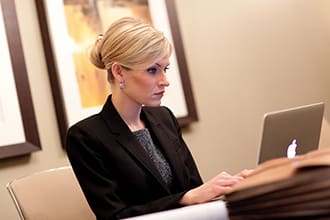 Join one of our experienced family law attorneys and learn about the divorce process, common issues, and participate in a Q and A session.
RSVP here.
Upcoming dates:
Jefferson Property Division Lawyers at Sterling Lawyers, LLC
Legal Options that Work for You
There are three basic separation paths depending on your situation. If you're not sure what to choose or are ready to take the next step, call to speak with an attorney for case-specific advice.
Uncontested
Help from the Pros for Simpler Cases
Starting at $2750
Best when you both agree on most separation issues
Get help preparing the paperwork
Ask question at legally complex points
Have peace of mind with your settlement
Mediated
Greater Level of Help for Amicable Situations
$3,500 - $6,500/couple
Most amicable process for long-term harmony
Neutral mediation attorney guides you from start to settlement
Reduce conflict by deciding on property division and custody matters together
Fraction of contested divorce costs
Contested
When You Need an Advocate in Your Corner
$499/mo - $100,000
Best for adversarial relationships
Necessary if abuse, substance abuse, or violence is present
Your personal negotiation and litigation team
Critical when trust is an Issue
The end of a marriage brings immense emotional upheaval and uncertainty. Dividing assets that were once shared often becomes complex and stressful. At this critical juncture, the guidance of an experienced Jefferson family law lawyer is invaluable, making the process straightforward and conflict-free. Sterling Lawyers, a leading family law firm in Jefferson, work in simplifying property division, easing clients through proceedings while protecting their best interests.
Guidance from Jefferson Property Division Attorneys
Located in Jefferson, Wisconsin, Sterling Lawyers offers a unique approach to family law matters. Their dedicated team works tirelessly to minimize the immense pressure surrounding property division cases. By streamlining proceedings, they aim to reach resolutions quickly while still achieving optimal outcomes for clients. Their attentive staff provides personalized assistance throughout, leading to more rewarding client experiences. With extensive knowledge of family law, Sterling Lawyers has become Jefferson's most trusted choice.
A Personalized Approach to Your Family Law Needs
Each client's situation is unique. We take time to understand individual needs before proposing comprehensive plans tailored to meet them. After fully grasping a client's particular circumstances, the firm provides transparent quotes, eliminating surprises and ensuring top-quality representation remains affordable. Our fixed fee pricing offers cost-effectiveness without sacrificing service. Clients appreciate receiving the highest caliber legal advice customized for their specific legal matters.
Our Extensive Experience with Property Division Law in Wisconsin
With abundant family law knowledge, our attorneys bring invaluable knowledge when working with clients. Their vast experience translates into greater competence and confidence for clients, knowing their cases are in the most capable hands. Our family law firm remains dedicated to streamlining proceedings and making legal help accessible, guiding clients smoothly without unnecessary delays or financial strain.
Committed to Smooth Proceedings
Sterling Lawyers aims to minimize complications and maximize resolutions during legal proceedings. Their goal is to simplify the process, reducing clients' stress while promptly achieving the desired outcome. Sterling's lawyers handle property division, child custody, and spousal support matters, providing comprehensive family law services. By promoting collaboration and minimizing conflicts, they foster agreements reflecting both parties' decisions. Their streamlined approach leads to quicker resolutions, easing transitions for clients.
Ongoing Support During Your Case
Several factors must be weighed during legal cases, including financial implications, tax considerations, and dividing personal property. Our property division attorneys understand circumstances change, and modifications may be needed down the road. They continue guiding clients through these changes, providing invaluable ongoing support. The firm keeps clients updated throughout their case, offering continued access to legal materials and resources. Their dedication reaches beyond just the initial legal representation.
Choosing the Best Fit for You
A proven track record of success is crucial when selecting legal representation. Our lawyers have extensive experience handling similar cases instills confidence and reassurance in clients. Property division focuses on the fair distribution of jointly owned assets and debts. A knowledgeable lawyer is key for their deep understanding of property law, familiarity with local courts, and background in negotiations. Sterling Lawyers has repeatedly proven its strength through quality services and ongoing support.
Consult a Lawyer to Empower Your Journey
While family law may seem daunting, we guide clients through every stage. The process often involves filing paperwork, discussions between lawyers, and potentially court appearances. Experienced property division lawyers anticipate challenges and maintain clear communication. We leverage our skills to provide strategic advice through each phase, tirelessly advocating for favorable outcomes. Their tailored strategies maximize the likelihood of positive resolutions.
Let a Top-Rated Family Law Firm Guide You
To start the process, consulting with a lawyer is highly recommended. They can evaluate your situation, rights, and options while determining eligibility and next steps. Without proper legal advice, individuals risk overlooking important factors. Early consultation can prevent missteps and establish a strong foundation for success.
Sterling Lawyers eases this difficult transition with compassionate guidance rooted in practical experience. Their personalized services and focus on smooth proceedings provide immense support when it's needed most. With extensive knowledge in family law matters, our lawyers have become Jefferson County's trusted choice. If you are facing property division, our dedicated attorneys are ready to discuss your case and how they can help you achieve the most positive outcome.
For Immediate help with your family law case or answering any questions please call (262) 221-8123 now!
Frequently Asked Questions
What happens to inherited property in a divorce in Jefferson, WI?
Inheritances and gifts acquired by one spouse before or during the marriage are typically considered separate, non-marital property. So those assets stay with the inheriting spouse. However, it gets tricky if separate property became mixed with marital funds or was used to purchase a joint asset. A skilled Jefferson property division attorney can help protect inherited assets for you.
How are debts divided in a divorce in Jefferson, WI?
Marital debts like mortgages, car loans, credit cards balances incurred during the marriage are typically divided equally or equitably between spouses. A Jefferson property division attorney can argue which spouse should be responsible for certain debts based on who benefited from purchases or who has better ability to pay.
In Jefferson, Wisconsin, how are retirement accounts divided?
Retirement funds like 401(k)s, IRAs, pensions accrued during the marriage are almost always considered marital property. The accounts will need to be valued and then divided equitably, either by QDRO, transferring half to spouse's account, or cashing out. A Jefferson property division attorney can help ensure accounts are properly valued and split fairly.
Sterling Lawyers, LLC in Jefferson is formerly known as 'Sterling Law Offices, S.C.'