Jefferson Child Custody Attorneys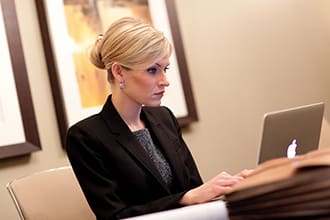 Join one of our experienced family law attorneys and learn about the divorce process, common issues, and participate in a Q and A session.
RSVP here.
Upcoming dates:
Tue, Dec 5 at 5:30pm
With
Attorney Mike Kyrios
Jefferson Child Custody Lawyers at Sterling Lawyers, LLC
Legal Options that Work for You
There are three basic separation paths depending on your situation. If you're not sure what to choose or are ready to take the next step, call to speak with an attorney for case-specific advice.
Uncontested
Help from the Pros for Simpler Cases
Starting at $2750
Best when you both agree on most separation issues
Get help preparing the paperwork
Ask question at legally complex points
Have peace of mind with your settlement
Mediated
Greater Level of Help for Amicable Situations
$3,500 - $6,500/couple
Most amicable process for long-term harmony
Neutral mediation attorney guides you from start to settlement
Reduce conflict by deciding on property division and custody matters together
Fraction of contested divorce costs
Contested
When You Need an Advocate in Your Corner
$499/mo - $100,000
Best for adversarial relationships
Necessary if abuse, substance abuse, or violence is present
Your personal negotiation and litigation team
Critical when trust is an Issue
The dismantling of a family unit can be intensely emotional, made even more complex when dealing with child custody. At this critical time, the necessity for a seasoned attorney grows, guiding individuals through a convoluted process and providing support for the children involved. Our Jefferson divorce lawyers strive to deliver streamlined, hassle-free experiences, ensuring you have the best possible outcome.
Guiding Families Through the Complexities of Child Custody in Jefferson, WI
Located in the heart of Jefferson, Wisconsin, Sterling Lawyers distinguishes itself through its unique approach to family law. Their seasoned team of attorneys is dedicated to easing the immense pressure that comes with a child custody case, focusing on quickly and effectively streamlining complex proceedings. Their dedication is evident in the personalized attention each case receives, leading to a more enriching client experience.
A Personalized Approach to Your Unique Custody Needs
The Jefferson child custody attorneys at Sterling Lawyers ardently believe in a tailored approach. No two cases are identical, and every client has their unique needs and requirements. After understanding each situation, they propose a comprehensive and transparent plan crafted to meet individual needs. One major highlight is their fixed fee pricing structure that safeguards clients from unexpected costs, ensuring that top-notch legal advice is accessible without exorbitant expenses.
Our Extensive Experience in Wisconsin Family Law
Our attorneys bring a wealth of knowledge in family law to the table. This proficiency in child custody disputes is a source of reassurance to clients, who know their family's future is in reliable hands. Beyond the standard negotiation and litigation services, the firm also extends financial planning and counseling services, ensuring clients are adequately supported without unnecessary delays or strain.
Committed to Smooth Legal Proceedings
Our aim is to simplify the process and minimize disruptions in the lives of all involved. Handling an array of legal proceedings such as property division, alimony, and of course, child custody, the legal team tirelessly works to find a resolution that aligns with both party's decisions. By focusing on a collaborative approach, they achieve success in reducing conflicts and making the process smoother.
Ongoing Support During Your Custody Journey
There's a lot to consider when handling a child custody case: the children's emotional health, financial implications, future adjustments, and changes in circumstances. Our lawyers are ready to guide individuals dealing with family law modifications and changes, providing invaluable ongoing support. Besides the initial consultation and legal representation, they also provide access to educational resources, ensuring clients are kept informed every step of the way.
Choosing the Right Jefferson Child Custody Attorney
One of the factors that contribute to our excellent reputation is our broad portfolio of successful cases. This track record instills confidence in the client, offering peace of mind during daunting legal proceedings. When handling child custody disputes, the focus remains on protecting the children involved and ensuring a fair distribution of assets. Selecting an attorney with an intimate understanding of this process is crucial, given their comprehensive knowledge about family law, their familiarity with Jefferson courts, and their negotiation and litigation experience.
Waling the Path of Resolution
The child custody process might seem complex and challenging – from filing documents to potentially appearing in court. Sterling Lawyers, however, guide clients through each stage, providing strategic advice and advocating for their best interests. Addressing potential legal requirements and dealing with adversarial parties are all part of the process, making the depth of knowledge and understanding of Sterling Lawyers invaluable to any family law case.
Empower Your Family Law Journey
The attorneys at Sterling Lawyers in Jefferson, Wisconsin, stand ready to guide you from the start of the child custody process onward. Scheduling a consultation is the first step toward understanding the legal maze that a family law case can become. The firm takes your unique circumstances into account before intending to guide you through the upcoming challenges. The initial consultation will provide you with a clear understanding of your rights, options, and potential outcomes, and help you avoid the potential pitfalls that can occur when dealing with legal cases without clear advice.
Throughout the complex journey of family law, each attorney provides a highly personalized approach crafted from a wealth of practical experience. They are committed to ensuring that the often-terrifying process is made smoother and easier. They have proven their strength time and again by providing quality legal services while maintaining ongoing support for clients. If you find yourself facing a child custody case, we stand ready to assist. Serving Jefferson County, our lawyers invite you to reach out to discuss your individual situation and explore how they can guide you toward a successful resolution.
For Immediate help with your family law case or answering any questions please call (262) 221-8123 now!
Frequently Asked Questions
What is the process for determining child custody in Jefferson, WI?
The legal process starts with filing an initial petition and paperwork with the court. Then there may be mediation sessions to see if an agreement can be reached. If not, the court will schedule hearings where a judge reviews evidence and testimony to decide on a custody order. Throughout the process, a Jefferson child custody lawyer can advise you, represent your interests in mediation and court, and help work toward a favorable outcome.
If visitation schedules are not being followed properly, how can a Jefferson child custody attorney assist with enforcement or modifications?
A Jefferson child custody attorney can first attempt to resolve any visitation issues through direct negotiation with the other party. If that fails, they can file motions to enforce the existing plan and hold the other party in contempt if violations continue. Or if modifications like a new pickup/drop-off time would resolve problems, the attorney can petition the court for adjustments in the best interests of the child.
How long could I expect a contested child custody dispute to take if I work with a Jefferson child custody attorney from start to finish?
A typical contested child custody case can take 6-12 months from start to finish. However, an experienced Jefferson child custody attorney will work to resolve matters as efficiently as possible, while still advocating effectively for your interests. The more complex your case, the longer the process may take.
Sterling Lawyers, LLC in Jefferson is formerly known as 'Sterling Law Offices, S.C.'