Jefferson Divorce Mediation Attorneys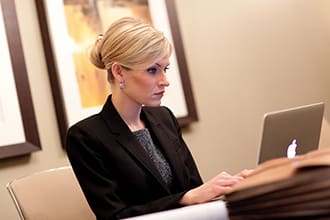 Join one of our experienced family law attorneys and learn about the divorce process, common issues, and participate in a Q and A session.
RSVP here.
Upcoming dates:
Tue, Dec 5 at 5:30pm
With
Attorney Mike Kyrios
Jefferson Divorce Mediation Lawyers at Sterling Lawyers, LLC
Legal Options that Work for You
There are three basic separation paths depending on your situation. If you're not sure what to choose or are ready to take the next step, call to speak with an attorney for case-specific advice.
Uncontested
Help from the Pros for Simpler Cases
Starting at $2750
Best when you both agree on most separation issues
Get help preparing the paperwork
Ask question at legally complex points
Have peace of mind with your settlement
Mediated
Greater Level of Help for Amicable Situations
$3,500 - $6,500/couple
Most amicable process for long-term harmony
Neutral mediation attorney guides you from start to settlement
Reduce conflict by deciding on property division and custody matters together
Fraction of contested divorce costs
Contested
When You Need an Advocate in Your Corner
$499/mo - $100,000
Best for adversarial relationships
Necessary if abuse, substance abuse, or violence is present
Your personal negotiation and litigation team
Critical when trust is an Issue
Family law is a journey filled with a whirlwind of emotions and a maze of legal complexities. It often feels like you're caught in a storm, unsure of how to move forward. The importance of a lawyer during such a critical phase is immeasurable. With their seasoned legal know-how, they can make the process streamlined and hassle-free. Their adept handling of matters ensures you're not alone in this arduous journey, helping you navigate the complexities of family law with ease.
A Beacon of Trust in Jefferson, WI
The team at Sterling Lawyers in Jefferson, Wisconsin is a beacon of hope for those seeking legal representation. The firm's unique features, such as their dedication to understanding and meeting each client's unique needs, set them apart. The team's proficiency is in relieving clients of stress by providing efficient outcomes. Ensuring quick yet comprehensive navigation of this complex process, each Jefferson divorce attorney at the family law firm aims to protect your best interests while setting themselves apart from other law firms in the city.
Customized Services Just for You
We take a personalized approach to family law. We devote time to understand the client's specific needs, tailoring their services accordingly. Transparency in communication is maintained, as clients' unique circumstances are thoroughly understood, and quotes provided. Our fixed fee pricing structure eliminates the shock of hidden costs usually associated with hourly billing. The benefits of comprehensive legal representation without financial stress are worth noting. Working with a law firm that offers personalized service ensures a pleasant experience leading to better outcomes.
Delving into the Depths of Family Law
Our team stands tall in the Jefferson legal landscape, serving clients excellently over the years. The attorneys of this firm have amassed a deep understanding of the divorce mediation process. This vast knowledge lends clients a higher level of confidence in the firm's ability to protect their interests. Streamlining the process, making it affordable without unnecessary delays or financial strain is part of their commitment to their clients.
Seamless Divorce Mediation in Jefferson
Our team is committed to minimize disruptions while maximizing resolution during divorce mediation. They aim to create a smooth transition with minimal disruptions to the clients' lives. Timely resolution is crucial, and the firm's approach ensures that desired outcomes are achieved promptly. The professional lawyers handle legal proceedings like property division, child custody and support, and alimony, reflecting a comprehensive approach to family law cases. Resolutions echoing the decisions of both parties are promoted.
Beyond the Courtroom: Support Throughout Your Trial
Divorce Mediation unfolds various considerations like the impact on children, financial implications, and emotional well-being. Sterling Lawyers offer modification services, as life's circumstances change over time necessitating adjustments. The attorneys from this firm can guide clients through these modifications, extending support beyond the case's resolution stage. Clients are kept informed through clear communication channels, ensuring regular updates on progress. They offer additional resources like access to legal research materials and educational workshops, among others, fostering long-term client relationships.
Unlocking the Legal Labyrinth
Collaborating with an attorney with a proven success track record instills confidence in clients. Sterling Lawyers stands as testament with its successful past cases and rave client testimonials. They focus on the best interest of children, fair distribution of assets, and promote peaceful resolutions. The pivotal role of an attorney in your divorce mediation case is undeniable. Acting as a strong advocate, they guide clients through the legal process, offering advice and representation at every step.
Untangling the Knot of Divorce Mediation
The divorce mediation process begins with an initial consultation, followed by document filing, negotiation, and potentially court proceedings. Timelines, potential hurdles, and the importance of open communication will be addressed. The intricacies associated with legal requirements, documentation, and interactions with opposing parties may pose challenges. Sterling Lawyers, with its deep understanding of the process, guides clients through these stages efficiently, ensuring a higher likelihood of a favorable resolution.
The Unparalleled Service of Our Family Law Firm
Starting the process of divorce mediation requires consultation with an attorney. This helps evaluate your situation, understand your rights, and explore available options. Sterling Lawyers encourage you to schedule a consultation to clarify your queries and understand your eligibility. The potential risks of not seeking legal advice can be disastrous. Early consultation prevents legal pitfalls, preserves evidence, and establishes a conducive foundation for a successful case.
The journey through family law requires the support of a seasoned legal team. With our personalized approach, extensive experience, smooth dealing of proceedings, and ongoing support, our team stands out as a preferred choice in Jefferson, Wisconsin. Importance of consultation, understanding of the clients' individual cases, and their commitments are emphasized. They invite you to contact them for a consultation or any further information, highlighting their commitment to serving the community.
For Immediate help with your family law case or answering any questions please call (262) 221-8123 now!
Frequently Asked Questions
How legally-binding are mediated divorce agreements in Jefferson, WI?
While mutually developed by the spouses in mediation, the mediated agreements must be converted into legally binding contracts by a lawyer and entered as a formal judgment by the courts to become officially enforceable. A Jefferson divorce mediation lawyer can draft the appropriate settlement documents reflecting the terms and ensure the mediated settlement is properly submitted and adopted by the court. This provides legal effect.
What are some of the advantages of using divorce mediation?
There are many potential benefits, including: reduced hostility between spouses through a cooperative process, lower costs by avoiding litigation, greater control for the couple to decide their own future, more flexibility on solutions, and faster resolution. An accomplished Jefferson divorce mediation lawyer can help couples reap these advantages through successful mediation.
When may divorce mediation not be appropriate in Jefferson, WI?
While helpful for many, there are some divorce situations where mediation may not be suitable. For example, cases involving domestic violence or abuse, mental illness, substance abuse or other circumstances with severe power imbalances. An experienced Jefferson divorce mediation lawyer can assess the specifics to determine if mediation is appropriate. Some cases may start in mediation but later require litigation.
Sterling Lawyers, LLC in Jefferson is formerly known as 'Sterling Law Offices, S.C.'