Jefferson Contested Divorce Attorneys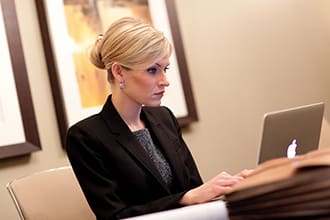 Join one of our experienced family law attorneys and learn about the divorce process, common issues, and participate in a Q and A session.
RSVP here.
Upcoming dates:
Jefferson Contested Divorce Lawyers at Sterling Lawyers, LLC
Legal Options that Work for You
There are three basic separation paths depending on your situation. If you're not sure what to choose or are ready to take the next step, call to speak with an attorney for case-specific advice.
Uncontested
Help from the Pros for Simpler Cases
Starting at $2750
Best when you both agree on most separation issues
Get help preparing the paperwork
Ask question at legally complex points
Have peace of mind with your settlement
Mediated
Greater Level of Help for Amicable Situations
$3,500 - $6,500/couple
Most amicable process for long-term harmony
Neutral mediation attorney guides you from start to settlement
Reduce conflict by deciding on property division and custody matters together
Fraction of contested divorce costs
Contested
When You Need an Advocate in Your Corner
$499/mo - $100,000
Best for adversarial relationships
Necessary if abuse, substance abuse, or violence is present
Your personal negotiation and litigation team
Critical when trust is an Issue
Going through a contested divorce can be an extremely emotional and challenging time. Individuals facing this complex family law process are often dealing with feelings of uncertainty, frustration, and stress as they navigate the unfamiliar legal territory. Having an attorney who can make the process straightforward and hassle-free is critical during this difficult transitional period. The experienced Jefferson divorce attorneys understand the emotional toll of family law and are dedicated to supporting clients each step of the way with compassion.
Seeking Support During Turbulent Times
As a family law firm in Jefferson, Sterling Lawyers has earned a reputation for guiding clients through the legal process with care and understanding. Their team of dedicated attorneys focuses on minimizing disruptions and achieving favorable outcomes for each unique client situation. They are committed to making the process as efficient and stress-free as possible, leveraging their extensive experience in family law matters to ensure clients' best interests remain protected. Unlike large firms, they offer personalized attention tailored to each client's specific circumstances and goals. This thoughtful approach sets them apart as the trusted choice for those seeking representation in Jefferson, WI.
Personalized Legal Guidance Tailored to Your Specific Needs
We recognize that every case is unique. We take the time to understand each client's specific situation and needs when it comes to property division, child custody arrangements, spousal maintenance, and other complex legal matters. Our attorneys provide transparent quotes upfront, tailoring their services and fees to meet individual needs. This eliminates the uncertainties of hourly billing and ensures clients receive comprehensive legal representation catered to their case. We offer personalized services, fixed fee pricing, and dedication to open communication provides greater confidence and satisfaction as clients navigate the contested divorce process in Jefferson.
Our Attorneys Have Extensive Experience with Complex Divorce Cases
With years of experience handling all aspects of family law, Sterling Lawyers possesses the skills and knowledge necessary to smoothly guide clients through contested divorce. Their attorneys understand the complex legal requirements and work diligently to make the process affordable, minimizing delays and excessive expenses. Clients can feel at ease knowing their case is in the hands of experienced legal professionals devoted to supporting them during this transitional time. The competence and confidence that they provide through their extensive experience removes additional stress often associated with contentious divorce proceedings.
We Strive to Streamline Proceedings and Minimize Disruptions
The team of attorneys recognizes legal proceedings can quickly become complicated and heated. Their primary focus is on keeping the process streamlined, minimizing disruptions, and achieving timely resolutions that reflect both parties' decisions. The experienced attorneys focused on all areas of family law, deftly handling legal matters such as child custody, property division, and financial arrangements. They work collaboratively with clients, mediators, and when necessary, opposing counsel, to reduce conflict and foster cooperation. Sterling Lawyers' strategic approach reinforces their commitment to making the journey effortless and fast for their clients.
You Have Our Ongoing Support at Every Stage
The effects of contested divorce can be long-lasting, often requiring modifications over time as circumstances evolve. Sterling Lawyers provides ongoing support to guide clients through potential changes related to child custody, spousal maintenance, or property settlements. Their team keeps clients informed throughout the process and maintains open communication channels for addressing any issues or concerns that may arise. The attorneys understand the emotional, financial, and legal complexities individuals face while handling cases related to family law. They provide access to educational resources and referrals to other professionals as needed, demonstrating a dedication to serving clients before, during, and after resolution.
Choosing the Right Attorney is Crucial for Contested Divorce
Selecting the right attorney is essential. We have years of focused experience successfully handling family law matters provides clients greater confidence and peace of mind. The firm's professional reputation and positive client reviews reinforce our skills in achieving optimal outcomes related to child arrangements, asset division, and other issues stemming from divorce. With an understanding of local courts and judges, as well as keen negotiation and litigation skills, the attorneys serve as vigilant advocates, guiding clients through each step of the legal process. Our intricate knowledge of family law complexities allows them to offer strategic counsel and robust representation from start to finish.
We'll Guide You Step-by-Step Through the Resolution Process
The process involves several key phases, beginning with an initial consultation to evaluate the situation, identify goals, and develop a legal strategy. Our team helps clients navigate each stage—from filing important documents to negotiations, settlement conferences, and potential litigation. We provide realistic insights into timelines and prepare clients for potential obstacles, leveraging their knowledge to achieve favorable outcomes as efficiently as possible. Client education and communication remains a priority throughout, ensuring individuals facing contested divorce understand their rights and feel empowered, despite the challenges.
A Consultation is the First Step to Empower Your Journey
To determine if contested divorce is the right path forward, it is advisable to first consult with an experienced family law attorney to discuss your situation comprehensively. The team can assess your circumstances, eligibility, and options through an initial consultation. They can provide clarity around legal processes and requirements, while setting expectations for potential timelines, costs, and outcomes. Addressing family law matters without proper legal guidance can be extremely risky, producing less than ideal results. Early consultation and continuous legal counsel empower individuals to make informed decisions, avoids potential missteps, and establishes a strong foundation for achieving the most favorable resolution.
Going through contested divorce in the surrounding Dodge County area can be highly destabilizing and complex. The seasoned attorneys at Sterling Lawyers recognize these challenges and are unwavering in their commitment to guiding clients through each phase with skill and compassion. By leveraging their extensive legal experience and personalized services, they can streamline proceedings, minimize disruptions, and optimize outcomes in even the most complicated divorce cases. The trusted team at Sterling Lawyers can provide the support needed to make the process straightforward. Contact them today to schedule an initial consultation and learn how they can assist you in achieving the best possible result.
For Immediate help with your family law case or answering any questions please call (262) 221-8123 now!
Frequently Asked Questions
What are the benefits of hiring a Jefferson contested divorce lawyer?
Hiring a Jefferson contested divorce lawyer provides you with professional and knowledgeable legal advice and representation in the court. This means they understand the ins and outs of the legal process, making sure all paperwork is filed accurately and on time, presenting strong arguments on your behalf, and negotiating effectively when necessary. They can protect your rights and ensure that your best interests are being considered at all stages of the divorce process.
What type of experience should Jefferson contested divorce lawyers have?
Jefferson contested divorce lawyers should be well-versed with divorce cases of varying complexities, as it's their area of focus. They should have hands-on experience in handling family law, dealing with issues such as spousal support, division of assets, child custody and more. They can adapt and strategize based on the unique dynamics of your case, putting forth the necessary legal actions to ensure the most favorable outcome.
How can a Jefferson contested divorce lawyer help me negotiate with the other party?
A Jefferson contested divorce lawyer can prove invaluable in helping you communicate and negotiate with the other party. At times, discussing issues directly can lead to more disputes, especially if the divorce is contested and emotions are running high. To start off, your attorney will have a deep understanding of your rights under Wisconsin law, which forms the basis for your negotiations. This knowledge, combined with the details of your specific case, will help them form a strategic plan for negotiations - this includes identifying key issues that are likely to be contentious and developing positions on these issues that reflect your interests and legal rights.
Sterling Lawyers, LLC in Jefferson is formerly known as 'Sterling Law Offices, S.C.'