Jefferson Paternity Attorneys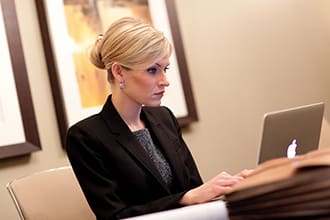 Join one of our experienced family law attorneys and learn about the divorce process, common issues, and participate in a Q and A session.
RSVP here.
Upcoming dates:
Tue, Dec 5 at 5:30pm
With
Attorney Mike Kyrios
Jefferson Paternity Lawyers at Sterling Lawyers, LLC
Legal Options that Work for You
There are three basic separation paths depending on your situation. If you're not sure what to choose or are ready to take the next step, call to speak with an attorney for case-specific advice.
Uncontested
Help from the Pros for Simpler Cases
Starting at $2750
Best when you both agree on most separation issues
Get help preparing the paperwork
Ask question at legally complex points
Have peace of mind with your settlement
Mediated
Greater Level of Help for Amicable Situations
$3,500 - $6,500/couple
Most amicable process for long-term harmony
Neutral mediation attorney guides you from start to settlement
Reduce conflict by deciding on property division and custody matters together
Fraction of contested divorce costs
Contested
When You Need an Advocate in Your Corner
$499/mo - $100,000
Best for adversarial relationships
Necessary if abuse, substance abuse, or violence is present
Your personal negotiation and litigation team
Critical when trust is an Issue
Walking through the emotional maze of family law can bring with it intense complexity. Dealing with family law requires a balance of sensitivity, understanding, and robust legal know-how, characteristics embodied by the Jefferson paternity attorneys at Sterling Lawyers. These seasoned professionals can help make the legal journey easier for you, letting you focus on adjusting to the new dynamics, while they confidently navigate the intricate legal labyrinth.
Treading the Emotional Terrain of Paternity
Each Jefferson family law attorney is uniquely poised to walk with clients navigating paternity cases in Jefferson, Wisconsin. Their dedicated team of lawyers are steadfast in their commitment to alleviate the stress tied to these cases. They aim to expedite the legal process, always keeping the best interests of the client in perspective while providing personalized attention.
A Tailor-Made Approach for Your Unique Situation
Every paternity case brings with it unique circumstances and challenges. The team at our family law firm takes the time to understand each client's specific needs and tailors their services accordingly. Their fixed fee pricing structure offers another layer of relief, eliminating bill shocks that are often associated with hourly billing. This personalized approach not only ensures comprehensive legal representation but also increases client satisfaction and drives better results.
Harnessing Years of Family Law Experience
Sterling Lawyers brings a wealth of experience to the table. This in-depth understanding of the paternity process enables them to streamline proceedings, providing the necessary legal support without any avoidable delays or financial strain. This comprehensive background reassures clients that their case is in capable hands.
Our Pledge to Seamless Legal Processes
Sterling Lawyers is committed to minimizing disruptions and maximizing resolution in paternity matters. Their main objective is to make the process simple and quick, ensuring a smooth transition while keeping the best interests of the client at the forefront. Their lawyers are proficient in handling related legal proceedings, from property division and child custody to alimony, thus providing a holistic approach to family law cases.
Sustained Support in Your Legal Journey
While navigating paternity, several factors emerge such as the impact on children, financial implications, and emotional well-being. We provide ongoing support throughout this journey, guiding clients through modifications and providing advice beyond the initial consultation. Our commitment to keeping clients informed and at ease is illustrated by the additional resources and services they offer, such as access to research materials and educational workshops.
Why Experience and Track Record Matter When Choosing an Attorney
Selecting an attorney who has a track record of successful outcomes can instill great confidence in clients. Sterling Lawyers, with its proven record, is here to safeguard the best interests of children, ensure fair distribution of assets, and uphold peaceful resolutions. They consistently demonstrate their comprehensive knowledge in paternity cases, familiarity with local courts and judges, and proficiency in negotiation and litigation, making them a formidable ally in these situations.
Charting the Course Towards Resolution
Understanding the paternity process involves familiarizing oneself with the typical steps such as initial consultation, filing documents, negotiation, and potentially court proceedings. Challenges may arise during the proceedings, such as legal requirements, documentation, or dealing with opposing parties. Sterling Lawyers leverages their vast knowledge in this arena to guide clients through each stage, advocating with strategic advice for their best interests.
Empowering Your Legal Voyage
Starting the process requires consultation with a paternity attorney for a comprehensive understanding of your rights, options, and potential outcomes. Sterling Lawyers are available for consultation to help you determine your eligibility and understand the potential implications of not seeking legal advice. This, in turn, empowers individuals by providing them with the necessary understanding and knowledge to navigate the process successfully.
The attorneys at Sterling Lawyers understand the complexities involved in paternity cases in Jefferson, Wisconsin, and are committed to providing the best services to clients. They stand out as a trusted choice for representation due to their personalized approach, extensive experience, and commitment to smooth proceedings. Don't hesitate to reach out to them to discuss your case and goals, as they reside in the county where the case will be handled. They are accessible and committed to serving the Jefferson community.
For Immediate help with your family law case or answering any questions please call (262) 221-8123 now!
Frequently Asked Questions
What are the benefits of establishing paternity in Jefferson, WI?
Establishing paternity in Jefferson, WI legally determines the child's legal father and enables the father to obtain custody/visitation rights. It also obligates the father to provide child support. A lawyer can best explain the rights and responsibilities as it relates to your circumstance.
Do both parents have to consent to a paternity test in Jefferson?
If married, both must consent. If unmarried, paternity testing can be court-ordered without consent of both parents in Jefferson, WI. An attorney can petition to compel testing.
How soon after the child's birth can paternity be established in Jefferson, WI?
Paternity can legally be established any time after birth, even before the child's birth certificate is filed. A lawyer can initiate the process quickly.
Sterling Lawyers, LLC in Jefferson is formerly known as 'Sterling Law Offices, S.C.'