Fond du Lac Divorce Mediation Attorneys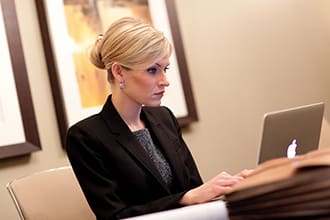 Join one of our experienced family law attorneys and learn about the divorce process, common issues, and participate in a Q and A session.
RSVP here.
Upcoming dates:
Tue, Dec 5 at 5:30pm
With
Attorney Mike Kyrios
Fond du Lac Divorce Mediation Lawyers at Sterling Lawyers, LLC
Legal Options that Work for You
There are three basic separation paths depending on your situation. If you're not sure what to choose or are ready to take the next step, call to speak with an attorney for case-specific advice.
Uncontested
Help from the Pros for Simpler Cases
Starting at $2750
Best when you both agree on most separation issues
Get help preparing the paperwork
Ask question at legally complex points
Have peace of mind with your settlement
Mediated
Greater Level of Help for Amicable Situations
$3,500 - $6,500/couple
Most amicable process for long-term harmony
Neutral mediation attorney guides you from start to settlement
Reduce conflict by deciding on property division and custody matters together
Fraction of contested divorce costs
Contested
When You Need an Advocate in Your Corner
$499/mo - $100,000
Best for adversarial relationships
Necessary if abuse, substance abuse, or violence is present
Your personal negotiation and litigation team
Critical when trust is an Issue
Going through a divorce is emotionally challenging, but with the right legal guidance, the process can be streamlined. Mediation provides an alternative to traditional divorce litigation, allowing couples to work together to resolve issues. However, without legal advice, mediation can become complicated. Sterling Lawyers' experienced divorce mediation attorneys help couples navigate the complexities of mediation with competence and compassion. Their goal is to facilitate quick, amicable resolutions, protecting clients' best interests. With each Fond du Lac divorce attorney, family law can be smooth and hassle-free.
Managing All Aspects of Divorce Mediation
Our team has earned a reputation as trusted divorce mediation attorneys. Each lawyer in Fond du Lac aims to relieve clients' stress during this difficult time. They understand the importance of reaching equitable agreements and have extensive experience facilitating productive mediation discussions. Our personalized attention and focus on efficiency set us apart. We simplify the process, helping couples dissolve their marriage peacefully.
Customizing Our Approach to Your Distinct Needs
Our lawyers recognize that every client's situation is unique when it comes to family law. They invest time understanding individual needs before tailoring their services. Transparent quotes reflect each client's personalized path forward. Our fixed fee pricing provides cost certainty, eliminating hourly billing surprises. Clients can focus on their case, trusting they will receive high-caliber yet affordable representation. A personalized approach enhances client satisfaction and promotes positive outcomes.
Leveraging Our Depth of Family Law
With deep knowledge, our attorneys have guided countless clients to success. Their extensive experience translates into greater competence and confidence. Clients can trust their divorce mediation is in capable hands. Sterling Lawyers streamline proceedings, delivering excellence at an affordable price. Clients receive indispensable support throughout, avoiding unnecessary financial strain. We are dedicated to smoothly mediating complex divorce cases.
Pledge to Streamlined Proceedings
Sterling Lawyers aim to reduce disruptions and facilitate rapid resolution of divorce mediation cases. Their simplified procedures minimize stress while expediting the process. Settlements are reached efficiently, enabling clients to start fresh chapters sooner. Our team adeptly handles divorce details like property division and child custody. With an eye toward fostering collaboration, they mediate to reflect both parties' wishes and achieve prompt, peaceful resolutions.
Ongoing Legal Support for Your Case
Divorce mediation agreements can adapt over time as circumstances change. Our team provide modification services to update arrangements when needed. With knowledgeable attorneys available, we will guide clients through any required adaptations. Beyond legal counsel, Sterling Lawyers offers ongoing support through educational resources and events. Clients stay informed via clear communication and regular case updates. We build lasting relationships, assisting long after the mediation concludes.
Considerations When Selecting the Right Lawyer
Opting for an experienced divorce mediation attorney is critical to protecting your interests. Their honed in knowledge facilitates negotiation and resolution. At Sterling Lawyers, years of honing their mediation skills provide clients confidence during proceedings. Protecting children's wellbeing, ensuring fair division of property, and securing peaceful resolutions remain top priorities. An attorney's intimate knowledge of family law and mediation nuances can mean the difference between satisfactory and undesirable outcomes. Access their tested guidance by scheduling a consultation.
Roadmap to Reaching Success
The divorce mediation process involves assessing the situation, filing documentation, negotiating agreements, and finalizing the settlement. We help clients navigate potential challenges like working with opposing parties. Our experience enables each lawyer to provide strategic advice each step of the way. Unique approaches like suggesting creative solutions build trust, yielding optimal resolutions. With an attorney in your corner, the path to settlement is smoother.
Empower Yourself with Legal Guidance
Seeking consultation is the first step to initiating divorce mediation. An attorney can evaluate your situation and advise if you qualify for mediation under Wisconsin law. Certain complexities may dictate proceeding through litigation instead. Avoid missteps; consult Sterling Lawyers before acting. Early legal guidance illuminates your rights and options while establishing a strong case foundation. It can mean the difference between achieving your goals or not. Empower yourself for success by scheduling a consultation.
For Immediate help with your family law case or answering any questions please call (262) 221-8123 now!
Frequently Asked Questions
Why should I consider hiring a Fond du Lac divorce mediation lawyer instead of another type of professional?
A Fond du Lac divorce mediation lawyer focuses not just on the legal aspects of family law but also considers the emotional and psychological impact it can have. They are skilled in techniques to help clients communicate more effectively, reducing tension and misunderstandings. Additionally, the attorney is knowledgeable about Wisconsin divorce law and can ensure agreed-on decisions are legally sound and enforceable.
How long does the entire divorce mediation process last in Fond du Lac?
The length of the mediation process with a Fond du Lac divorce mediation lawyer largely dependent on the complexity of the issues and the willingness of parties to come to agreements. Generally, it could range from a few weeks to several months. The more prepared and willing both parties are in reaching a consensus, the quicker the process tends to be.
Is communication with a Fond du Lac divorce mediation lawyer confidential?
Yes, communication during divorce mediation with a Fond du Lac divorce mediation lawyer is confidential. The information shared or discussed during the mediation process cannot be used against you in court. This confidentiality allows you to speak openly, helping to resolve disputes more effectively.