Fond du Lac Property Division Attorneys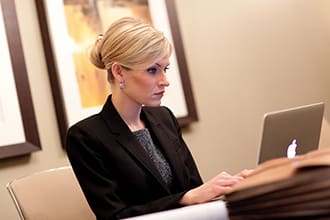 Join one of our experienced family law attorneys and learn about the divorce process, common issues, and participate in a Q and A session.
RSVP here.
Upcoming dates:
Tue, Dec 5 at 5:30pm
With
Attorney Mike Kyrios
Fond du Lac Property Division Lawyers at Sterling Lawyers, LLC
Legal Options that Work for You
There are three basic separation paths depending on your situation. If you're not sure what to choose or are ready to take the next step, call to speak with an attorney for case-specific advice.
Uncontested
Help from the Pros for Simpler Cases
Starting at $2750
Best when you both agree on most separation issues
Get help preparing the paperwork
Ask question at legally complex points
Have peace of mind with your settlement
Mediated
Greater Level of Help for Amicable Situations
$3,500 - $6,500/couple
Most amicable process for long-term harmony
Neutral mediation attorney guides you from start to settlement
Reduce conflict by deciding on property division and custody matters together
Fraction of contested divorce costs
Contested
When You Need an Advocate in Your Corner
$499/mo - $100,000
Best for adversarial relationships
Necessary if abuse, substance abuse, or violence is present
Your personal negotiation and litigation team
Critical when trust is an Issue
The process of property division is often a challenging and emotional journey. It can be an overwhelming period for those involved, filled with complex legal issues and numerous considerations. Having a qualified attorney simplifies the legal process and ensures the interests of the parties involved are well protected. Navigating this process with an experienced Fond du Lac family law lawyer eases the stress and uncertainty that typically accompany family law.
Navigating the Emotional Landscape of Dividing Assets
The law firm is a trusted choice for representation in Fond du Lac. Known for their extensive experience, the firm's attorneys are committed to easing the stress that comes with such legal cases. They aim to facilitate a smooth and efficient process, ensuring clients' best interests are protected. The proficiency of these attorneys sets our firm apart in the city, and their personalized approach enhances the client experience significantly.
We Craft Strategies Unique to Your Specific Needs
Every person's needs are unique. We take ample time to understand each client's specific needs and tailor their services accordingly. We provide transparent quotes and services customized to individual needs. This, combined with a fixed fee pricing structure, eliminates surprises commonly associated with hourly billing. The advantage of working with a lawyer who understands your unique situation proves beneficial in attaining satisfactory outcomes.
Our Extensive Experience Drives Excellent Results
Sterling Lawyers has built a formidable reputation through years of excellent client service. The attorneys have a deep understanding of the process, focusing on making it affordable and free from unnecessary delays. This translates into a higher level of confidence and competence when dealing with property division matters, reassuring clients that their cases are in capable hands.
We Strive to Make Your Case Seamless and Stress-Free
Minimizing disruptions and maximizing resolution during family law proceedings is our main commitment. The firm aims to make the family law process effortless and fast, ensuring a smooth transition. Our team of professional legal advisors exhibits proficiency in handling various family law proceedings such as property division, child custody, and alimony, offering a comprehensive approach to family law cases.
You're Not Alone – We'll Support You Each Step of the Way
Several factors come into play when going through family law conflicts, such as implications for children, financial matters, and emotional well-being. Sterling Lawyers understands this and offers modification services as situations may change over time. The Fond du Lac property division attorneys provide guidance throughout these modifications and constant support beyond initial consultation and representation. Their commitment to keeping clients informed about the progress of their cases ensures clarity and confidence.
Why Fond Du Lac Clients Choose Our Property Division Attorneys
Choosing an attorney with a successful track record is a key advantage. Sterling Lawyers' proven record instills confidence in clients during the legal process. Their main focus is on protecting children's best interests, ensuring fair asset distribution, and promoting peaceful resolutions. This highlights their familiarity with local courts, judges, and experience in negotiation and litigation.
Demystifying the Process from Start to Finish
The process of property division involves several stages, including initial consultation, filing documents, negotiation, and potentially court proceedings. There can also be legal requirements, documentation issues, or encounters with opposing parties during the proceedings. We make this process less daunting by providing strategic advice at every stage and advocating for the best interests of their clients.
Make Informed Decisions in Family Law
Starting the property division process requires an initial consultation with an attorney to evaluate your situation, understand your rights, and explore available options. It is imperative to go through this consultative process. Without legal advice, the risks are higher which makes working with our team so beneficial. A consultation can clarify your rights, options, and potential outcomes. It also helps you understand any legal complexities that might be linked to your case.
Going through a property division process is a challenging task. It involves complexities that require the guidance of a seasoned attorney. By offering personalized services and extensive experience to guide clients smoothly through the process, our team of lawyers are here to support you. They are committed to providing ongoing support and simplifying the procedure for their clients. Choosing our family law firm for your representation ensures that the process is navigated with compassion and proficiency. If you are looking to embark on this journey, don't hesitate to contact Sterling Lawyers to discuss your individual case and how they can assist you in achieving a positive outcome.
For Immediate help with your family law case or answering any questions please call (262) 221-8123 now!
Frequently Asked Questions
Who gets to stay in the house after a divorce in Fond du Lac, WI?
When determining which spouse will be awarded possession of the marital home in a Wisconsin divorce, some factors considered by the court are the best interests of any minor children involved, the financial circumstances and earning ability of each spouse to maintain the home alone, and any health conditions or disabilities making one spouse more in need of remaining in the home. For example, if there are minor children, especially younger ones, the spouse with primary physical placement may argue need to remain in the home to provide stability for the kids.
What happens to our joint bank accounts during a divorce in Fond du Lac, WI?
It is not advisable to drain, cancel, or remove your spouse from jointly held bank accounts prior to the divorce being finalized, as this can be viewed as financial misconduct and dissipation of marital assets which can negatively impact your case. The best course of action is having your Fond du Lac property division lawyer file a motion requesting the court enter an order preventing either spouse from dissipating, concealing, or disposing of assets during the divorce proceedings until property division is complete.
What happens to inherited property or gifts in a Fond du Lac divorce?
Assets that were acquired by one spouse either as an inheritance or gift specifically to that spouse before the marriage or during the marriage are considered non-marital or separate property belonging solely to them in Wisconsin. It is important to retain documentation proving the inheritance or gift was specifically for you.