Fond du Lac Contested Divorce Attorneys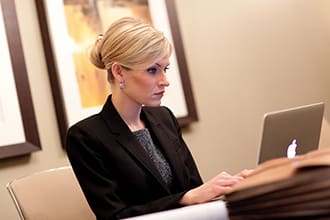 Join one of our experienced family law attorneys and learn about the divorce process, common issues, and participate in a Q and A session.
RSVP here.
Upcoming dates:
Tue, Dec 5 at 5:30pm
With
Attorney Mike Kyrios
Fond du Lac Contested Divorce Lawyers at Sterling Lawyers, LLC
Legal Options that Work for You
There are three basic separation paths depending on your situation. If you're not sure what to choose or are ready to take the next step, call to speak with an attorney for case-specific advice.
Uncontested
Help from the Pros for Simpler Cases
Starting at $2750
Best when you both agree on most separation issues
Get help preparing the paperwork
Ask question at legally complex points
Have peace of mind with your settlement
Mediated
Greater Level of Help for Amicable Situations
$3,500 - $6,500/couple
Most amicable process for long-term harmony
Neutral mediation attorney guides you from start to settlement
Reduce conflict by deciding on property division and custody matters together
Fraction of contested divorce costs
Contested
When You Need an Advocate in Your Corner
$499/mo - $100,000
Best for adversarial relationships
Necessary if abuse, substance abuse, or violence is present
Your personal negotiation and litigation team
Critical when trust is an Issue
Dealing with a contested divorce is often an emotional roller coaster filled with complex legal obstacles. In such critical times, Sterling Lawyers in Fond du Lac, Wisconsin steps in to help steer the process in a streamlined and hassle-free way, rendering invaluable aid to individuals in coping with the intricacies of family law. The team of Fond du Lac divorce attorneys stand ready to elevate the burden of legalities, ensuring their clients can focus on healing and rebuilding.
A Trusted Beacon of Guidance in Fond du Lac
People trust Sterling Lawyers because of the comprehensive services they provide to their clients. The firm's attorneys have a profound understanding of family law, which equips them with the necessary tools to handle the intricacies of contested divorce cases effectively. They're devoted to making the legal case process as simple as possible while ensuring their clients' interests are safeguarded. The breadth of their experience separates them from other law firms in Fond du Lac. Every client receives personal attention that enhances their experience.
Beyond One-Size-Fits-All: Our Customized Approach in Family Law
We believe that every client's case is unique and offers a personalized approach to meet their specific legal needs in Fond du Lac. We understand the particularities of their clients' situations, and as a result, they provide transparent price quotes and tailor their services to match individual circumstances. Fixed fee pricing ensures cost-effectiveness and eliminates any unexpected costs. This personalized approach increases client satisfaction and improves the chances of a favorable outcome.
A Wealth of Experience: Your Ally in the Family Law Jungle
Sterling Lawyers has gained an impressive amount of knowledge over the years, proving their competency in handling family law. They focus on making the process affordable for their clients, ensuring they receive the support they need without unnecessary delays or financial strain. The firm's broad experience gives clients the confidence that their cases are handled competently and professionally.
Our Commitment to Minimize Legal Challenges
Our attorneys work tirelessly to minimize disruptions and maximize resolution during family law proceedings. The goal of our team is to make the legal process as effortless and fast as possible, ensuring a smooth transition for clients. Our lawyers are skilled in handling issues like property division, child custody and support, and alimony, providing a comprehensive approach to family law cases. They are committed to achieving a clear resolution that reflects both parties' decisions, fostering collaboration, and reducing conflict.
More Than Just Representation
When going through family law, several factors need attention, such as the impact on children, financial implications, and emotional well-being. As circumstances might change over time, family law modification services are available at Sterling Lawyers. The contested divorce attorneys can guide clients through these modifications and provide ongoing support. They keep their clients informed and updated on the progress of their cases and offer numerous resources and services to support them throughout their journey.
The Significance of An Experienced Attorney
Choosing an attorney who has successfully handled similar cases in the past can be advantageous. It's essential to consider an attorney's track record when selecting one to ensure they can safeguard your interests. Social media mentions and client testimonials often reflect the level of confidence that the firm's experience and track record instill in clients. An attorney's role in a contested divorce is crucial; they act as a strong advocate for their clients throughout the process, providing advice and representation at every step.
The Stages of a Contested Divorce Case
The typical contested divorce process involves several stages, including initial consultation, filing documents, negotiation, and potentially court proceedings. Clients may encounter various challenges during these proceedings, such as legal requirements, documentation, or dealing with opposing parties. Sterling Lawyers' profound knowledge enables them to guide clients through each stage, providing strategic advice and advocating for their best interests. They employ unique strategies that ensure a higher likelihood of achieving a favorable resolution.
Weaving Together the Legal Threads
Starting the process involves consulting with a contested divorce attorney to evaluate your situation, understand your rights, and explore available options. Understanding whether you qualify for the legal process is crucial since eligibility varies based on jurisdiction and individual circumstances. An early consultation with a lawyer can empower individuals by providing them with a clear understanding of their rights, options, and potential outcomes.
Ultimately, dealing with a contested divorce involves complexities for which you need knowledgeable attorneys by your side. The team offers personalized service and a commitment to easing the burdensome process, supporting clients through each stage with compassion and commitment. They stand out as the trusted choice for representation in Fond du Lac, Wisconsin. For an in-depth discussion about your individual case and goals, don't hesitate to contact Sterling Lawyers. They're ready to assist you in achieving a favorable outcome for your case.
For Immediate help with your family law case or answering any questions please call (262) 221-8123 now!
Frequently Asked Questions
Can an attorney provide guidance on how to prepare for a contested divorce hearing in Fond du Lac, WI?
An attorney can indeed provide vital guidance on how to prepare for a contested divorce hearing in Fond du Lac, WI. This may include counsel on understanding the potential outcomes as well as how best to present your case. They can help identify important pieces of evidence to support your position and guide you through the potential line of questioning you may face. In addition, they can also emotionally prep you and explain the typical legal process, helping you understand the likely timeline and what the subsequent steps will entail.
What are the potential pitfalls or challenges we might face during a contested divorce in Fond du Lac?
There are several potential pitfalls and challenges you might face during a contested divorce in Fond du Lac. One of the primary challenges is the emotional exhaustion that arises from lengthy legal battles, as these types of cases often take longer compared to uncontested divorces. It can also be stressful trying to prove grounds for the divorce or dealing with disagreements on issues such as financial settlements, property division, child custody, or alimony. Another potential challenge is the costs are generally more expensive because of the added litigation costs.
How often will I have to be in court for a contested divorce case in Fond du Lac?
The frequency of court appearances for a contested divorce case in Fond du Lac largely depends on the complexity of the case and how willing both parties are to negotiate. There is a requirement for at least one court hearing for the final settlement. Beyond this, there may be several other hearings scheduled to resolve contentious issues between you and your spouse. The more disputes that arise, the more likely it is that court appearances will be necessary. Your attorney can provide a more tailored outlook based on the unique circumstances of your divorce.