Fond du Lac Paternity Attorneys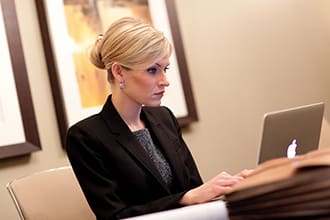 Join one of our experienced family law attorneys and learn about the divorce process, common issues, and participate in a Q and A session.
RSVP here.
Upcoming dates:
Tue, Dec 5 at 5:30pm
With
Attorney Mike Kyrios
Fond du Lac Paternity Lawyers at Sterling Lawyers, LLC
Legal Options that Work for You
There are three basic separation paths depending on your situation. If you're not sure what to choose or are ready to take the next step, call to speak with an attorney for case-specific advice.
Uncontested
Help from the Pros for Simpler Cases
Starting at $2750
Best when you both agree on most separation issues
Get help preparing the paperwork
Ask question at legally complex points
Have peace of mind with your settlement
Mediated
Greater Level of Help for Amicable Situations
$3,500 - $6,500/couple
Most amicable process for long-term harmony
Neutral mediation attorney guides you from start to settlement
Reduce conflict by deciding on property division and custody matters together
Fraction of contested divorce costs
Contested
When You Need an Advocate in Your Corner
$499/mo - $100,000
Best for adversarial relationships
Necessary if abuse, substance abuse, or violence is present
Your personal negotiation and litigation team
Critical when trust is an Issue
Dealing with paternity can be an incredibly emotional process for all parties involved. Determining legal rights and responsibilities for a child can be complex and challenging to navigate alone. Having an experienced attorney to provide guidance through the intricacies of family law can help ensure your rights are protected while reducing stress during an already difficult time. When working with a knowledgeable Fond du Lac family law attorney, the legal process can be straightforward, allowing you to focus on what matters most – your family.
Demystifying the Paternity Process
Our dedicated team has extensive experience handling family law cases with compassion and skill. Our attorneys make it a priority to simplify the process, providing transparent communication and reasonable fixed fees, so you know what to expect every step of the way. We recognize the challenges individuals face during legal proceedings and tailor our services to meet each client's unique needs. Our personalized approach, combined with deep knowledge of family law, allows us to protect your best interests while securing a favorable result. With some of the area's most experienced paternity attorneys, our firm has developed a reputation for excellence within the Fond du Lac community.
Custom-Tailored Legal Strategy
Every case comes with its own set of circumstances, which is why we take the time to understand your unique situation during a consultation. Our Fond du Lac paternity attorneys can then develop a legal strategy catered to your individual needs. We move forward with transparency, providing upfront pricing options to eliminate surprises down the road. Our fixed fee structure delivers comprehensive legal representation while allowing you to budget effectively. We recognize that no two clients' situations are exactly alike. That's why our lawyers devote focused attention to you and your case, delivering high-quality legal services tailored to your specific needs. This individualized approach enhances client satisfaction and contributes to favorable case outcomes.
Depth of Family Law Knowledge
With decades of combined experience handling family law cases, our Fond du Lac paternity attorneys have had the privilege of helping numerous clients successfully resolve their legal matters. Our team has built an in-depth understanding of family law proceedings and processes. We leverage this knowledge to streamline proceedings, reduce delays, and develop cost-effective solutions for clients. Our attorneys have handled a broad range of cases over the years, equipping them with the skills and competence to take on even the most complex matters with ease. We have made it our mission to support clients through family law matters with the excellence, efficiency and empathy they deserve.
Minimizing Disruption Through Knowledge
We believe the paternity process should be effortless and fast, allowing you to move forward with your life. Our lawyers always have your best interests in mind as we work to minimize disruptions and delays, securing a prompt, clear resolution for you and your family. We handle every aspect of legal proceedings, from establishing custody, visitation, and child support to resolving disputes over genetic testing. With deep knowledge of family law and alternative dispute resolution tactics, we foster collaboration between parties while protecting our clients' rights. Our strategic approach enables us to smooth out proceedings, reducing conflict to achieve settlements that work for all involved.
Post-Case Resources and Continued Support
The impact of legal proceedings extends far beyond the courtroom, often influencing children's lives and families' financial stability for years to come. Our Fond du Lac paternity attorneys provide ongoing support to guide you through any changes that occur after your case concludes. Life circumstances and needs evolve over time, particularly for growing children. We can advise on modifications like altering existing child support or custody arrangements to reflect your family's current situation. Even after your family law matter is resolved, you can rely on our attorneys for continued services, resources and transparent communication. We see clients as long-term relationships, not just cases, and make ourselves available to offer guidance at every turn.
The Key Sign of a Highly Skilled Attorney
When selecting an attorney, it is essential to seek out substantial experience handling these delicate cases. Our lawyers have successfully resolved countless matters over many years of practice. Our proven track record brings confidence and peace of mind to clients throughout proceedings. We know that family law cases must balance legal matters with family welfare, requiring compassionate yet strong advocacy. An attorney experienced in understands the nuances that shape outcomes for children and parents. With familiarity of local courts and judges, we can provide insider knowledge when navigating the Fond du Lac legal system. Allow our qualified Fond du Lac paternity attorneys to act as your guide, leveraging our experience to secure the best result for you.
A Roadmap to Resolution
The legal process involves several key steps, starting with an initial consultation where we will review your situation, needs and objectives. Once formal paternity establishment is underway, we handle tasks like genetic testing facilitation, filing required legal documents, and advocating for your best interests in negotiation. If needed to resolve disputed issues, we have substantial experience representing clients in court proceedings and alternative dispute resolution methods. Our Fond du Lac attorneys stay by your side through every phase, offering strategic counsel to overcome challenges and accomplish your goals. At Sterling Lawyers, our intimate knowledge of the local judicial system allows us to anticipate issues and help you successfully navigate the path to resolution.
Take Control Through Consultation
If you are considering establishing paternity, the first step is consulting with a qualified lawyer to understand your rights and options. Eligibility requirements vary, so it is important to evaluate your individual circumstances. The team at Sterling Lawyers can meet with you for an initial consultation, assessing your situation and empowering you to make informed decisions regarding legal establishment of a parental relationship. There are risks in trying to handle family law without consulting legal counsel. An attorney can explain important considerations, prevent procedural missteps, evaluate potential outcomes, and ensure your case gets started on the right foot. Don't go it alone when navigating challenging legal matters. Contact our office in Fond du Lac, WI today to schedule a consultation and let us help guide you down the optimal path forward.
For Immediate help with your family law case or answering any questions please call (262) 221-8123 now!
Frequently Asked Questions
What are my rights as a father in Fond du Lac, WI?
In Fond du Lac, WI, as a father, you have several rights. These rights are contingent on establishing paternity first. If you're the biological or adoptive father, the primary rights include the right to: visitation or custody, input in major decision, inheritance, provide care, and prevent adoption if the mother wants to give the child up for adoption without consent.
What are the consequences of not establishing paternity in Fond du Lac, WI?
Failing to establish paternity could result in several consequences. The alleged father may not have any legal rights or responsibilities towards the child. This means no right to custody or visitation and no say in decisions affecting the child's life. The child would also not have the right to financial support from the father, including child support, social security benefits, military benefits, inheritance rights, and more. Additionally, paternity can also have implications for the child's emotional well-being and identity development, as knowledge of one's biological heritage can be significant. It's essential to consult with a Fond du Lac paternity lawyer to understand the full range of potential consequences and guide you through the legal process.
How can a Fond du Lac lawyer help me establish paternity?
A Fond du Lac lawyer can provide invaluable guidance as you navigate the complexities of establishing paternity. They can not only help you understand Wisconsin laws, but also assist you with the legal documents required, represent you in court, and address potential disputes. From securing reliable DNA tests to representing your interests during negotiations about child custody, visitation, or support, these attorneys can help ensure your rights are protected.