Fond du Lac Collaborative Divorce Attorneys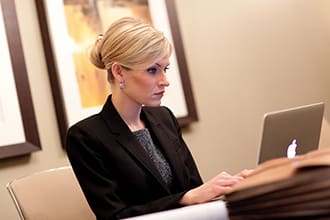 Join one of our experienced family law attorneys and learn about the divorce process, common issues, and participate in a Q and A session.
RSVP here.
Upcoming dates:
Tue, Dec 5 at 5:30pm
With
Attorney Mike Kyrios
Fond du Lac Collaborative Divorce Lawyers at Sterling Lawyers, LLC
Legal Options that Work for You
There are three basic separation paths depending on your situation. If you're not sure what to choose or are ready to take the next step, call to speak with an attorney for case-specific advice.
Uncontested
Help from the Pros for Simpler Cases
Starting at $2750
Best when you both agree on most separation issues
Get help preparing the paperwork
Ask question at legally complex points
Have peace of mind with your settlement
Mediated
Greater Level of Help for Amicable Situations
$3,500 - $6,500/couple
Most amicable process for long-term harmony
Neutral mediation attorney guides you from start to settlement
Reduce conflict by deciding on property division and custody matters together
Fraction of contested divorce costs
Contested
When You Need an Advocate in Your Corner
$499/mo - $100,000
Best for adversarial relationships
Necessary if abuse, substance abuse, or violence is present
Your personal negotiation and litigation team
Critical when trust is an Issue
Going through a divorce can be an overwhelming emotional experience. Collaborative divorce provides a method of dissolving a marriage through respectful negotiations, but the process still involves intricacies. With compassionate guidance the family law process can be simplified. Our attorneys aim to relieve the stresses, ensuring smooth proceedings and favorable outcomes. The knowledge of each Fond du Lac divorce lawyer transforms the complexity of family law into a manageable process.
Managing the Challenges of Collaborative Divorce
Our attorneys ease clients' worries and protects their interests through productive discussions. We streamline collaborative divorce, delivering excellence and simplicity. Providing individualized attention enhances each client's experience during this sensitive time. With proven skills in collaborative negotiations, we are a leading family law firm in Fond du Lac.
Tailoring Our Approach to Your Specific Needs
Every family law situation brings unique considerations. Sterling Lawyers start by thoroughly evaluating each client's specific circumstances before tailoring their services in Fond du Lac. Transparent pricing reflects the personalized path forward. Their fixed fee structure provides cost predictability, avoiding confusing hourly billing. Clients can be confident they will receive high-caliber yet affordable representation customized to their needs. An individualized approach promotes satisfaction and positive outcomes.
Capitalizing on Our Extensive Knowledge of Family Law
With expansive knowledge of collaborative divorce, our skilled attorneys have guided clients to amicable resolutions. Our substantial experience translates into greater proficiency and confidence when facilitating negotiations. Clients know their case rests in capable hands. Sterling Lawyers simplify the process, delivering excellence affordably. Clients receive vital support while avoiding unnecessary delays or financial burdens. With a proven background of success, we offer the knowledge to tackle intricate family law matters.
Our Commitment to Seamless Proceedings
We are committed to smooth and rapid proceedings. They employ practices that reduce frustrations while expediting the process. Settlements are achieved efficiently, enabling clients to embark on new chapters sooner. Our lawyers adeptly handle all aspects of divorce, from property division to child arrangements. With a solutions-oriented approach, they guide collaborative negotiations to align with both parties' wishes and prompt resolutions.
Continuous Legal Support
As circumstances evolve over time, collaborative divorce agreements may warrant modifications. We provide adjustment services to revise arrangements as needed. Our knowledgeable attorneys remain accessible, steering clients through any required updates. Beyond representation, each lawyer offers continuing support such as educational materials and seminars. Clients stay informed through clear communication and regular case updates. Our team build lasting connections, assisting long after the case concludes.
Selecting the Right Collaborative Divorce Attorney
Choosing an experienced attorney is vital for safeguarding your interests. Their skills enable constructive dialogue and resolution. Honing their collaborative techniques over many cases provides clients peace of mind. Protecting children's welfare, ensuring fair property split, and securing harmonious settlements are top priorities. An attorney's intimate understanding of divorce law intricacies can profoundly influence outcomes. Access their proven knowledge by scheduling a consultation today.
Navigating Family Law with You in Mind
The process involves examining the situation, submitting documentation, negotiating agreements, and formalizing the settlement. Sterling Lawyers guide clients through potential obstacles like communicating with the other party. Their familiarity with collaborative divorce enables them to deliver strategic advice each step of the way. Innovative tactics like posing win-win scenarios cultivate trust and optimal resolutions. With legal counsel in your corner, the path to success is more straightforward.
Empower Yourself with Guidance
Consulting with an attorney is the critical first step when pursuing collaborative divorce. They can evaluate your circumstances and determine if you qualify under Wisconsin statutes. Certain complexities may indicate traditional litigation is preferable. Avoid missteps by consulting our team in advance. Early guidance clarifies your rights and choices while building a robust case foundation. It could make all the difference in attaining your objectives. Start strong by scheduling an initial consultation.
The emotional turbulence of collaborative divorce is calmed with compassionate counsel. Our personalized approach simplifies the process for Fond du Lac County residents. Years of experience provide knowledge and confidence. We reduce delays and frustrations, facilitating faster resolutions. Ongoing support delivers peace of mind. When seeking quality representation, consulting an attorney is key. Contact Sterling Lawyers to begin your journey today.
For Immediate help with your family law case or answering any questions please call (262) 221-8123 now!
Frequently Asked Questions
Does the collaborative divorce process in Fond du Lac, WI involve courts?
The collaborative divorce process in Fond du Lac, WI, primarily takes place outside the court. It involves both spouses and their attorneys voluntarily signing an agreement to work together towards achieving a mutually acceptable settlement. The process involves several meetings where the spouses and their attorneys discuss the distribution of assets, child custody, support, and other relevant issues. The focus is on open communication and information sharing as a way to avoid courtroom battles. However, the final agreement reached is presented to a judge for approval and to officially end the marriage.
If it doesn't work out, can one switch from a collaborative divorce to a regular divorce in Fond du Lac?
If a collaborative divorce does not work out, one can indeed switch to a regular (contested) divorce in Fond du Lac, WI. However, it is important to bear in the mind that if the collaborative process fails and you proceed to court litigation, the attorneys involved in the case are required to withdraw from the case due to the "disqualification" provision in the participation agreement signed at the beginning of the legal process. You would then need to hire new legal representation.
How do I find a trusted Fond du Lac collaborative divorce lawyer near me?
Finding a trusted collaborative divorce lawyer in Fond du Lac, WI can be done through various methods. Word of mouth can be an effective means of finding a trusted attorney. Start by asking family members or friends who have gone through a similar experience for recommendations. If this is not feasible, consider doing some research online. Once you have a shortlist of potential attorneys, schedule an initial consultation to determine if their approach aligns with your own values and needs.