Fond du Lac Spousal Support Attorneys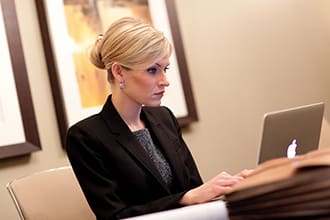 Join one of our experienced family law attorneys and learn about the divorce process, common issues, and participate in a Q and A session.
RSVP here.
Upcoming dates:
Tue, Dec 5 at 5:30pm
With
Attorney Mike Kyrios
Fond du Lac Spousal Support Lawyers at Sterling Lawyers, LLC
Legal Options that Work for You
There are three basic separation paths depending on your situation. If you're not sure what to choose or are ready to take the next step, call to speak with an attorney for case-specific advice.
Uncontested
Help from the Pros for Simpler Cases
Starting at $2750
Best when you both agree on most separation issues
Get help preparing the paperwork
Ask question at legally complex points
Have peace of mind with your settlement
Mediated
Greater Level of Help for Amicable Situations
$3,500 - $6,500/couple
Most amicable process for long-term harmony
Neutral mediation attorney guides you from start to settlement
Reduce conflict by deciding on property division and custody matters together
Fraction of contested divorce costs
Contested
When You Need an Advocate in Your Corner
$499/mo - $100,000
Best for adversarial relationships
Necessary if abuse, substance abuse, or violence is present
Your personal negotiation and litigation team
Critical when trust is an Issue
When dealing with the matter of spousal maintenance, navigating the emotional landscape can often be as challenging as navigating the legal one. It's a complex process, fraught with uncertainty and stress. At such times, the need for legal guidance from a Fond du Lac divorce lawyer becomes critical. At Sterling Lawyers in Fond du Lac, Wisconsin, the team of seasoned attorneys strives to make this process streamlined and effortless, offering comprehensive services that aim to minimize your stress while achieving the most favorable outcome.
Embarking on the Voyage of Spousal Support
Sterling Lawyers has become a trusted name in Fond du Lac, Wisconsin, for individuals seeking representation in family law matters. What sets our firm apart is the team of highly experienced attorneys who are dedicated to not only achieving the best possible outcome for their clients but also ensuring that the entire legal process is as stress-free as possible. Our approach towards each case is unique and personalized, which enhances the client's overall experience.
Custom-Tailored Approach to Your Legal Needs
Understanding the unique spousal support needs of everyone in Fond du Lac is a key component of our approach. Our thorough and encouraging alimony attorneys take the time to comprehend each client's particular situation, providing transparent quotes and tailoring our services to meet their individual needs. A fixed fee pricing structure eliminates the element of surprise often associated with hourly billing, ensuring comprehensive, high-quality representation without escalating costs.
Leveraging Years of Family Law Experience
We have the benefit of extensive experience serving clients in a wide range of family law matters. This experience translates into a higher level of confidence and competence when dealing with alimony cases. Our attorneys are well versed in the complexities of spousal maintenance procedures, ensuring our clients receive the timely support they need without unnecessary delays or financial strain.
Our Pledge for Seamless Legal Proceedings
Our primary goal at Sterling Lawyers is to minimize disruptions and enable smooth resolution during all family law proceedings. We believe in making the process as effortless and swift as possible, ensuring a smooth transition during this challenging time. Our lawyers are well-equipped to handle related legal proceedings such as property division, child custody, and alimony, offering a holistic approach to family law cases.
Continuous Legal Support throughout Your Journey
Going through an alimony case can be a daunting task and involves many factors that need consideration such as the impact on children, financial implications, and much more. Our dedicated team offers ongoing support throughout this journey, keeping clients informed about the progress of their cases. We are committed to establishing long-term relationships with our clients, even after their immediate needs have been resolved.
The Importance of a Proven Track Record
Working with an attorney who has successfully handled similar cases in the past can be a significant advantage when dealing with spousal support cases. We have a proven track record that instills confidence and peace of mind in our clients. Our attorneys act as strong advocates throughout the legal process, offering advice and representation at every step.
Understanding the Legal Process
The path to resolution in a spousal support case often includes steps such as initial consultation, filing documents, negotiation, and potentially court proceedings. At Sterling Lawyers, we use our extensive knowledge in spousal maintenance cases to guide clients through each stage, ensuring a higher likelihood of achieving a favorable resolution.
Initial Step Towards Success
Starting a spousal support process often begins with a consultation with an attorney. We encourage individuals to reach out to us for a consultation where we evaluate their situation, understand their rights, and explore available options. An early consultation can prevent legal pitfalls, preserve evidence, and lay the groundwork for a successful case.
When facing alimony matters, obtaining quality legal assistance is paramount. Our Fond du Lac spousal support attorneys prioritize personalized service and aim to make the complex process as effortless as possible, supporting our clients through each stage with compassion and knowledge. We encourage potential clients to contact us to discuss their individual circumstances and learn how we can help achieve a positive outcome in their alimony case. Sterling Lawyers is committed to serving our community with unparalleled legal service.
For Immediate help with your family law case or answering any questions please call (262) 221-8123 now!
Frequently Asked Questions
Can a Fond du Lac spousal support attorney help me modify the previously decided alimony?
Yes, a Fond du Lac spousal support attorney can certainly assist you in trying to modify a previously decreed alimony agreement. Arising changes in circumstances may justify modification of the decree. These might include substantial changes in income, health concerns, or a remarriage. Your attorney will guide you through this process, helping you present compelling evidence to advocate your need for modification. Keep in mind that court's decision will be based primarily on whether the change in conditions is sufficient to warrant a modification, and your attorney will assist in making that determination.
What are the factors considered in spousal support in Fond du Lac?
Spousal support in Fond du Lac generally considers a variety of factors. This includes the length of the marriage, the earning capacity of both parties, the standard of living during the marriage, and the age and physical health of both parties. Other considerations might include the contribution of each party in the acquisition of property, and the time one party may need for education or training to become self-reliant. An attorney will work with you to ensure that all relevant aspects of your situation are adequately addressed before the court.
What happens if my spouse fails to pay the spousal support as ordered by the Fond du Lac court?
If your spouse fails to pay court-ordered spousal support, you can take them back to court for enforcement of the order. The court has the power to take several actions, such as wage garnishment, seizure of property, or even jail time for contempt of court. Not paying is taken seriously by the legal system and can incur severe consequences. It's advisable to have a Fond du Lac spousal support attorney guide you through these situations as they can represent your best interests professionally.