Fond du Lac Child Support Attorneys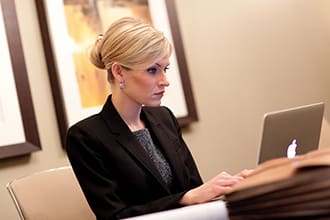 Join one of our experienced family law attorneys and learn about the divorce process, common issues, and participate in a Q and A session.
RSVP here.
Upcoming dates:
Tue, Dec 5 at 5:30pm
With
Attorney Mike Kyrios
Fond du Lac Child Support Lawyers at Sterling Lawyers, LLC
Legal Options that Work for You
There are three basic separation paths depending on your situation. If you're not sure what to choose or are ready to take the next step, call to speak with an attorney for case-specific advice.
Uncontested
Help from the Pros for Simpler Cases
Starting at $2750
Best when you both agree on most separation issues
Get help preparing the paperwork
Ask question at legally complex points
Have peace of mind with your settlement
Mediated
Greater Level of Help for Amicable Situations
$3,500 - $6,500/couple
Most amicable process for long-term harmony
Neutral mediation attorney guides you from start to settlement
Reduce conflict by deciding on property division and custody matters together
Fraction of contested divorce costs
Contested
When You Need an Advocate in Your Corner
$499/mo - $100,000
Best for adversarial relationships
Necessary if abuse, substance abuse, or violence is present
Your personal negotiation and litigation team
Critical when trust is an Issue
The road to resolving child support issues can be fraught with emotional and financial hurdles. When dealing with such matters, the journey of family law can feel overwhelming. Sterling Lawyers, a reputable law firm in Fond du Lac, Wisconsin, could be the haven you need. Engaging with a legal team who genuinely understands the intricacies of family law can expedite the process and reduce stress. Understanding the benefits of consulting with an experienced Fond du Lac family law firm can make your journey to resolution less strenuous.
Navigating the Terrain of Child Support
Sterling Lawyers have made quite an impression as the go-to legal representatives for family law in Fond du Lac. The firm's unique ability to comprehend each client's individual circumstances and articulate a strategy accordingly elevates them as a trusted choice for clients. The team of seasoned attorneys prides itself in its commitment to alleviating clients' stress by bringing about favorable results swiftly. Our firm aspires to simplify the complex process while safeguarding their clients' best interests. What sets our team apart from other law firms is our deep-rooted understanding of family law.
Understanding Your Unique Needs
Understanding your unique child support needs in Fond du Lac is at the core of our approach. The team takes pride in taking note of each client's specific needs and tailoring their services accordingly. They take the time to discern your circumstances, providing clear pricing upfront and molding their services to suit individual needs. Our firm proudly operates on a fixed fee pricing structure, eliminating unnerving surprises linked with hourly billing. Other than ensuring comprehensive, high-quality legal representation, this pricing system also guarantees cost-effectiveness. Engaging with a law firm that values a tailored touch enhances client satisfaction and facilitates better outcomes.
Wealth of Family Law Experience
The depth of experience accrued over the years equips Sterling Lawyers with an upper hand when dealing with legal cases. The team of lawyers boasts an extensive background in family law, which reassures clients that their cases are well taken care of. This vast experience enables them to effectively streamline the process, making it affordable and devoid of unnecessary delays.
Our Commitment to Your Smooth Legal Proceedings
The primary goal is to make the process more effortless and quicker, aiming for a smooth transition while minimizing disruptions to clients' lives. Our focus on timely resolution is pivotal, as it helps clients accomplish their desired outcomes promptly. The professional lawyers at our family law firm are versatile in dealing with a variety of cases, from property division and child custody to alimony. This holistic approach to family law cases culminates in a clear, collaborative resolution that reduces conflict.
We Are by Your Side
Engaging in a legal case like child support involves considering various aspects such as impact on children, financial effects and emotional well-being. Over time, circumstances might change thus necessitating adjustments to existing arrangements. Sterling Lawyers offers modification services to adapt to these changes. Additionally, they provide clients with ongoing support through these modifications. Beyond the initial consultation and legal representation, they are committed to keeping clients updated on the progress of their cases. This is in addition to providing resources such as legal research materials, educational workshops, or referrals to other relevant professionals.
The Importance of Selecting an Experienced Attorney
Some advantages of working with one of our child custody lawyers include our successful track record and extensive experience handling similar cases. These attributes instill confidence in clients and contribute to their peace of mind during the legal process. On social media platforms and client testimonials, our firm's reputation as a reliable player in family law is solidified. One of the main focal points under child support include safeguarding children's best interests, ensuring assets are fairly divided, and promoting peaceful resolutions.
Paving the Way to Resolution
Consultation, document filing, negotiation, and court proceedings when necessary are some of the steps involved in child support cases. You may encounter various challenges during this process including legal requirements, dealing with opposing parties or handling documentation. However, the legal team are well equipped to guide you through each stage, providing strategic advice while advocating for your interests.
Why an Attorney is Crucial to Your Legal Journey
Consulting with Fond du Lac child support attorneys could be your first step towards resolving family law issues. Eligibility varies depending on jurisdiction and individual circumstances – another reason why consultation is essential. Your specific needs are recognized and addressed effectively. Without consultation, you risk not fully understanding your rights or available options. A consultation can empower you by providing a clear understanding of your rights, potential outcomes, and options.
Located in Fond du Lac, Wisconsin, the firm stands out due to their personalized approach, commitment to smooth proceedings, wealth of experience and ongoing client support. Engaging with a professional attorney for your legal needs is crucial considering the complexities of family law cases. If you find yourself in Fond du Lac, Wisconsin – a city situated in Fond du Lac County – do not hesitate to reach out to Sterling Lawyers for further information and consultation.
For Immediate help with your family law case or answering any questions please call (262) 221-8123 now!
Frequently Asked Questions
Can a Fond du Lac child support lawyer assist in modifying my current support order?
Absolutely, a Fond du Lac child support lawyer is equipped to assist in modifying your current support order. Modification laws allow either parent to request a change in a support order. You may need to prove that circumstances have significantly changed since the last order was issued. For instance, if one parent has experienced significant income changes, or if your child's needs have drastically changed due to factors such as health or education requirements, a lawyer can help present these changes to the court in a compelling manner.
What are some critical questions I should ask a child support lawyer during our first meeting in Fond du Lac?
Consultation with a lawyer is an important step. During your initial meeting in Fond du Lac, it's crucial to ask about their knowledge in child custody cases similar to yours, their understanding of child support laws in Wisconsin, their fees, and how they communicate with clients. Also, clarify any legal terms that you do not understand and inquire about the potential outcomes and timeline of your case. Remember, it's essential to choose an honest lawyer who you feel comfortable with and can trust.
I'm the non-custodial parent and think I'm being overcharged. Can a Fond du Lac child support lawyer help me?
Yes, a Fond du Lac child support lawyer can assist you if you believe you're being overcharged as a non-custodial parent. The lawyer can review your child's support order and determine whether the calculations are correct based on Wisconsin's guidelines and the parents' income information. If your income has reduced or there has been a significant change in circumstances, the lawyer can file a petition to modify the support order with accurate information. Always remember that the child's best interests are paramount when the court makes decisions.