West Bend Paternity Attorneys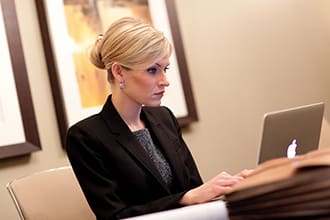 Join one of our experienced family law attorneys and learn about the divorce process, common issues, and participate in a Q and A session.
RSVP here.
Upcoming dates:
West Bend Paternity Lawyers at Sterling Lawyers, LLC
Legal Options that Work for You
There are three basic separation paths depending on your situation. If you're not sure what to choose or are ready to take the next step, call to speak with an attorney for case-specific advice.
Uncontested
Help from the Pros for Simpler Cases
Starting at $2750
Best when you both agree on most separation issues
Get help preparing the paperwork
Ask question at legally complex points
Have peace of mind with your settlement
Mediated
Greater Level of Help for Amicable Situations
$3,500 - $6,500/couple
Most amicable process for long-term harmony
Neutral mediation attorney guides you from start to settlement
Reduce conflict by deciding on property division and custody matters together
Fraction of contested divorce costs
Contested
When You Need an Advocate in Your Corner
$499/mo - $100,000
Best for adversarial relationships
Necessary if abuse, substance abuse, or violence is present
Your personal negotiation and litigation team
Critical when trust is an Issue
Handling issues related to paternity can be a stressful and emotional task, full of complex legal problems. We work in family law to make this process easier and to give you peace of mind during this important time. We have experienced lawyers in West Bend, Wisconsin who can guide you through this journey, making complicated situations less overwhelming and paving the way to a smoother solution.
Exploring the Voyage of Paternity
Sterling Lawyers has consistently emerged as the preferred choice for clients seeking paternity representation due to its impeccable track record and dedication to a flexible, client-centered model of practice. This team of seasoned lawyers is committed to alleviating stress and working tirelessly to reach the most favorable outcomes in each legal case. They are recognized for their proficiency in this area, serving as a beacon in the legal sector in West Bend. Their dedication to providing personalized service enhances the client experience, creating a strong foundation for a successful legal journey.
The Key Pillar of Choosing Wisely: Unlocking the Secrets to Finding the Right Attorney
Having an West Bend family law attorney with a successful streak in handling similar cases provides a significant advantage. The attorneys at our law firm have extensive experience and a proven track record to instill confidence in those that they work with. This ensures peace of mind during the legal process and is reinforced by positive mentions across social platforms and client testimonials. Our paternity lawyers take on the role of a strong advocate, guiding clients through every step of the legal process, providing advice and representation.
Personalizing the Paternity Cases for Your Needs
Understanding the unique situation of each person is paramount for us. Every lawyer at the firm is committed to understanding a client's distinctive needs, tailoring service packages to suit their specific requirements in your case. The firm's fixed cost structure eliminates unpredictability commonly associated with hourly billing, offering you high-quality legal representation without the worry of escalating costs. Moreover, this personalized approach fosters increased client satisfaction, leading to more favorable outcomes.
Unveiling the Complexities of Family Law
Sterling Lawyers boasts an impressive skillset in handling family law matters, serving you with excellence. Their broad and varied experience enables them to simplify and lessen the financial demands of paternity cases, ensuring you receive the support needed without additional strain. The firm's vast experience translates into heightened confidence and efficiency when handling family law matters, providing peace of mind that your case is in capable hands.
Steadfast Support throughout the Process
We are committed to reducing disruptions and expediting resolutions during legal cases involving paternity issues, striving to make the process easy and swift. The professional attorneys handle legal aspects such as property division, custody and support of children, and alimony, providing a comprehensive approach to cases on family matters. The firm is devoted to achieving agreements reflective of both parties' preferences, fostering cooperation and reducing conflict while being ready advocate for our clients when needed in a contested setting.
Guiding Light in the Darkness
Navigating family law cases involves considering factors such as the effects on children, financial implications, and emotional wellness. Our lawyers provide family law modification services as circumstances can alter, necessitating adjustments to existing arrangements. The West Bend paternity attorneys are equipped to guide you through these modifications, providing ongoing support. They ensure clear communication channels and regular updates, besides additional resources and services designed to assist you throughout your journey.
Charting the Course to Clarity
The path to resolving paternity cases involves steps such as initial consultation, filing documents, negotiations, and potentially court proceedings. Each stage has its own set of challenges, from the legal prerequisites to documentation and handling opposing parties. The team's comprehensive understanding of all aspects of family law allows them to guide clients at each stage, providing strategic advice while advocating for their best interests.
Starting Your New Chapter
Starting the paternity process begins by seeking consultation from a competent attorney to understand rights, evaluate situations, and explore options. It is crucial to seek consultation from the attorneys at Sterling Lawyers, LLC to determine your eligibility. Consultation with their attorneys empowers clients by providing an understanding of their rights, options, and possible outcomes, providing valuable insights into dealing with related legal complexities.
Sterling Lawyers serves as a beacon in the legal landscape of West Bend, Wisconsin, providing skilled assistance while navigating family law matters, including those related to paternity. They are exceptionally adept at handling complexities and offer a personalized approach, making them a trusted ally during such critical periods. They stand out as the leading choice for family law cases due to their commitment to easing the process and client support at every stage. Being in Washington County, they understand the local jurisdiction well and cater to community-specific requirements. It's thus strongly recommended to reach out to the firm to discuss individual issues and explore how they can assist in achieving a favorable outcome. They remain committed to serving the West Bend community and are ready to extend their legal prowess.
For Immediate help with your family law case or answering any questions please call (262) 221-8123 now!
Frequently Asked Questions
How can a West Bend Lawyer help me establish legal paternity?
A West Bend paternity lawyer can guide you through the legal process of which includes filing necessary paperwork, representing you in court, and ensuring that all legal procedures are correctly followed. Their extensive knowledge in this field can significantly help you.
What is the process of paternity determination that a West Bend, WI?
A West Bend paternity lawyer starts with a consultation to understand your case. They will then guide you through the filing process, which may involve taking a paternity test. If necessary, they will represent you at court hearings to enforce or contest the case.
How long does a paternity case take with a paternity attorney in West Bend?
The duration of a paternity case with a paternity attorney in West Bend, WI varies. Factors such as the cooperation of parties involved, the court's schedule, and the specifics of the case could influence the timeline. It's best to discuss this with your lawyer for an estimate.