West Bend Divorce Mediation Attorneys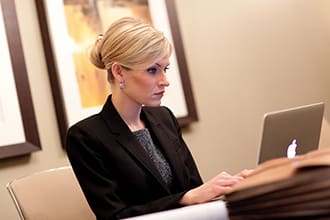 Join one of our experienced family law attorneys and learn about the divorce process, common issues, and participate in a Q and A session.
RSVP here.
Upcoming dates:
Tue, Dec 5 at 5:30pm
With
Attorney Mike Kyrios
West Bend Divorce Mediation Lawyers at Sterling Lawyers, LLC
Legal Options that Work for You
There are three basic separation paths depending on your situation. If you're not sure what to choose or are ready to take the next step, call to speak with an attorney for case-specific advice.
Uncontested
Help from the Pros for Simpler Cases
Starting at $2750
Best when you both agree on most separation issues
Get help preparing the paperwork
Ask question at legally complex points
Have peace of mind with your settlement
Mediated
Greater Level of Help for Amicable Situations
$3,500 - $6,500/couple
Most amicable process for long-term harmony
Neutral mediation attorney guides you from start to settlement
Reduce conflict by deciding on property division and custody matters together
Fraction of contested divorce costs
Contested
When You Need an Advocate in Your Corner
$499/mo - $100,000
Best for adversarial relationships
Necessary if abuse, substance abuse, or violence is present
Your personal negotiation and litigation team
Critical when trust is an Issue
Divorce mediation, a challenging and emotionally charged process, fills life with complexities we neither chose nor were prepared for. With our team of seasoned family law attorneys, we understand these complexities and can navigate you through the process efficiently and compassionately. The support of a seasoned legal team can make an appreciable difference, turning confusion and stress into clarity and hope. Firmly standing by your side, these seasoned attorneys can guide you towards a fresh start.
Maneuvering Through the Storm of Divorce Mediation
Opting for a West Bend divorce attorney from Sterling Lawyers, LLC is choosing a vast pool of experience in family law cases. Our lawyers are devoted to easing your stressful journey to reach the most equitable resolution. We aim for a swift yet comprehensive offering, ensuring our client's best interests are safeguarded effectively. With an army of seasoned lawyers and a dedication to personalized attention, we stand ready to guide you through every step of the legal case in a compassionate manner.
The Beacon of Trust in Divorce Mediation
We understand that each person's situation is unique and filled with personal intricacies. Our commitment to providing tailored services sets us apart. We take the time to understand your unique case, giving you a transparent quote for our services. Our fixed fee pricing structure eliminates any unwelcome billing surprises, assuring you of comprehensive, high-quality legal service without worrying about escalating costs.
Tailoring Solutions Just For You
Sterling Lawyers boasts a track record of serving clients with high-caliber representation. Our deep understanding of the legal process allows us to streamline services, provide the support you need without unnecessary delays, or financial strain. We are deeply committed to making the complex process simple, ensuring that you receive timely assistance from our divorce mediation lawyers.
Unmatched Knowledge in the Realm of Family Law
We are committed to minimizing the severity of disruptions and maximizing satisfaction from the process. Our professional attorneys adeptly handle family law proceedings including property division, child custody and support, and alimony. With a clear resolution that reflects both parties' decisions at the core, our dedicated attorneys foster collaboration to reduce potential conflicts.
Seamless Proceedings and Effortless Experience
Navigating divorce mediation entails several key considerations such as the impact on children, financial concerns, and emotional well-being. Sterling Lawyers, LLC is prepared to guide clients through these changes, providing ongoing support when modifications are needed. We are determined to keep you informed and updated on your case's complexities, providing you with additional resources and ensuring you feel supported every step of the journey.
Continual Support in your Time of Need
Choosing a family law attorney with a proven track record and experience handling related legal proceedings could greatly improve the outcomes of a divorce mediation process. Sterling Lawyers, with its compelling social media mentions and client testimonials, not only instills confidence but also ensures peace during this strenuous process. Our main focus, protecting the interests of children, ensuring a fair distribution of assets, and promoting peaceful resolutions, underscore the importance of choosing an experienced team like ours.
Why Picking the Right Attorney is Your Key to Success
The divorce mediation process, while it may seem daunting, is thoroughly navigable with proper guidance. With vast experience at our fingertips, we can guide you through every stage of the process. From negotiation to litigation or alternative dispute resolution methods, we are well-versed in dealing with legal proceedings, ensuring you a higher likelihood of achieving a favorable resolution.
Tying it All Together: Are You Ready For What's Next?
Initiating a divorce mediation process necessitates a consultation with our West Bend divorce mediation attorneys. This consultation can affect eligibility, rights, and involves evaluating potential outcomes. Consulting early with Sterling Lawyers aids in preventing potential legal pitfalls and can provide a clear understanding of your rights and obligations.
We are experienced in legal proceedings and provides personalized service using tailored approaches. When facing divorce mediation, consult with the best attorneys at Sterling Lawyers and gain a trusted guide through the complexities. Trusted for delivering on our commitment to serve the community, we encourage you to take the next step. Contact us to discuss how we can assist you in your legal endeavor.
For Immediate help with your family law case or answering any questions please call (262) 221-8123 now!
Frequently Asked Questions
Should I prepare any documents or information before my initial consultation with a divorce mediation lawyer in West Bend?
Yes, before your initial consultation with a West Bend divorce mediation lawyer, it would be beneficial to gather all relevant documents to provide them with complete and precise information. This could potentially include details about your income, assets, debts, property ownership, tax returns, children's expenses, and other financial statements. You would also need to prepare a list of your concerns or issues that you want to discuss.
Can a divorce mediation lawyer in West Bend provide privacy and confidentiality during the mediation process?
A West Bend divorce mediation lawyer will provide privacy and confidentiality during the mediation process. All discussions and negotiations that happen during mediation are confidential. The lawyer is obligated to uphold the confidentiality of the mediation process. However, it's always best to confirm this with your lawyer in the initial stages to understand their specific practices and obligations.
What happens if my spouse and I cannot reach an agreement during divorce mediation in West Bend, WI?
If you and your spouse cannot reach an agreement during the divorce mediation in West Bend, WI, your lawyer may suggest several options. You could extend mediation, work through attorneys to negotiate, or proceed towards a contested divorce, where the court will make the necessary decisions. However, the goal of a divorce mediation lawyer is to resolve disagreements and facilitate agreements to avoid the need to go to court.