West Bend Uncontested Divorce Attorneys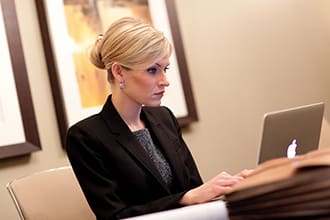 Join one of our experienced family law attorneys and learn about the divorce process, common issues, and participate in a Q and A session.
RSVP here.
Upcoming dates:
West Bend Uncontested Divorce Lawyers at Sterling Lawyers, LLC
Legal Options that Work for You
There are three basic separation paths depending on your situation. If you're not sure what to choose or are ready to take the next step, call to speak with an attorney for case-specific advice.
Uncontested
Help from the Pros for Simpler Cases
Starting at $2750
Best when you both agree on most separation issues
Get help preparing the paperwork
Ask question at legally complex points
Have peace of mind with your settlement
Mediated
Greater Level of Help for Amicable Situations
$3,500 - $6,500/couple
Most amicable process for long-term harmony
Neutral mediation attorney guides you from start to settlement
Reduce conflict by deciding on property division and custody matters together
Fraction of contested divorce costs
Contested
When You Need an Advocate in Your Corner
$499/mo - $100,000
Best for adversarial relationships
Necessary if abuse, substance abuse, or violence is present
Your personal negotiation and litigation team
Critical when trust is an Issue
Venturing into the realm of uncontested divorce is akin to traversing an emotional labyrinth. It is fraught with intricate concerns and sentimental nuances, underscoring the need for legal professionals capable of streamlining this complex journey. Our attorneys facilitate a smooth, manageable divorce process, enabling you to focus on stepping into the new chapter of your life.
West Bend's Guardians of Harmony
Sterling Lawyers is an established law firm known for its holistic approach to family law. The distinguished team of legal advocates are known for their dedication to relieving clients' stress by achieving favorable outcomes. The firm stands out in the city's legal landscape with its flair for navigating the labyrinthine that is family law.
Crafting a Solution That Is Unique to You
Understanding that every legal case is unique, each West Bend divorce attorney at Sterling Lawyers devotes ample time to familiarize themselves with the intimate details of each case. This meticulous approach includes transparent quotations suiting individual circumstances and affordable fixed pricing mechanisms, eliminating unwelcome surprises associated with hourly billing. Clients can hereby focus solely on the case at hand, free from the burden of escalating costs, thereby enhancing client satisfaction and fostering successful outcomes.
Extensive Knowledge at Your Disposal
With years of rigorous professional immersion, we seamlessly navigate the maze of family law, guiding clients through their legal journey. Our goal is to simplify and expedite the process, reducing financial stress and untimely delays. The firm's wide-spanning experience is a testament to our proficiency in dealing with uncontested divorce, assuring clients of their capability and reliability.
Pledging a Smooth Experience
We are committed to transforming the family law proceedings from a daunting hurdle into a smooth walk in the park. Whether it's property division, child custody or support, or alimony, the professional lawyers' prime focus is to ensure a swift resolution for the uncontested divorce process. The firm pledges a harmonious resolution reflecting both parties' decisions, thereby fostering cooperation and reducing friction.
An Available Resource throughout Your Journey
One cannot overlook the repercussions of uncontested divorce on children, finances, and emotional well-being. Sterling Lawyers offers a helping hand with modification services to accommodate changes over time, guiding clients through these developments. From initial consultation to beyond representation, Sterling engages in clear and regular communication, educational workshops, and access to legal research materials, thus ensuring clients a reliable ally throughout.
Expectations for Your Uncontested Divorce
Handling an uncontested divorce entails several steps – initial consultation, document filing, negotiations, and possibly, court proceedings. Clients should anticipate timelines, potential obstacles, and the necessity of maintaining open communication with the attorney. At our law firm, professionals utilize their proficiency in legal cases to guide clients through each phase, providing strategic counsel and advocating for their best interests.
Choosing the Perfect Attorney for Your Case
A West Bend divorce attorney with a history of successful case handling exudes credibility and confidence. Sterling Lawyers, LLC's impressive track record and extensive experience are epitomes of legal assurance for clients during the process. The firm's understanding of family law, local courts, and judges, and skills in negotiation and litigation, play a critical role in safeguarding children's best interests, promoting fair asset distribution, and facilitating peaceful resolutions.
The Consultation that Transforms Your Case
Beginning the uncontested divorce process necessitates an attorney's consultation. Individual circumstances and jurisdiction determine the eligibility for uncontested divorce. Early consultation with Sterling can empower individuals with a clear understanding of their rights, options, and expected results while mitigating legal risks entailing your case.
Treading the path of uncontested divorce may feel overwhelming, but the process becomes manageable with proficient legal assistance. Our firm is committed to safeguarding clients' interests and ensuring a smooth journey through each case in West Bend, Wisconsin. With a consultative approach and a commitment to ongoing support, Sterling Lawyers is an ideal choice for your family law requirements. Clients across Washington County are invited to engage Sterling's services for a robust, comprehensive legal consultation.
For Immediate help with your family law case or answering any questions please call (262) 221-8123 now!
Frequently Asked Questions
Can an uncontested divorce lawyer in West Bend, WI represent me if the divorce ends up becoming contested?
Yes, an uncontested divorce lawyer in West Bend, WI can represent you if the divorce ends up becoming contested. While their initial skill might be in uncontested divorces, they are trained and experienced in all facets of family law, including contested cases, and can provide the representation you need in the event that disagreements arise.
What can I expect during the first meeting with my uncontested divorce lawyer in West Bend?
During the first meeting with your West Bend, WI uncontested divorce lawyer, you can expect to discuss the specifics of your case. The lawyer will ask you a series of questions about your marriage, reasons for divorce, property, children, and any other relevant concerns. This is an opportunity for you to voice any worries and ask any questions you may have. The lawyer will then outline the steps involved, estimated timeline, and so on.
How can I hire an uncontested divorce lawyer in West Bend?
Hiring an uncontested divorce lawyer in West Bend involves first researching and finding experienced lawyers either online or via personal recommendations. You should then reach out to a few to schedule consultations. During consultations, you can ask questions about their experience, fees, and process. Upon finding a lawyer that fits your needs and budget, you can then hire them by signing an agreement and providing any upfront retainer fees, if applicable.