West Bend Spousal Support Attorneys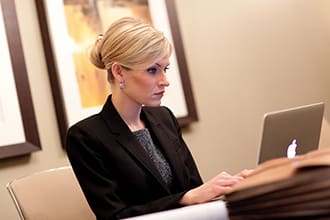 Join one of our experienced family law attorneys and learn about the divorce process, common issues, and participate in a Q and A session.
RSVP here.
Upcoming dates:
Tue, Dec 5 at 5:30pm
With
Attorney Mike Kyrios
West Bend Spousal Support Lawyers at Sterling Lawyers, LLC
Legal Options that Work for You
There are three basic separation paths depending on your situation. If you're not sure what to choose or are ready to take the next step, call to speak with an attorney for case-specific advice.
Uncontested
Help from the Pros for Simpler Cases
Starting at $2750
Best when you both agree on most separation issues
Get help preparing the paperwork
Ask question at legally complex points
Have peace of mind with your settlement
Mediated
Greater Level of Help for Amicable Situations
$3,500 - $6,500/couple
Most amicable process for long-term harmony
Neutral mediation attorney guides you from start to settlement
Reduce conflict by deciding on property division and custody matters together
Fraction of contested divorce costs
Contested
When You Need an Advocate in Your Corner
$499/mo - $100,000
Best for adversarial relationships
Necessary if abuse, substance abuse, or violence is present
Your personal negotiation and litigation team
Critical when trust is an Issue
Stepping through the intricate labyrinth of spousal maintenance can feel like traversing an unfamiliar terrain wrought with emotional peaks and valleys. For those facing the multifaceted dilemmas pertaining to spousal support, legal guidance from seasoned attorneys becomes a lifeline during this crucial time. We aim to smooth out the complexity of the journey, providing exceptional legal representation when emotions run high and decisions are difficult.
Sailing through the Emotional Seas of Alimony
The accomplished lawyers at our law firm are trusted guides for those seeking legal representation in family law matters. Each West Bend divorce lawyer is dedicated to alleviating stress and working tirelessly towards the most favorable outcomes possible. The aim is to swiftly and smoothly guide clients through the complex maze of family law. Standing out in the West Bend legal scene, the firm's seasoned professionals are distinguished by their concerted dedication to each client's unique needs.
Your Reliable Beacon: West Bend's Spousal Support Attorneys
Each client is treated uniquely, with attorneys investing time and effort in understanding the specific dynamics of your situation. Furthermore, the firm derives its reputation for transparency and commitment to client satisfaction from its fixed fee pricing structure, eliminating the unexpected costs typically associated with hourly billing. Working with a firm that places client satisfaction at its core pays off in client satisfaction and superior outcomes.
The Unique Approach
With a wealth of experience under our belt, Sterling Lawyers serves with distinction. Our lawyers have an in-depth understanding of alimony proceedings, ensuring clients receive the timely help they require without undue financial burden. The invaluable experience of the West Bend spousal support attorneys amps up their confidence and competence levels, assuring clients that their cases are in competent hands.
Our Rich Family Law Experience
A hallmark of our firm is the unwavering commitment to minimize disruptions and accelerate the resolution of legal cases. The team strives to facilitate smooth and swift progress in spousal support cases. We handle legal proceedings such as property division, child custody and support, and alimony in a well-rounded approach to family law cases. The firm also champions collaboration and reduction of conflict for better resolution.
Sterling Lawyers and Seamless Legal Proceedings
Navigating spousal maintenance issues involves addressing the impact on children, the financial implications, and personal emotional well-being. Recognizing that circumstances can change, Sterling Lawyers, LLC offers modification services to adapt existing arrangements. Whether it's before, during, or after the resolution of your case, the attorneys at Sterling Lawyers, LLC provide enduring guidance. Additionally, clients have access to legal research materials, educational workshops, or referrals to other relevant professionals, strengthening the long-term relationships the firm forms with clients.
A Lifelong Ally: Our Persistent Support throughout Your Journey
Sterling Lawyers' track-record of successfully resolving similar cases in the past serves as a testament to those seeking spousal support services. Prior experience helps instill confidence in clients during the unsettling time of proceeding with a legal case. The primary focus areas of legal representation include protecting children's best interests, ensuring fair asset distribution, and promoting peaceful resolutions. Understanding the nuances of local courts, judges, and the intricacies of family law solidifies the relevance of a West Bend divorce attorney in navigating alimony cases.
Key Considerations in Selecting a Lawyer
Delving into the spousal support process can be a complex endeavor, containing steps including initial consultation, document filing, negotiation, and potentially court proceedings. In the face of these potential challenges and legal requirements, Sterling Lawyers uses their in-depth knowledge to guide clients through each stage, advocating for their best interests.
Empowerment Begins Here: The Critical Nature of Consultation
Undertaking the family law process necessitates an initial consultation with an attorney to evaluate personal circumstances, understand rights, and explore options. Sterling Lawyers is ready to help determine eligibility based on jurisdiction and individual circumstances. Early consultation with an alimony attorney is instrumental in preventing legal pitfalls, preserving evidence, and establishing a secure foundation for a successful case.
With their keen focus on understanding and satisfying individual client needs, Sterling Lawyers stands as a trusted choice for alimony matters in Washington County, where West Bend is located. Reach out to the firm for consultation or further information and leverage their commitment to easing your unique journey through spousal maintenance.
For Immediate help with your family law case or answering any questions please call (262) 221-8123 now!
Frequently Asked Questions
Can a spousal support lawyer in West Bend, WI help modify my current support agreement?
Yes, a West Bend spousal support lawyer can help modify your current spousal support agreement. They have a good understanding of laws governing alimony and use it to your advantage whether you're the one paying or receiving the support. They can help you appeal for a modification with solid proof if there are significant changes in financial circumstances.
Can a West Bend spousal support lawyer help if my ex-spouse refuses to pay?
If your ex-spouse refuses to pay spousal support, a West Bend spousal support lawyer can definitely help. They can guide you through the legal process of enforcing your support agreement, including filing a contempt action in court. They can also represent you in court to ensure that your rights are properly defended.
How much experience should a good spousal support lawyer in West Bend have?
It's essential that a good spousal support lawyer in West Bend, WI should have several years of experience, preferably a decade or more, in dealing with spousal support cases to fully understand the nuances of these situations. Their experience should also include successful representation of clients in both negotiations and court proceedings.