West Bend Military Divorce Attorneys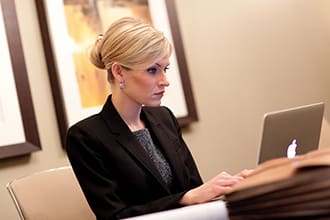 Join one of our experienced family law attorneys and learn about the divorce process, common issues, and participate in a Q and A session.
RSVP here.
Upcoming dates:
Tue, Dec 5 at 5:30pm
With
Attorney Mike Kyrios
West Bend Military Divorce Lawyers at Sterling Lawyers, LLC
Legal Options that Work for You
There are three basic separation paths depending on your situation. If you're not sure what to choose or are ready to take the next step, call to speak with an attorney for case-specific advice.
Uncontested
Help from the Pros for Simpler Cases
Starting at $2750
Best when you both agree on most separation issues
Get help preparing the paperwork
Ask question at legally complex points
Have peace of mind with your settlement
Mediated
Greater Level of Help for Amicable Situations
$3,500 - $6,500/couple
Most amicable process for long-term harmony
Neutral mediation attorney guides you from start to settlement
Reduce conflict by deciding on property division and custody matters together
Fraction of contested divorce costs
Contested
When You Need an Advocate in Your Corner
$499/mo - $100,000
Best for adversarial relationships
Necessary if abuse, substance abuse, or violence is present
Your personal negotiation and litigation team
Critical when trust is an Issue
Military divorce can be a challenging, emotionally charged journey. Add to it the overwhelming complexities of legal procedures, it can indeed become daunting for individuals to handle this transition. Having a dedicated team of attorneys by your side can ease this journey significantly. Working with experienced West Bend divorce lawyers to guide you through the process has its own merits, including timely and smooth resolution of legalities and ensuring your best interests are upheld throughout the process.
Setting Sail on the Military Divorce Journey
Sterling Lawyers, LLC is well-regarded across West Bend, Wisconsin for its commitment to clients. With an efficient team of lawyers well-versed in military divorce law, the firm is steadfast in providing assistance geared towards relieving client stress and ensuring favorable outcomes. The mission here is to simplify the complicated process of legal cases related to the military. The firm's team of capable lawyers boasts extensive knowledge, setting them apart from others in the city. The firm's dedication to individualized attention enhances the overall experience of their clients.
Unveiling a Personalized Approach
Understanding the unique needs surrounding your military divorce in West Bend is a priority at Sterling Lawyers. The lawyers devote time to comprehend specific requirements and align their services accordingly. They ensure transparent quotes suited to your unique situation. Moreover, the firm believes in a fixed fee pricing structure, eliminating surprise costs associated with hourly billing. The benefit of such an approach is comprehensive, quality legal representation without the worry of mounting costs.
Experienced Attorneys of the Legal Battlefield
Sterling Lawyers takes pride in its extensive service record, demonstrating proven success in the realm of military divorce. The team's proficient lawyers bring a wealth of knowledge, ensuring clients are adequately supported without unnecessary delays or financial burdens. The firm's depth of experience translates into a higher level of confidence when dealing with complex legal cases, ensuring clients their matter is in capable hands.
A Commitment to Seamless Proceedings
The law firm places great emphasis on minimizing disruptions while maximizing resolution during family law proceedings. The goal is to make tackling military divorce effortless and swift, minimizing disruptions to clients' lives as much as possible. The firm is also well-equipped to handle associated legal procedures such as child custody, property division, and alimony. Moreover, lawyers at Sterling are committed to reaching resolutions that reflect the decisions of both parties, reducing potential conflicts.
Guiding Stars in the Night Sky With Our Unwavering Support
Military divorce has multiple variables to consider, such as child welfare, financial implications, and emotional health. Sterling Lawyers, LLC ensures ongoing support throughout, even accommodating for family law modifications when circumstances change. The West Bend military divorce attorneys at the firm excel at guiding clients through these changes. In addition to the initial consultation and legal representation, the firm provides resources like legal research material and educational workshops to support clients throughout their journey.
Choosing an Attorney to Help Shape Your Future
Working with an attorney with a track record of success is a real advantage in handling military divorce cases. The peace of mind gained through experience and excellent client testimonials help potential clients trust in the process. A key focus is placed on children's best interests, equal asset distribution, and advocating peaceful resolutions. The role of the attorney is to act as a strong advocate, guiding clients through every step of the legal process.
Charting a Pathway to Peace
The process of military divorce includes several steps such as the initial consultation, documentation, negotiation, and sometimes court proceedings. Sterling Lawyers help clients understand what to expect during this time, emphasizing the importance of open communication. The firm knows how to effectively navigate these challenging procedures with their knowledge of the military divorce process.
Start your Military Divorce with Confidence
Starting the journey of military divorce needs careful consideration. Consulting with a capable attorney at the earliest is crucial to provide insight into available options and understand legal implications. Sterling Lawyers encourages potential clients in West Bend to schedule a consultation to explore their possibilities. An early consultation can prevent falling into legal mishaps and help preserve evidence for a strong case foundation.
Seeking professional legal aid is crucial when facing the complexities of military divorce. Sterling Lawyers, LLC, based in West Bend, Wisconsin, provides such assistance with its knowledgeable attorneys dedicated to helping clients at every stage of their journey with compassion and proficiency. The firm is a trusted choice for military divorce representation, ensuring the smooth handling of your case in Washington County. Readers are encouraged to contact the firm for a consultation to discuss their individual requirements and how Sterling can help in achieving an optimal outcome.
For Immediate help with your family law case or answering any questions please call (262) 221-8123 now!
Frequently Asked Questions
Can a West Bend lawyer assist with understanding military benefits and how they might be distributed?
Yes, a West Bend military divorce lawyer can definitely assist in understanding benefits and how they might be distributed in a divorce.
How does being stationed overseas impact the divorce process?
Being stationed overseas can certainly affect the divorce process. The location can affect jurisdiction, the application of local and international laws, and can complicate matters like child custody and property division. A military divorce lawyer, particularly one based in your home area such as West Bend, WI, can help navigate these complexities. They can guide you through the laws applicable to your situation and help to ensure a smooth process despite the geographical distance.
Can a lawyer in West Bend help in negotiating the division of military retirement pay in a divorce?
Yes, a lawyer in West Bend, WI can help in negotiating the division of military retirement pay in a divorce.