West Bend Contested Divorce Attorneys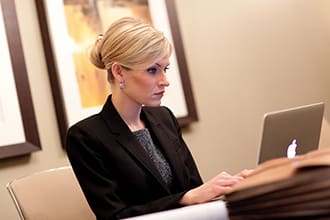 Join one of our experienced family law attorneys and learn about the divorce process, common issues, and participate in a Q and A session.
RSVP here.
Upcoming dates:
Tue, Dec 5 at 5:30pm
With
Attorney Mike Kyrios
West Bend Contested Divorce Lawyers at Sterling Lawyers, LLC
Legal Options that Work for You
There are three basic separation paths depending on your situation. If you're not sure what to choose or are ready to take the next step, call to speak with an attorney for case-specific advice.
Uncontested
Help from the Pros for Simpler Cases
Starting at $2750
Best when you both agree on most separation issues
Get help preparing the paperwork
Ask question at legally complex points
Have peace of mind with your settlement
Mediated
Greater Level of Help for Amicable Situations
$3,500 - $6,500/couple
Most amicable process for long-term harmony
Neutral mediation attorney guides you from start to settlement
Reduce conflict by deciding on property division and custody matters together
Fraction of contested divorce costs
Contested
When You Need an Advocate in Your Corner
$499/mo - $100,000
Best for adversarial relationships
Necessary if abuse, substance abuse, or violence is present
Your personal negotiation and litigation team
Critical when trust is an Issue
A contested divorce journey is emotionally taxing and filled with complexities. It's a challenging period that demands clear-headed decisions, often transforming into an uphill battle. This underscores the need for legal guidance offered by a proficient attorney who can streamline the process. At Sterling Lawyers, LLC, they acknowledge the significance of having experienced legal guidance to navigate these complexities, thereby ensuring a smoother path towards resolution.
Steering Through the Emotional Maze of Contested Divorce
Sterling Lawyers stands as a beacon for those seeking contested divorce representation in West Bend. With a team of experienced West Bend contested divorce attorneys at the helm, the firm offers a compassionate hand to alleviate the client's stress while relentlessly pursuing favorable outcomes. The firm's unique approach to swiftly navigate the complex process, all the while safeguarding the client's interests, are reasons enough to trust them. They are committed to offering each client personalized attention that enhances their overall experience while dealing with this complicated legal case.
Meet Your Reliable Allies in Contested Divorce
The Sterling Lawyers, LLC takes pride in understanding the unique divorce needs of West Bend residents. The stress of a family law case are eased significantly by the firm's customized approach to each case. They dedicate ample time to understand the client's particular situation, providing transparent quotes that align with their varying needs. With a fixed fee pricing structure, they offer cost-effectiveness and a surprise-free experience. The benefit of this personalized method is high-quality legal representation that doesn't compromise on service due to escalating costs.
Tailoring Your Case With Our Personalized Approach
Sterling Lawyers, LLC boasts a vast experience serving its clients excellently. The West Bend divorce attorneys' rich knowledge of the contested divorce process and their commitment to making it affordable eliminate any unnecessary delays or financial strain for the clients. This extensive experience translates into a higher level of confidence when dealing with contested divorce matters, assuring clients that their cases are being handled competently.
Our Commitment to Smooth Proceedings
Sterling Lawyers, LLC is committed to minimizing hurdles and maximizing resolution during legal proceedings. Their effort to streamline the process for their clients reduces strain and unnecessary delays. The attorneys make the contested divorce process effortless, ensuring a smooth transition and minimizing disruptions in the clients' lives. By focusing on timely resolution and comprehensive legal services for property division, child custody and support, and alimony, Sterling aims to minimize conflict while achieving an agreeable resolution.
Guiding You Continuously in Your Journey
Contested divorce considerations extend to the impact on children, financial implications, and mental well-being. Sterling Lawyers, LLC understands that circumstances can change, and modifications in arrangements may be required. The West Bend contested divorce attorneys at Sterling Lawyers, LLC, guide clients through these changes, offering continued support and access to resources like educational workshops and legal research materials, even after their immediate needs have been resolved. They are committed to keeping clients informed and updated on their case progress, emphasizing clear communication and regular updates.
The Crucial Piece of Your Legal Puzzle
The Sterling Lawyers, LLC, takes pride in its track record and in catering to similar cases in the past. Their experience instills confidence in clients and contributes to their peace of mind. Moreover, the attorneys at Sterling emphasize protecting the children's best interests, ensuring fair distribution of assets, and promoting peaceful resolutions. Selecting the right attorney is a crucial step; the attorney's familiarity with family laws, local courts, and judges makes a significant difference in ensuring a successful contested divorce case.
Traveling to a Peaceful Resolution
A contested divorce involves various stages, including initial consultation, filing documents, negotiation, and potential court proceedings. During these proceedings, clients may come across many challenges like strict legal requirements or dealing with opposing parties. The Sterling attorneys' knowledge enables them to guide clients through each stage of the process, providing strategic advice and advocating for their best interests. The firm employs unique strategies, ensuring a higher likelihood of achieving a favorable resolution.
The Power of an Initial Consultation
As one embarks on a contested divorce journey, it's essential to consult with an attorney to evaluate their situation, understand their rights, and explore available options. Eligibility varies based on jurisdiction and individual circumstances. Sterling Lawyers, LLC, encourages individuals to reach out and schedule a consultation. Early consultation is beneficial in preventing legal pitfalls, preserving evidence, and establishing a solid foundation for a successful case.
Sterling Lawyers, LLC, stands out as a trusted choice for contested divorce representation in West Bend, Wisconsin, due to its personalized approach, extensive experience, commitment to smooth proceedings, and ongoing support. Their knowledge in dealing with complex legal matters can help clients navigate the intricacies of contested divorce and achieve an affirmative outcome. Remember, the firm serves clients in Washington County, where West Bend resides, offering local familiarity and accessibility. Contact Sterling Lawyers to discuss your cases, goals, and explore how we can assist in achieving a positive outcome.
For Immediate help with your family law case or answering any questions please call (262) 221-8123 now!
Frequently Asked Questions
What is the process for a contested divorce in West Bend, WI?
The process begins with a consultation with a West Bend contested divorce lawyer to address your concerns, evaluate your case, and develop a legal strategy. Then, a petition for divorce is filed. If the divorce is contested, the process will involve a discovery phase, negotiation, possible court proceedings if no agreement is reached, and a final judgment.
What are the common issues involved in contested divorce cases that a West Bend contested divorce lawyer handles?
A West Bend contested divorce lawyer commonly deals with issues involving division of assets and debts, child custody and visitation, alimony, child support, and other issues related to marital property and family matters.
Why should I hire a West Bend contested divorce lawyer instead of handling it myself?
A contested divorce can be complex, with numerous legal requirements and hurdles. A West Bend contested divorce lawyer has the knowledge and experience to navigate through these complexities, advocate for your rights, and strive for the best possible outcome. They can also reduce stress and provide much-needed guidance during this difficult time.