West Bend Collaborative Divorce Attorneys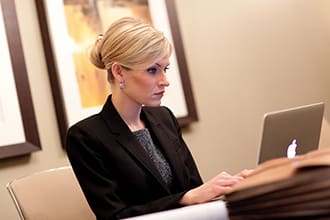 Join one of our experienced family law attorneys and learn about the divorce process, common issues, and participate in a Q and A session.
RSVP here.
Upcoming dates:
Tue, Dec 5 at 5:30pm
With
Attorney Mike Kyrios
West Bend Collaborative Divorce Lawyers at Sterling Lawyers, LLC
Legal Options that Work for You
There are three basic separation paths depending on your situation. If you're not sure what to choose or are ready to take the next step, call to speak with an attorney for case-specific advice.
Uncontested
Help from the Pros for Simpler Cases
Starting at $2750
Best when you both agree on most separation issues
Get help preparing the paperwork
Ask question at legally complex points
Have peace of mind with your settlement
Mediated
Greater Level of Help for Amicable Situations
$3,500 - $6,500/couple
Most amicable process for long-term harmony
Neutral mediation attorney guides you from start to settlement
Reduce conflict by deciding on property division and custody matters together
Fraction of contested divorce costs
Contested
When You Need an Advocate in Your Corner
$499/mo - $100,000
Best for adversarial relationships
Necessary if abuse, substance abuse, or violence is present
Your personal negotiation and litigation team
Critical when trust is an Issue
Divorce is often a difficult journey, fraught with emotional upheaval and complex legal issues. The process of a collaborative divorce can add extra layers of intricacy but can also provide an alternative to court-based proceedings. At such a critical juncture, hiring an attorney to help navigate this process can help alleviate some of the stress associated with it. A knowledgeable West Bend divorce lawyer can help streamline the process. Not only does this provide peace of mind, but it also offers the benefits of experienced legal guidance.
Unfolding the Hidden Complexity of Family Law
Located in West Bend, Wisconsin, we have proven to be a preferred choice for those who need assistance navigating their legal case. The firm prides itself on its team of accomplished lawyers who are steadfastly dedicated to providing a stress-free experience for their clients by achieving the best possible outcomes. The primary goal is simplifying the often challenging legal journey, while at the same time ensuring the best interests are maintained for you. The team is well-versed in this area of family law, setting them apart from other firms in the city. They also strive to provide individualized attention to each person they work with.
Trusted Collaborative Divorce Attorneys in Wisconsin
We create a client-centric experience, tailoring their offerings based on your unique legal needs. The firm makes a dedicated effort to understand each client's specific circumstances and accordingly designs their services. They provide transparent cost estimations, individualized legal solutions, and a fixed fee pricing model to avoid unwelcome surprises. Therefore, clients can receive comprehensive legal representation without the dread of escalating costs. The personalized approach increases client satisfaction and drives successful outcomes.
Tailored for You
The attorneys at Sterling Lawyers have a plethora of experience in the family law realm. Their understanding of the collaborative divorce process is exhaustive and stems from their years of committed service. They aim to make the process affordable and swift for individuals, mitigating unnecessary delays or financial distress. The law firm's experience also instills a sense of confidence, knowing that your case is in capable hands.
The Power of Harnessing Extensive Family Law Experience
One key commitment we make is ensuring minimal disruptions and a swift conclusion to their family law proceedings. We employ strategies designed to quicken the legal processes, thus reducing anxiety and waste of time. Making the process of family law smooth and seamless is of the utmost importance to them. Our team of skilled lawyers adeptly manages intricate legal procedures such as asset division, alimony, and child custody to ensure a thorough approach towards the case. They strive for a transparent resolution that reflects both parties' decisions, thus fostering cooperation and reducing disputes.
Navigating Uncertain Waters
Numerous factors impact the family law process, such as emotional well-being, financial circumstances, and effects on children. Realizing the dynamic nature of circumstances and the potential need to alter existing arrangements, Sterling Lawyers provides modification services. The West Bend collaborative divorce attorneys guide clients through these modifications as part of their ongoing support. Beyond the initial consult and legal representation, the firm deploys various ways to assist people, including frequent updates and clear communication regarding the progress of their case. The firm also provides resources such as legal research materials and educational workshops, demonstrating a dedication towards establishing long-term relationships.
Making the Right Moves With Your Attorney
Experience and a track record of success are critical in choosing a lawyer for your legal case. The attorneys at Sterling Lawyers, LLC, have both, which instills confidence and helps ensure their peace during the challenging journey. The main focus in a collaborative divorce is to ensure the best for the children involved, an equitable distribution of assets and promoting amicable resolutions. It's essential to hire a family law attorney as they have an in-depth knowledge of family law, familiarity with local courts, and have proven negotiation and litigation skills. The role of the attorney in this process is to provide guidance, advice, and representation in every step.
Here From The Beginning to End
An understanding of the collaborative divorce process, including the initial consultation, document filing, negotiation, and potential court proceedings, is crucial for people going through a separation or divorce. Knowing what to expect during this process, including potential challenges, timelines and the significance of maintaining open communication with the attorney, is invaluable. There could also be legal requirements, documentation or dealing with opposing parties that can present challenges during the proceedings.
Strengthening Your Case With Sterling Lawyers
Starting the process begins by consulting with a lawyer. Sterling Lawyers, LLC, encourages individuals to consult a lawyer to evaluate their situation, understand their rights, and explore options. The importance of this becomes evident when considering the potential risks and consequences of not seeking legal advice. A consultation with an attorney can empower an individual by providing them with a clear understanding of their rights and potential outcomes. It's imperative to understand the complexities requiring legal proficiency to navigate. The benefits of early consultation, such as preventing legal pitfalls, preserving evidence, and establishing strong foundations for a successful case, cannot be underestimated.
Engaging a trusted law firm like Sterling Lawyers with proven experience, a personalized approach, extensive experience, commitment to smooth proceedings, ongoing support, and a keen understanding of family law, is key to navigating the complexities of this process. Consulting a collaborative divorce attorney is a crucial step in ensuring your legal needs are met. The firm's commitment to personalized service helps to ease a challenging process while consistently supporting individuals. For individuals based in Washington County, taking the next step and contacting the firm to discuss their cases will definitely empower their journey to a positive outcome.
For Immediate help with your family law case or answering any questions please call (262) 221-8123 now!
Frequently Asked Questions
What kind of training does a collaborative divorce lawyer typically have in West Bend?
A collaborative divorce lawyer in West Bend, WI typically has a law degree from an accredited law school and is a licensed attorney in the state of Wisconsin. Beyond this, they have additional training in the collaborative divorce process, mediation, and negotiation techniques. Some attorneys may also have a background in family law or psychology to better aid their clients throughout the process.
How frequently will I have to meet with my collaborative divorce lawyer in West Bend, WI?
The frequency of meetings with a collaborative divorce lawyer in West Bend, WI varies depending on the complexity of the divorce case. However, you can expect regular meetings, often once or twice a month. These meetings are crucial for discussing and negotiating terms of the divorce, such as property division, child custody, and spousal support.
Can a collaborative divorce lawyer help reduce the emotional stress of divorce in West Bend, WI?
Yes, a collaborative divorce lawyer in West Bend, WI can indeed help reduce the emotional stress of a divorce. They do this by promoting open communication and cooperation between divorcing parties, thereby aiming to create less adversarial and more respectful outcomes. Additionally, these lawyers work as part of a team that may include psychologists and financial advisors who can provide additional support during this difficult time.