Middleton Spousal Support Attorneys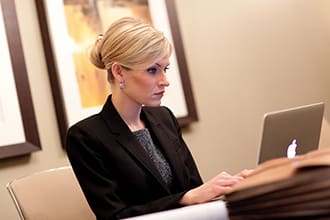 Join one of our experienced family law attorneys and learn about the divorce process, common issues, and participate in a Q and A session.
RSVP here.
Upcoming dates:
Tue, Dec 5 at 5:30pm
With
Attorney Mike Kyrios
Middleton Spousal Support Lawyers at Sterling Lawyers, LLC
Legal Options that Work for You
There are three basic separation paths depending on your situation. If you're not sure what to choose or are ready to take the next step, call to speak with an attorney for case-specific advice.
Uncontested
Help from the Pros for Simpler Cases
Starting at $2750
Best when you both agree on most separation issues
Get help preparing the paperwork
Ask question at legally complex points
Have peace of mind with your settlement
Mediated
Greater Level of Help for Amicable Situations
$3,500 - $6,500/couple
Most amicable process for long-term harmony
Neutral mediation attorney guides you from start to settlement
Reduce conflict by deciding on property division and custody matters together
Fraction of contested divorce costs
Contested
When You Need an Advocate in Your Corner
$499/mo - $100,000
Best for adversarial relationships
Necessary if abuse, substance abuse, or violence is present
Your personal negotiation and litigation team
Critical when trust is an Issue
When embarking on the path of alimony, it can feel like navigating a minefield of complexities and challenges. The emotional heft of this significant change can be overwhelming, particularly when navigating the legal logistics and jargon. To help ease this process, the role of a Middleton divorce lawyer, is invaluable. With the assistance of well-versed attorneys, the process can become streamlined, less daunting, and more straightforward.
In the Heart of Middleton: A Beacon of Trust for Alimony Cases
Sterling Lawyers prides itself on its team of dedicated attorneys who aim to ease the stress of clients by effectively navigating their legal case. The firm understands the complexities of alimony and ensures that it advocates for the best interests of its clients. Equipped with significant knowledge, the Middleton spousal support attorneys set themselves apart by offering personalized attention to each client, a quality that elevates the overall experience.
Tailoring Cases to Your Individual Circumstances
Sterling Lawyers recognizes that every client has unique needs, especially when it pertains to spousal maintenance. This understanding of individual circumstances allows the firm to provide transparent quotes, customizing their services to cater to these specific needs. Furthermore, their fixed fee pricing structure eliminates any unexpected costs, making the legal representation affordable. The emphasis on a personalized approach to each case by the law firm assures customer satisfaction and favorable outcomes.
The Vast Terrain Covered by Family Law
The team has a history of serving clients with rich knowledge of family law proceedings. This wealth of knowledge is beneficial in reducing the financial strain associated with legal proceedings, ensuring timely support without unnecessary delays. The law firm's extensive background in alimony equips them with exceptional competence and confidence, and clients can take solace that they are in capable hands.
Removing Hurdles in Your Case
Sterling Lawyers strives to make the journey of spousal support as effortless and as quick as possible. The firm is committed to ensuring that their settlements reflect decisions that are fair and equitable to both parties involved. Sterling's team of lawyers effectively handles legal proceedings such as property division, child custody, and support, demonstrating their comprehensive approach to family law cases.
The Search for Support
When navigating through a spousal support scenario, many aspects, such as child impact, financial factors, and emotional well-being, come into play. Sterling Lawyers understands these factors and is prepared to guide clients through potential modifications, providing ongoing support. The firm's dedicated assistance extends even after the initial consultation, also offering resources such as legal research material and educational workshops. This consistent communication and extended support foster long-term relationships with clients.
The Key to Choosing the Best Attorney
Working with an attorney who has professionally handled similar cases in the past is incredibly beneficial, especially when dealing with alimony. It's equally important to consider the attorney's knowledge of family law, familiarity with local courts and judges, and negotiation and litigation skills. Sterling Lawyers holds all these traits, laying a strong foundation for successful case handling, providing advice, and representation at every step.
Guiding Steps through the Alimony Process
Navigating the path of family law involves initial consultation, filing documents, negotiation, and potentially court proceedings. Sterling Lawyers, with its proficient attorneys, are prepared to guide clients through these stages. They devise their strategies to cater specifically to alimony cases, ensuring a higher likelihood of achieving a successful resolution.
Empowering Individuals with a Consultation
The journey of spousal maintenance starts with a consultation. Sterling Lawyers strongly encourages anyone embarking on the path of family law to schedule a consultation. By discussing eligibility, risks, and implications, the consultation process equips individuals with better understanding and knowledge. Early consultation also prevents potential legal pitfalls, thereby establishing a strong platform for a successful legal case.
The journey can appear daunting and complex. However, with Sterling Lawyers' committed team of lawyers, the process becomes significantly streamlined. The firm's comprehensive approach to the intricacies of spousal maintenance, coupled with their emphasis on personalized client service, makes them a top choice for representation in Middleton. We stand prepared to assist each client in achieving a positive outcome. Contact us for a consultation now.
For Immediate help with your family law case or answering any questions please call (262) 221-8123 now!
Frequently Asked Questions
How does retirement impact alimony payments?
If your spouse voluntarily chooses early retirement and stops working, resulting in reduced income, your Middleton alimony attorney can file a motion to lower the spousal support obligation accordingly. The court will look at if retirement was reasonable or done to avoid spousal maintenance. If mandatory retirement age was reached or retirement was unavoidable due to health reasons, a reduction may be approved. Your lawyer will have to demonstrate your ongoing need despite the change in circumstances.
Can life insurance be required to secure alimony?
Yes, a judge may request that your spouse be required to carry a life insurance policy naming you as beneficiary to ensure alimony payments continue in the event of your ex-spouse's death. The amount of insurance requested will be adequate to cover the total remaining spousal support owed. This provides you reassurance that spousal maintenance cannot be terminated by an untimely death if ordered by your lawyer.
What if my income changes after alimony agreement is established?
If your financial situation sees significant changes up or down after the court ordered alimony - such as receiving an inheritance, losing a job, going back to school or experiencing illness - your lawyer can file a motion to modify the spousal support accordingly. The court will look at whether the change was foreseeable and if you still have need for the original amount ordered. Your attorney will have to demonstrate how the changed circumstances should impact spousal maintenance.
Sterling Lawyers, LLC in Middleton is formerly known as 'Sterling Law Offices, S.C.'