Brookfield Property Division Attorneys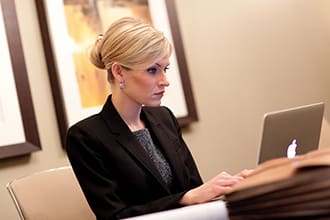 Join one of our experienced family law attorneys and learn about the divorce process, common issues, and participate in a Q and A session.
RSVP here.
Upcoming dates:
Tue, Dec 5 at 5:30pm
With
Attorney Mike Kyrios
Brookfield Property Division Lawyers at Sterling Lawyers, LLC
Legal Options that Work for You
There are three basic separation paths depending on your situation. If you're not sure what to choose or are ready to take the next step, call to speak with an attorney for case-specific advice.
Uncontested
Help from the Pros for Simpler Cases
Starting at $2750
Best when you both agree on most separation issues
Get help preparing the paperwork
Ask question at legally complex points
Have peace of mind with your settlement
Mediated
Greater Level of Help for Amicable Situations
$3,500 - $6,500/couple
Most amicable process for long-term harmony
Neutral mediation attorney guides you from start to settlement
Reduce conflict by deciding on property division and custody matters together
Fraction of contested divorce costs
Contested
When You Need an Advocate in Your Corner
$499/mo - $100,000
Best for adversarial relationships
Necessary if abuse, substance abuse, or violence is present
Your personal negotiation and litigation team
Critical when trust is an Issue
Sterling Lawyers is a family law practice located in Brookfield, Wisconsin dedicated to guiding clients through legal matters with care and support. Our attorneys practice exclusively in Waukesha County and treat each case with compassion, serving as sympathetic allies for people during emotionally difficult times.
Rather than taking an adversarial approach, we seek to find solutions that are in the best interests of families and children. Our goal is to help clients transition into the next chapter of their lives with the fewest hurdles possible. By addressing sensitive issues like property division, child custody, and spousal support with patience and understanding, we are able to reach resolutions that leave clients feeling heard and cared for. In order to help facilitate this, we pair you with a knowledgeable Brookfield family law lawyer.
Beyond obtaining favorable legal outcomes in property division, our ultimate aim is for people to look back on their experience with Sterling Lawyers knowing they had advocates fighting for their well-being each step of the way. We recognize that legal issues can take not only a financial toll but also an emotional one. The empathy and dedication our attorneys bring to each case help alleviate strains on clients during an already stressful life event.
Established as a resource for the community, Sterling Lawyers has supported Waukesha County families for several years. Though the legal matters we handle eventually come to an end, the impact of the compassion and support we provide clients lasts well beyond the closing of a case. We believe this commitment to thoughtful, caring legal counsel is what truly sets Sterling Lawyers apart. By focusing on the human side of the law and not just the letter of the law, we are able to shape clients' enduring memory of Sterling Lawyers as a positive one during a time they needed it most.
Sterling Lawyers has helped people navigate family legal issues with the support of Brookfield property division lawyers dedicated to compassionate counsel and care for clients well-being. We recognize that legal problems often arise during periods of high stress and emotional difficulty in people's lives. Our goal is to alleviate anxieties about the legal process and achieve resolutions that allow families to move forward in a healthy way.
Rather than an adversarial approach, we seek to resolve property division disputes through open communication and mutual understanding. Our attorneys spend time getting to know each client's unique situation and priorities to determine how we can best advocate for them. We explain legal options in plain terms, without judgment, so clients can make fully informed decisions. By addressing financial and emotional impacts with patience and empathy, we reach balanced solutions that provide stability during turbulent times.
For clients, interacting with the legal system can be an unfamiliar and unsettling experience. We aim to shape that experience into a caring and thoughtful one that leaves a lasting, positive impact. Our compassionate counsel helps bring clients reassurance, security and hope during challenging life transitions. Though legal matters may end, the memory of our team as an advocate that helped them through with care and understanding continues on.
Established to serve the local community, Sterling Lawyers recognizes that behind every case there are real people facing difficult circumstances. We believe focusing on the human side of the law is what allows us to make a meaningful difference in clients' lives. By listening with care and finding solutions with compassion, we are able to ease stresses and guide clients to a place of confidence and clarity. This commitment to thoughtful legal counsel and prioritizing well-being is the heart of Sterling Lawyers.
For Immediate help with your family law case or answering any questions please call (262) 221-8123 now!
Frequently Asked Questions
How does a Brookfield property division lawyer determine the equitable distribution of assets and debts in a divorce case?
Our lawyers utilize their experience and knowledge of Wisconsin's marital property laws to carefully analyze the assets and debts involved in a divorce case. They will consider factors such as the duration of the marriage, each spouse's contributions to the marital estate, and the needs of each party. This ensures a fair and equitable distribution of assets and debts in accordance with Brookfield, WI laws.
Can a Brookfield property division attorney help me protect my separate property during the divorce process?
Yes, our attorneys can help you protect your separate property, which typically includes assets acquired before the marriage or through inheritance or gifts during the marriage. They will gather the necessary documentation and evidence to prove that specific assets are indeed separate property, and work diligently to ensure they are not subject to division during the divorce process.
What are the common challenges that a Brookfield property division lawyer encounters when handling cases involving complex assets such as businesses, pensions, and real estate?
Common challenges that our attorneys face in cases involving complex assets include determining the accurate valuation of the assets, addressing tax implications, locating hidden assets, and negotiating the equitable distribution of these assets. Our team has in-depth knowledge and experience in handling such complexities, and we strive to achieve a fair resolution for our clients.
Sterling Lawyers, LLC in Brookfield is formerly known as 'Sterling Law Offices, S.C.'