Brookfield Military Divorce Attorneys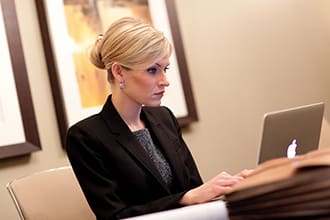 Join one of our experienced family law attorneys and learn about the divorce process, common issues, and participate in a Q and A session.
RSVP here.
Upcoming dates:
Tue, Dec 5 at 5:30pm
With
Attorney Mike Kyrios
Brookfield Military Divorce Lawyers at Sterling Lawyers, LLC
Legal Options that Work for You
There are three basic separation paths depending on your situation. If you're not sure what to choose or are ready to take the next step, call to speak with an attorney for case-specific advice.
Uncontested
Help from the Pros for Simpler Cases
Starting at $2750
Best when you both agree on most separation issues
Get help preparing the paperwork
Ask question at legally complex points
Have peace of mind with your settlement
Mediated
Greater Level of Help for Amicable Situations
$3,500 - $6,500/couple
Most amicable process for long-term harmony
Neutral mediation attorney guides you from start to settlement
Reduce conflict by deciding on property division and custody matters together
Fraction of contested divorce costs
Contested
When You Need an Advocate in Your Corner
$499/mo - $100,000
Best for adversarial relationships
Necessary if abuse, substance abuse, or violence is present
Your personal negotiation and litigation team
Critical when trust is an Issue
Located in Brookfield, Waukesha County, Sterling Lawyers offers legal representation for individuals and families dealing with divorce, child custody arrangements, and military divorce issues.
The Brookfield divorce lawyers understand how overwhelming and stressful family law matters can be. They strive to walk alongside clients with empathy, listening attentively to comprehend each unique set of circumstances. Their primary goal is to empower clients to make informed choices that align with their priorities, values, and practical needs.
With decades of combined experience assisting people through divorce and other family law issues, our Brookfield military divorce lawyers serve as calm, rational advisers during life's most difficult moments. Their genuine concern for clients' wellbeing aims to relieve some of the strain inherent in the legal process.
Whether helping navigate the complexities of a divorce or dividing assets after many years of marriage, the attorneys work to minimize conflict and propose options that benefit all involved. By focusing on practical resolutions that promote comfort, they seek to make the process less adversarial and more productive.
An important part of Sterling Lawyers' role is educating clients about their rights and options, allowing individuals to choose strategies that fit their specific situation best. The firm believes that clarity, understanding, and resolve empower people to move forward.
Since opening, Sterling Lawyers has been committed to making the legal system comprehensible and beneficial for families in the Menomonee Falls community and beyond. The attorneys take pride in paving healthier pathways forward through honest communication and dignified advocacy.
Located within Waukesha County, Sterling Lawyers serves individuals and families throughout the region. The attorneys recognize the impact of sound legal advice that truly has clients' best interests in mind. Families dealing with difficult life changes need knowledgeable guides who are dedicated to their wellbeing above all else.
Each positive outcome provides more than legal relief. Interacting with caring advocates gives clients the reassurance and strength needed to progress through life's challenges with resilience and grace. This is the meaningful, lasting difference Sterling Lawyers strives to make in the lives of those they represent.
With a focus on personalized attention, open communication, and practical solutions constructed in consultation with clients, Sterling Lawyers aims to leave a positive imprint that extends far beyond any specific case. The attorneys understand that the path forward often starts with a compassionate listener who dedicates themselves wholly to their clients' best interests. This steadfast commitment drives everything they do and shapes how they endeavor to impact the community for years to come.
For Immediate help with your family law case or answering any questions please call (262) 221-8123 now!
Frequently Asked Questions
What unique challenges do military divorces present, and how can a Brookfield military divorce lawyer help me navigate through these challenges?
Military divorces often involve unique challenges such as jurisdiction issues, military pension division, and adherence to the Uniformed Services Former Spouses' Protection Act (USFSPA). Our attorneys are well-versed in handling these complexities and will guide you through the process, ensuring your rights are protected and the outcome is fair and equitable.
How does a Brookfield military divorce attorney handle the division of military pensions and benefits during a divorce?
Our Brookfield military divorce lawyers have experience in dividing military pensions and benefits according to applicable laws and the USFSPA. They will work to ensure that the division is equitable and in compliance with federal regulations, taking into account factors such as the length of the marriage, the service member's rank, and the specific benefits applicable to the case.
How can a Brookfield military divorce lawyer assist service members with child custody disputes, particularly when they are deployed or stationed overseas?
Our Brookfield military divorce attorneys understand the unique challenges that service members face regarding child custody disputes, especially with overseas deployments or relocations. They will work to develop a custody plan that accommodates the service member's schedule, protects their rights to maintain a relationship with their child, and safeguards the child's best interests. Our lawyers strive to achieve fair and practical custody arrangements for military families facing these challenges.
Sterling Lawyers, LLC in Brookfield is formerly known as 'Sterling Law Offices, S.C.'