Brookfield Contested Divorce Attorneys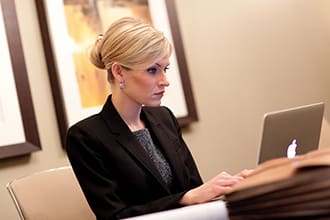 Join one of our experienced family law attorneys and learn about the divorce process, common issues, and participate in a Q and A session.
RSVP here.
Upcoming dates:
Brookfield Contested Divorce Lawyers at Sterling Lawyers, LLC
Legal Options that Work for You
There are three basic separation paths depending on your situation. If you're not sure what to choose or are ready to take the next step, call to speak with an attorney for case-specific advice.
Uncontested
Help from the Pros for Simpler Cases
Starting at $2750
Best when you both agree on most separation issues
Get help preparing the paperwork
Ask question at legally complex points
Have peace of mind with your settlement
Mediated
Greater Level of Help for Amicable Situations
$3,500 - $6,500/couple
Most amicable process for long-term harmony
Neutral mediation attorney guides you from start to settlement
Reduce conflict by deciding on property division and custody matters together
Fraction of contested divorce costs
Contested
When You Need an Advocate in Your Corner
$499/mo - $100,000
Best for adversarial relationships
Necessary if abuse, substance abuse, or violence is present
Your personal negotiation and litigation team
Critical when trust is an Issue
In the center of Brookfield, Wisconsin, Sterling Lawyers is a distinguished law firm exclusively practicing family law. As a dedicated and experienced team, our Brookfield divorce attorneys have truly made a difference in the lives of their clients and the community they serve. Situated in the vibrant environment of Waukesha County, the firm diligently represents individuals and families faced with difficult legal matters that require an empathetic ear and a strong voice.
At Sterling Lawyers, the primary focus is to advocate for the best interests of the clients in the sensitive and often complex area of family law. While navigating the complicated and emotional terrain of a contested divorce, you can expect a steadfast partner in your corner, providing compassionate counsel and personalized attention. Through understanding your unique concerns, our lawyers aim to resolve legal issues amicably and efficiently, while minimizing the toll it can take on your family's well being.
Remaining committed to your cause, our Brookfield contested divorce lawyers offer a wealth of knowledge and experience, ensuring your ability to make informed decisions in the face of the most challenging legal matters. Whether dealing with issues of child custody, financial support, or property division, the firm's skilled lawyers take the time to understand your specific needs and prepare a thorough legal strategy that is tailored to your circumstances. By consistently communicating with you throughout the legal process, they ensure that you remain fully informed and involved, empowering you to take control of your future.
Balancing assertiveness and understanding, Sterling Lawyers is dedicated to being a powerful advocate for their clients in the Waukesha County community. Providing personalized and attentive service to its clients, the firm believes in fostering long-lasting connections beyond the resolution of the case. The dedicated staff is always available to answer any questions or address any concerns that may arise even after the conclusion of your legal matters. This continued support enhances the positive and lasting impact of your experience with Sterling Lawyers.
In addition to contested divorce cases, the attorneys at Sterling Lawyers are well-versed in a wide range of family law matters such as paternity disputes, post-judgment modifications, and domestic violence issues. Acknowledging the delicate nature of many of these cases, the lawyers work tirelessly to ease your burden, achieving a just and equitable outcome for you and your family.
Serving the Brookfield area and beyond, Sterling Lawyers is a beacon of hope for families facing the toughest of times. Committed to creating a supportive environment that fosters trust and assurance, the attorneys are dedicated to guiding you through the complex legal landscape with sensitivity and strength. With each case that the firm takes on, the focus is clear – to provide unwavering support, compassionate guidance, and efficient conflict resolution.
During the often stressful and uncertain process of a contested divorce, the attorneys at Sterling Lawyers become your steadfast partners, tirelessly working to protect your rights and the best interests of your family. By shouldering the overwhelming legal burdens and navigating the difficult situations that arise, the team allows you to focus on rebuilding your life and moving forward with confidence.
As community-driven professionals, the team at Sterling Lawyers not only recognize the importance of their client's legal victory but also the significance of their overall well-being. By striving to create positive and lasting experiences for their clients, the firm contributes to the betterment of the community in which they serve.
For Immediate help with your family law case or answering any questions please call (262) 221-8123 now!
Frequently Asked Questions
How long does a contested divorce typically take in Brookfield, WI?
The length of a contested divorce in Brookfield can vary depending on the complexity of the issues involved, the caseload of the court, and the willingness of both parties to resolve disputes. It can take anywhere from several months to a few years. Working with an experienced Brookfield contested divorce lawyer can help you navigate the process more efficiently and provide the necessary guidance and representation.
What is the role of a Brookfield contested divorce attorney during the divorce process?
The role of a Brookfield contested divorce attorney is to represent and protect their client's interests during the legal proceedings. This includes providing guidance on the applicable laws, gathering evidence, negotiating with the other party's attorney, and presenting arguments in court. They ensure that their client's rights are protected and work to achieve a fair outcome in the divorce settlement.
How much does it cost to hire a Brookfield contested divorce lawyer?
The cost of hiring a Brookfield contested divorce lawyer can vary depending on their experience, the complexity of your case, and the specific services they provide. It's essential to discuss their fees and payment structure upfront before engaging their services to avoid any surprises later on. Contested divorce cases can be more costly than uncontested divorces due to the increased time and resources needed to resolve disputes.
Sterling Lawyers, LLC in Brookfield is formerly known as 'Sterling Law Offices, S.C.'