Brookfield Spousal Support Attorneys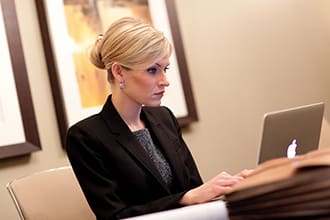 Join one of our experienced family law attorneys and learn about the divorce process, common issues, and participate in a Q and A session.
RSVP here.
Upcoming dates:
Tue, Dec 5 at 5:30pm
With
Attorney Mike Kyrios
Brookfield Spousal Support Lawyers at Sterling Lawyers, LLC
Legal Options that Work for You
There are three basic separation paths depending on your situation. If you're not sure what to choose or are ready to take the next step, call to speak with an attorney for case-specific advice.
Uncontested
Help from the Pros for Simpler Cases
Starting at $2750
Best when you both agree on most separation issues
Get help preparing the paperwork
Ask question at legally complex points
Have peace of mind with your settlement
Mediated
Greater Level of Help for Amicable Situations
$3,500 - $6,500/couple
Most amicable process for long-term harmony
Neutral mediation attorney guides you from start to settlement
Reduce conflict by deciding on property division and custody matters together
Fraction of contested divorce costs
Contested
When You Need an Advocate in Your Corner
$499/mo - $100,000
Best for adversarial relationships
Necessary if abuse, substance abuse, or violence is present
Your personal negotiation and litigation team
Critical when trust is an Issue
Sterling Lawyers is a reputable law firm located in Brookfield, Wisconsin, exclusively dedicated to providing comprehensive family law services. Placed in Waukesha Count your team plays a crucial role by offering compassionate guidance and acting as a dedicated ally for our clients throughout their legal journey.
Alimony is a critical aspect of family law, and at Sterling Lawyers, we understand the emotional complexities that individuals face during these challenging times. Reach out to a Brookfield divorce lawyer who is committed to providing empathetic understanding, fostering an environment where clients feel heard and understood. We recognize the significance of tailoring our approach to each client's unique circumstances, ensuring their needs are met with the utmost care and compassion.
Our spousal support lawyers go beyond providing legal representation – they serve as passionate advocates for their clients. Through their extensive experience and strategic approach, they empower their clients to make informed decisions, always striving for a positive outcome. Our attorneys possess an unwavering dedication to championing the rights and interests of their clients, ensuring they are heard and understood throughout the process.
The lasting impact that our attorneys have on our clients is immeasurable. By providing compassionate guidance, our alimony lawyers help individuals and families navigate the complexities of spousal maintenance by offering reassurance and understanding during these challenging times. Our attorneys understand the profound impact that these cases can have on the lives of their clients and work diligently to alleviate their concerns, providing a positive and lasting experience.
As active members of the Brookfield community, we recognize the value we bring to our neighbors and clients. We engage in community initiatives, support local organizations, and actively participate in educational programs. By giving back and fostering unity, we strive to make a difference that extends beyond our legal services.
Choosing Sterling Lawyers means selecting a team of professionals who are dedicated to your well-being. Our compassionate lawyers understand the challenges you face and provide guidance with empathy and care. They act as fierce advocates, tirelessly fighting for your rights and ensuring that your voice is heard throughout the process. Our attorneys believe in empowering their clients to make informed decisions, enabling them to move forward confidently and build a brighter future.
The impact that Sterling Lawyers has on the Brookfield community and its clients is profound. Our team provides more than just legal assistance; they offer a personal touch that resonates with our clients. By delivering guidance, we strive to create a positive and lasting experience for individuals and families in need.
When you work with Sterling Lawyers, you pick a dedicated team that will stand by your side throughout your family law journey. Our Brookfield spousal support attorneys possess the experience to navigate the complexities of alimony cases, all while providing the compassionate care and advocacy you deserve. We are committed to making a meaningful and lasting difference in the lives of our clients and the community we serve.
For Immediate help with your family law case or answering any questions please call (262) 221-8123 now!
Frequently Asked Questions
How is spousal support determined in Brookfield, WI?
Spousal support, also known as alimony or maintenance, is determined by considering various factors such as the length of the marriage, the financial resources and earning capacities of both parties, and each party's contributions to the marriage. A Brookfield spousal support attorney can help you understand how these factors apply to your specific situation and ensure you receive or pay a fair amount of spousal support.
Can a Brookfield spousal support lawyer help modify an existing spousal support order?
Yes, a Brookfield spousal support lawyer can help you request a modification of an existing spousal support order if there has been a substantial change in circumstances, such as a job loss, significant income change, or a change in the supported party's financial needs. The attorney will guide you through the legal process and represent your interests in court.
How long does spousal support typically last in Brookfield, WI?
The duration of spousal support in Brookfield depends on the specific circumstances of each case and the judge's discretion. It can be temporary, short-term, long-term, or permanent. Working with a Brookfield spousal support attorney can help you better understand how the duration of spousal support is determined and advocate for a fair agreement in your case.
Sterling Lawyers, LLC in Brookfield is formerly known as 'Sterling Law Offices, S.C.'