Brookfield Collaborative Divorce Attorneys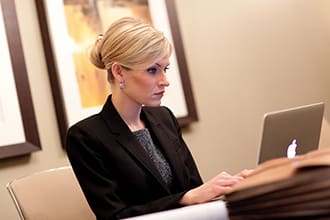 Join one of our experienced family law attorneys and learn about the divorce process, common issues, and participate in a Q and A session.
RSVP here.
Upcoming dates:
Brookfield Collaborative Divorce Lawyers at Sterling Lawyers, LLC
Legal Options that Work for You
There are three basic separation paths depending on your situation. If you're not sure what to choose or are ready to take the next step, call to speak with an attorney for case-specific advice.
Uncontested
Help from the Pros for Simpler Cases
Starting at $2750
Best when you both agree on most separation issues
Get help preparing the paperwork
Ask question at legally complex points
Have peace of mind with your settlement
Mediated
Greater Level of Help for Amicable Situations
$3,500 - $6,500/couple
Most amicable process for long-term harmony
Neutral mediation attorney guides you from start to settlement
Reduce conflict by deciding on property division and custody matters together
Fraction of contested divorce costs
Contested
When You Need an Advocate in Your Corner
$499/mo - $100,000
Best for adversarial relationships
Necessary if abuse, substance abuse, or violence is present
Your personal negotiation and litigation team
Critical when trust is an Issue
Sterling Lawyers is a reputable law firm located in Brookfield, Wisconsin, exclusively dedicated to family law matters. Situated in the county of Waukesha, Brookfield is a close-knit community where relationships are valued, and families thrive. Sterling Lawyers brings immense value to the community by providing empathetic guidance and serving as unwavering champions for our clients throughout their legal journey.
Brookfield divorce lawyers help with a sensitive and constructive process, and at Sterling Lawyers, we understand the emotional complexities individuals face during this challenging time. Our collaborative divorce lawyers are committed to providing compassionate support, fostering an environment where clients feel comfortable sharing their concerns and fears. We recognize the significance of tailoring our approach to each client's unique circumstances, ensuring their needs are met with the utmost care and understanding.
Within the realm of family law, collaborative divorce serves as a vital alternative to traditional litigation. Our experienced attorneys possess a profound understanding of the benefits that this approach can offer to our clients. By facilitating open communication, respectful negotiation, and cooperative problem-solving, we help couples navigate the path to resolution in a manner that is empowering, cost-effective, and minimizes emotional strain for all parties involved.
Compassion lies at the core of our practice. We firmly believe in providing empathetic guidance to our clients, and our collaborative divorce lawyers act as steadfast advocates, tirelessly fighting for their rights and best interests. Through our extensive legal knowledge and strategic approach, we empower our clients to make informed decisions, paving the way for a positive and enduring outcome.
The impact our lawyers have on our clients extends beyond the legal realm. Our Brookfield collaborative divorce attorneys strive to create a lasting, positive experience, providing the support and reassurance necessary for individuals and families to move forward confidently. By fostering an environment of trust and understanding, we equip our clients with the resources they need to overcome their struggles, ultimately allowing them to build a brighter future.
As members of the Brookfield community, we deeply value our role in contributing to the well-being of our neighbors. We actively engage with community organizations, initiatives, and educational programs, recognizing the importance of giving back and fostering a sense of unity. By sharing our knowledge, we aim to create a lasting impact that extends far beyond the walls of our law firm.
Choosing Sterling Lawyers means selecting a dedicated team of professionals who will stand by your side throughout your family law journey. Our team of attorneys bring a wealth of experience and offer a personalized approach that resonates with our clients. With a focus on creating positive change and empowering individuals and families, we strive to make a meaningful and lasting difference in the lives of those we serve.
For Immediate help with your family law case or answering any questions please call (262) 221-8123 now!
Frequently Asked Questions
How does the collaborative divorce process work, and what is the role of a Brookfield collaborative divorce attorney?
The collaborative divorce process involves both parties and their attorneys working together to negotiate a mutually agreeable divorce settlement outside of court. The role of a Brookfield Collaborative Divorce attorney is to represent their client's interests during the negotiations, provide legal advice, and help their client navigate the process while working towards an agreement.
What are the benefits of choosing a collaborative divorce in Brookfield, WI?
The benefits of choosing a collaborative divorce in Brookfield include a more amicable resolution, potentially lower legal costs, a customized divorce agreement that meets both parties' needs, and a reduced emotional toll on the family. By working with a skilled Brookfield collaborative divorce lawyer, you can take advantage of these benefits and achieve a less adversarial divorce.
How much does it cost to hire a Brookfield collaborative divorce attorney?
The cost of hiring a Brookfield Collaborative Divorce attorney can vary depending on their experience, the complexity of your case, and the specific services they provide. It's crucial to discuss their fees and payment structure upfront before engaging their services to avoid any surprises later on. Collaborative divorce can also be more cost-effective in comparison to traditional litigation, depending on the circumstances.
Sterling Lawyers, LLC in Brookfield is formerly known as 'Sterling Law Offices, S.C.'