Oshkosh Military Divorce Attorneys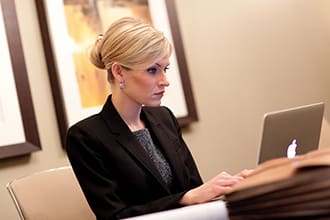 Join one of our experienced family law attorneys and learn about the divorce process, common issues, and participate in a Q and A session.
RSVP here.
Upcoming dates:
Tue, Dec 5 at 5:30pm
With
Attorney Mike Kyrios
Oshkosh Military Divorce Lawyers at Sterling Lawyers, LLC
Legal Options that Work for You
There are three basic separation paths depending on your situation. If you're not sure what to choose or are ready to take the next step, call to speak with an attorney for case-specific advice.
Uncontested
Help from the Pros for Simpler Cases
Starting at $2750
Best when you both agree on most separation issues
Get help preparing the paperwork
Ask question at legally complex points
Have peace of mind with your settlement
Mediated
Greater Level of Help for Amicable Situations
$3,500 - $6,500/couple
Most amicable process for long-term harmony
Neutral mediation attorney guides you from start to settlement
Reduce conflict by deciding on property division and custody matters together
Fraction of contested divorce costs
Contested
When You Need an Advocate in Your Corner
$499/mo - $100,000
Best for adversarial relationships
Necessary if abuse, substance abuse, or violence is present
Your personal negotiation and litigation team
Critical when trust is an Issue
Family law opens up many unique difficulties and intricacies. The prospect of navigating the divorce process amidst the demands of military life feels daunting. However, with proper guidance from legal counsel focused on efficiency, military families can transition smoothly during this challenging time. Our Oshkosh military divorce lawyers aim to reduce disruptions and facilitate your path towards resolution.
Finding Empowerment in Family Law
As a firm located in Oshkosh, Wisconsin, our Oshkosh divorce lawyers provides committed legal help for military personnel going through divorce proceedings. Our attorneys possess comprehensive understanding of the special factors involved with military divorces. We address legal matters like dividing military retirement pay, child custody for families, and other intricate concerns exclusive to service members.
With real insight into military lifestyles, our lawyers seek to alleviate clients' stress and accomplish optimal outcomes efficiently. We acknowledge the hardships and sacrifices military families face, and we strive to defend our clients' best interests during this difficult change. Our focused family law knowledge distinguishes us, and our customized approach enhances the client experience.
Tailored Legal Services for Your Military Divorce Needs
Every military divorce situation entails unique needs and circumstances. We devote time comprehending the specifics of your case to appropriately tailor our legal services. Through transparent communication and tailored solutions, we aim to deliver top-notch legal representation while avoiding surprises.
Our fixed fee pricing offers cost-effectiveness along with comprehensive, high-caliber legal services. We aim to reduce the financial concerns often linked to hourly billing, allowing you to prioritize your needs during this sensitive time. Our personalized approach prioritizes client satisfaction and successful outcomes.
Leveraging Our Depth of Family Law Experience
With many years handling all facets of family law matters, Sterling Law Offices possesses the skills and knowledge to guide you through your divorce. We recognize the complexities and have developed the proficiency to streamline proceedings and decrease expenses. You can feel assured entrusting your case to our qualified legal team.
Our extensive background translates into prompt resolution of issues like child custody, spousal and child support, and division of property and debts. We aim to decrease delays and progress you forward quickly. Our family law experience provides unique insight into achieving outcomes that protect your interests.
Committed to Streamlining Your Case
Going through divorce while serving adds complexity. We focus on streamlining the process and minimizing disruptions to your duties and family life. Our goal is to enable a smooth transition by reducing stressors and holdups.
Our lawyers adeptly handle legal proceedings involving property division, child custody, and spousal support to encourage prompt case resolution. We also promote collaboration between parties to accomplish mutually beneficial outcomes while decreasing conflict. With our attentive approach, we empower you to remain focused during this transitional time.
Continuous Support During Your Life's Transitions
The effects of military divorce can be significant and changing over time. Factors like moving, shifting life situations, and child custody arrangements often necessitate legal modifications. Sterling Law Offices provides continuous support to guide clients through these changes. We maintain open communication so you can readily address emerging needs.
Beyond initial legal proceedings, we offer ongoing access to educational materials plus introductions to financial or emotional health professionals. Our commitment is to serve as your tireless representative at every new stage, preserving a transparent relationship focused on your best interests. We aim to smooth the process from beginning to end.
Selecting a Strategic Military Divorce Attorney
Selecting the appropriate counsel is critical when navigating military divorce complexities. The best outcomes depend on choosing an attorney with in-depth knowledge and proven success with similar cases. Our extensive knowledge and remarkable track record representing clients facing family law challenges inspires confidence and peace of mind.
As your advocate, your lawyer must possess intimate familiarity with family law and key decision makers within the local courts. They must have honed negotiation skills and litigation experience to cover all scenarios. Most importantly, your counsel must steadfastly commit to protecting your interests related to asset division, child custody, and long-term well-being.
Demystifying the Path to Resolution
The divorce process involves several key phases, starting with an initial consultation where your lawyer will assess your situation, needs and eligibility. Next, required documentation must be filed before matters such as child custody, spousal support and property division can be negotiated or litigated. Our knowledge of military protocols allows us to guide you strategically at each step.
Maintaining communication with your lawyer is vital for identifying potential hurdles and adapting strategy as needed. Family law can become complex, especially with relocation involved. Our experience enables us to anticipate challenges and keep your case progressing effectively through negotiation, litigation or mediation. We empower you with information to make informed choices.
Take Control Through Knowledge
Before beginning divorce proceedings, consulting a military divorce lawyer is prudent. They can advise if you satisfy state residency and filing requirements and evaluate your options. Attempting military divorce without legal advice can jeopardize your rights.
An initial consultation empowers you to make educated decisions by clarifying laws governing retirement, child custody, and division of property. Your lawyer can also explain how legal strategies may apply in your unique situation. Protect yourself by partnering with a professional from the outset. We remain dedicated to serving as your tireless representative at each new milestone, empowering you to move forward confidently. Contact us for a consultation and let us support you through every stage of your journey.
For Immediate help with your family law case or answering any questions please call (262) 221-8123 now!
Frequently Asked Questions
How does being in the military impact divorce issues in Oshkosh?
Military service adds complexity to divorce cases in Oshkosh. Factors like deployment, frequent moves, and overseas assignments make establishing jurisdiction, serving papers, and attending hearings difficult. The Servicemembers Civil Relief Act provides protections like delaying court proceedings if deployment interferes. An Oshkosh military divorce lawyer experienced with military cases can help navigate these complications.
Does Wisconsin have special laws regarding military divorces?
Wisconsin has adopted some special laws relating to military divorce cases. The state allows phone or video testimony for deployed service members in divorce hearings. Wisconsin also has a deployment protocol that requires a custody plan for the child's care during deployment, contact with the deployed parent, and dispute resolution. Additionally, Wisconsin makes retirement divisible as marital property. A seasoned Oshkosh military divorce attorney can use these laws to protect the rights of armed forces members while also achieving fair property division and custody arrangements.
What happens if I get deployed during my Oshkosh military divorce case?
If deployed during your divorce, the court case may be postponed under the Servicemembers Civil Relief Act until you return. You can request a 90-day stay on proceedings. The court may also allow testimony by phone or videoconference. Your Oshkosh military divorce lawyer can file an affidavit explaining your absence, appear on your behalf, and request delays until you can meaningfully participate. Deployment also affects child custody, as the custody order may designate the child's care and contact with you during deployment. Get legal advice to protect your rights if you may deploy amidst divorce.