Oshkosh Uncontested Divorce Attorneys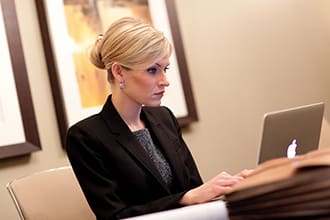 Join one of our experienced family law attorneys and learn about the divorce process, common issues, and participate in a Q and A session.
RSVP here.
Upcoming dates:
Tue, Dec 5 at 5:30pm
With
Attorney Mike Kyrios
Oshkosh Uncontested Divorce Lawyers at Sterling Lawyers, LLC
Legal Options that Work for You
There are three basic separation paths depending on your situation. If you're not sure what to choose or are ready to take the next step, call to speak with an attorney for case-specific advice.
Uncontested
Help from the Pros for Simpler Cases
Starting at $2750
Best when you both agree on most separation issues
Get help preparing the paperwork
Ask question at legally complex points
Have peace of mind with your settlement
Mediated
Greater Level of Help for Amicable Situations
$3,500 - $6,500/couple
Most amicable process for long-term harmony
Neutral mediation attorney guides you from start to settlement
Reduce conflict by deciding on property division and custody matters together
Fraction of contested divorce costs
Contested
When You Need an Advocate in Your Corner
$499/mo - $100,000
Best for adversarial relationships
Necessary if abuse, substance abuse, or violence is present
Your personal negotiation and litigation team
Critical when trust is an Issue
Going through a divorce can be an emotionally turbulent time filled with challenges and complex legal issues. Even when both parties agree the marriage should end, there are still many difficult decisions to make and logistics to sort through. Having an Oshkosh divorce attorney who can make the process smooth and hassle-free is invaluable during this critical junction. The experienced lawyers at Sterling Law Offices understand the intricacies involved and provide the guidance needed to make this transition as seamless as possible.
Navigating the Turbulent Seas of Divorce
Our dedicated team works diligently to relieve clients' stress and achieve favorable outcomes. By streamlining the process, they aim to complete cases quickly and simply while ensuring clients' best interests are protected. The extensive knowledge that our attorneys have in uncontested divorce sets them apart from other firms in the city. We are committed to giving each client unwavering personal attention and making them feel cared for throughout their journey. This thoughtful approach enhances the overall experience and leads to greater satisfaction.
Your Needs, Your Way – A Tailored Approach
It's understood that every client has unique needs when navigating family law. That's why we take ample time to understand each individual situation and tailor their services and fees accordingly. Our fixed pricing structure eliminates surprises and provides cost-effective legal representation without escalating hourly bills. Clients can receive high-quality legal services without worrying about expenses spiraling out of control. When clients work with a firm that offers a personalized approach, the outcome is often increased satisfaction and more optimal case results.
Seasoned Guidance Through Complex Proceedings
With years assisting clients, Sterling Law Offices possesses extensive knowledge of the local family court system and divorce process. Their attorneys have an in-depth understanding of the intricacies involved, ranging from asset division to child custody matters. They are committed to streamlining the process whenever possible, making divorce affordable and minimizing unnecessary delays or financial strain. Clients can feel confident knowing their case is in the most capable hands when being handled by a firm with proven experience in all aspects of family law.
Minimizing Disruption and Maximizing Resolution
The attorneys are dedicated to smoothing out disruptions and expediting resolution during legal proceedings. They aim to simplify the legal process, reducing stress and frustration for their clients. Their goal is to make family law effortless and fast so individuals can move on with their lives without getting entangled in endless delays. In addition to the divorce itself, the lawyers handle related matters such as property division, child custody and support, and spousal maintenance if needed. By taking a comprehensive approach, they foster collaboration and mitigate conflict while securing a clear resolution reflective of both parties' wishes.
By Your Side at Every Twist and Turn
Although an uncontested divorce may seem straightforward initially, circumstances and needs can change over time. Sterling Law Offices provides modification services should adjustments be required down the road. Their knowledgeable Oshkosh divorce lawyers guide individuals through these modifications and offer ongoing support long after the case is finalized. They assist clients in evaluating factors like the well-being of children, financial implications, and emotional health. They are dedicated to keeping open communication with clients and updating them regularly throughout their case. They also provide access to educational resources and connections with other professionals to comprehensively support clients each step of the way.
Experience Brings Reassurance and Results
Selecting a divorce attorney with proven experience handling similar cases is paramount. Having years of superior service and successful case results instill confidence in clients during this difficult transition. Protecting the interests of children, ensuring a fair division of assets, and securing a peaceful resolution are always the firm's primary objectives during a divorce. An experienced lawyer intimately understands complex family law and provides sage counsel while fiercely safeguarding clients' rights. For those pondering divorce, having a knowledgeable guide to advocate and advise through each phase of the process is essential.
Demystifying the Path Ahead
The steps involved in an uncontested divorce typically begin with an initial consultation, followed by filing key documents like the petition and settlement agreement. Much of the process centers around negotiation between the attorneys representing both parties. In some instances, brief court proceedings may be necessary to finalize the divorce. While timelines vary, a mutual uncontested divorce can usually be completed in a matter of months. However, complications occasionally arise even in amicable cases. Sterling Law Offices has seen it all and helps clients handle challenges like working through points of disagreement or navigating legal complexities. Their strategic advice and advocacy lead to satisfying resolutions.
Empower Yourself – Consult with Confidence
If considering divorce, consulting with an experienced Oshkosh uncontested divorce attorney is highly recommended to understand your rights and options. Eligibility is dependent on meeting Wisconsin residency requirements and having agreements in place over issues like property division and child custody. Our skilled lawyers can assess your unique situation during a consultation and determine if the uncontested process is appropriate. It is risky attempting to maneuver legal matters independently without a full understanding of potential outcomes. Early legal guidance provides a roadmap to navigate the terrain ahead and avoid missteps. Allow our team to empower you with the knowledge and support needed to make informed decisions. With an empathetic ally guiding you through the intricacies, this difficult journey can be made less daunting. Reach out today to schedule a consultation and let us provide the clarity and peace of mind you deserve during this complex time.
For Immediate help with your family law case or answering any questions please call (262) 221-8123 now!
Frequently Asked Questions
What forms and paperwork do I need to file for an uncontested divorce in Oshkosh, WI?
To file for an uncontested divorce in Oshkosh, WI, you will need to complete and submit several forms and documents. The key paperwork includes a Petition for Divorce, Confidential Petition Addendum, Summons, Family Court Record, Vital Statistics Form, Marital Settlement Agreement, Financial Disclosure Statement, and any additional forms related to child support, custody, or property division. You will need to file the original documents with the court and serve your spouse with copies. However, having an experienced Oshkosh divorce lawyer help prepare and review your paperwork can ensure everything is filled out properly.
What happens if my spouse suddenly contests the divorce in Oshkosh, WI?
If you initially filed for an uncontested divorce in Oshkosh, WI, but your spouse decides to contest it, your case will now become a contested divorce. This means you will have to litigate the disputed issues in court and possibly go through a trial. Some reasons a spouse may suddenly contest the divorce include disagreements over property distribution, finances, child custody, or spousal support.
Will I have to go to court for an uncontested divorce in Oshkosh, WI?
In most cases, you will not have to appear in court for an uncontested divorce in Oshkosh, WI. After properly filing your divorce paperwork and completing all the requirements, a court date will be scheduled. However, you do not need to attend this final court hearing as long as you and your spouse are in agreement on all issues. The judge will review your documents, ensure everything is in order, and grant the divorce decree without requiring you to be present.