Oshkosh Divorce Mediation Attorneys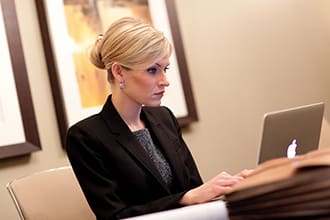 Join one of our experienced family law attorneys and learn about the divorce process, common issues, and participate in a Q and A session.
RSVP here.
Upcoming dates:
Tue, Dec 5 at 5:30pm
With
Attorney Mike Kyrios
Oshkosh Divorce Mediation Lawyers at Sterling Lawyers, LLC
Legal Options that Work for You
There are three basic separation paths depending on your situation. If you're not sure what to choose or are ready to take the next step, call to speak with an attorney for case-specific advice.
Uncontested
Help from the Pros for Simpler Cases
Starting at $2750
Best when you both agree on most separation issues
Get help preparing the paperwork
Ask question at legally complex points
Have peace of mind with your settlement
Mediated
Greater Level of Help for Amicable Situations
$3,500 - $6,500/couple
Most amicable process for long-term harmony
Neutral mediation attorney guides you from start to settlement
Reduce conflict by deciding on property division and custody matters together
Fraction of contested divorce costs
Contested
When You Need an Advocate in Your Corner
$499/mo - $100,000
Best for adversarial relationships
Necessary if abuse, substance abuse, or violence is present
Your personal negotiation and litigation team
Critical when trust is an Issue
Going through a divorce is an extremely difficult and emotional experience. It involves making major life changes and can lead to feelings of grief, anger, and uncertainty. When divorce is inevitable, many couples turn to mediation as an alternative to traditional divorce litigation. Mediation can provide a more amicable and cost-effective way to dissolve a marriage. However, the process is complex, and the stakes are high. Having an Oshkosh divorce attorney to guide you through mediation is crucial to ensure your rights are protected. The compassionate divorce mediation attorneys understand the challenges individuals face during this transitional time. Their goal is to streamline the process and provide legal guidance, empowering clients to achieve fair resolutions. With their support, you can navigate this journey with confidence.
Navigating the Emotional Crossroads of Divorce Mediation
Sterling Law Offices has a team of seasoned attorneys dedicated to helping clients through all aspects of divorce mediation in Oshkosh. Their attorneys have negotiated hundreds of successful mediated settlements over the years. They are committed to relieving clients' stress by handling the legal complexities, while clients focus on important personal matters. Each case moves along quickly yet thoroughly, protecting clients' best interests. Their mediation experience coupled with a personalized approach is what sets them apart from other firms in Oshkosh. They aim to make the mediation process effortless, working diligently to help clients transition into the next phase of life.
Personalized Legal Guidance Tailored to Your Situation
We recognize that every client's situation is unique when it comes to divorce mediation matters. We take the time to understand each client's specific goals, concerns, and circumstances. Our attorneys tailor their services to fit individual needs, providing transparent pricing options to match each case. This eliminates surprises down the road. Clients receive comprehensive legal representation through the mediation process without worrying about escalating hourly rates. The personalized approach ensures clients remain satisfied and in control of their matters from start to finish. Working with a firm that offers customized attention enhances the mediation experience.
Unparalleled Experience in Family Law Matters
With decades of combined years of experience, Sterling Law Offices possesses an in-depth understanding in all aspects of family law. Their attorneys have an understanding of the mediation process and the many intricacies involved. They are dedicated to streamlining proceedings and making mediation affordable. Clients can feel confident knowing their case is in the hands of attorneys rather than battling through an emotional divorce alone. The resources the law firm provides significantly benefit clients seeking an amicable mediated divorce settlement.
Committed to Seamless Mediation Proceedings
We are devoted to minimizing disruptions and expediting resolution throughout the process. Our goal is to make mediation effortless for clients by reducing delays and simplifying procedures. Our attorneys work diligently to alleviate stress and achieve timely settlements that reflect both parties' desires. We handle all aspects of divorce mediation including division of assets, child custody matters, spousal support and more. The collaborative approach promotes cooperation, resulting in favorable outcomes achieved promptly. Clients can trust that our divorce mediation lawyers will make the process smooth while protecting your interests.
Ongoing Support During Your Transition
The effects of family law extend well beyond the initial settlement. As circumstances evolve over the years, modifications to agreements regarding child support, alimony, or custody may become necessary. Our team provides ongoing support to guide clients through these changes. The attorneys remain available to address any family law needs that emerge down the road. They also supply clients with educational resources and workshops to empower them to adjust to new dynamics. Long after the mediation is finalized, Sterling Law Offices continues serving their clients and answering questions. Their commitment provides much-needed stability during the transition.
Selecting a Trusted Advocate: The Key to Success
Selecting the right attorney is essential when navigating complex divorce mediation cases. Opting for an experienced lawyer well-versed in family law and mediation sets clients up for the greatest chance of success. Sterling Law Offices' proven track record of favorable case results provides clients immense peace of mind. The attention to detail and high level of service they provide are evident in their 5-star client reviews. Well-qualified divorce mediation lawyers understand the key objectives such as reaching equitable agreements and safeguarding children's best interests. With so much at stake, having an advocate to negotiate terms and handle legal intricacies allows clients to focus on self-care during this challenging transitional period.
Walking the Path to Resolutions
The divorce mediation process involves several steps, starting with assessing whether mediation is suitable for the situation at hand. Next, both parties come together for an initial joint session with attorneys present. This begins the negotiation of major issues such as asset division, child custody arrangements, spousal and child support. Multiple joint sessions typically follow as details get ironed out and compromises are made. Mediators facilitate cooperation but do not force settlement. If the parties reach consensus, legal documents are drafted outlining the agreements. However, if significant disputes remain unresolved, the case may revert to litigation. There are often complicated nuances involved in mediation. Sterling Law Office's experience in the process enables them to provide guidance each step of the way to give clients the greatest advantage.
Consultation with Experienced Attorneys
Those looking to pursue divorce mediation as an alternative to litigation may be wondering if they qualify for this process. Mediation is voluntary so both parties must be willing participants. Eligibility also depends on jurisdiction rules and whether domestic violence, substance abuse or other complicating factors are present. To fully understand options available and get insights on the best path forward, it is advisable to schedule a consultation with our divorce mediation attorneys. Attempting mediation without legal representation could put individuals at risk of unfavorable outcomes or rights violations. Early consultation and case assessment prevent costly errors and provide a roadmap to resolution.
Divorce mediation facilitates mutually agreeable divorce settlements, offering an empowering alternative to court litigation. However, the process requires traversing complex legal and emotional terrain. Having attorneys to offer guidance through each phase provides immeasurable value. Sterling Law Offices has a track record of handling mediated divorce cases in Oshkosh and Winnebago County. Our lawyers enable clients to move forward with confidence. If you are ready to explore divorce mediation with the assistance of trusted legal advisors, contact us today to schedule your consultation. Their personalized approach facilitates the challenging process, empowering you to take control of your future.
For Immediate help with your family law case or answering any questions please call (262) 221-8123 now!
Frequently Asked Questions
What issues can be resolved through divorce mediation in Oshkosh, WI?
Many aspects of a divorce can be resolved through mediation in Oshkosh, WI rather than going through contested litigation. Typical issues mediated include property and asset division, finances such as spousal support and child support, development of a parenting plan and custody arrangements, and establishing visitation schedules.
How is a mediator chosen for a divorce case in Oshkosh, WI?
There are a few options for choosing a qualified divorce mediator in Oshkosh, WI. Many divorcing couples mutually agree on selecting a mediator they both feel comfortable working with. Or one party finds a reputable mediator and suggests them to their spouse. Another approach is to have each spouse pick one mediator, then agree on which of the two is best suited for their case. Oshkosh family law attorneys often have established mediators they recommend and can refer you to.
Is mediation confidential for divorce cases in Oshkosh, WI?
Yes, mediation is a confidential process for divorce cases in Oshkosh, Wisconsin. Anything discussed or any agreements made during mediation sessions cannot be disclosed to third parties or used as evidence should the case go to court. The confidentiality of mediation encourages open and honest communication between spouses to reach equitable resolutions. Both the mediator and the spouses are bound by rules of confidentiality governing the mediation process.