Menomonee Falls Spousal Support Attorneys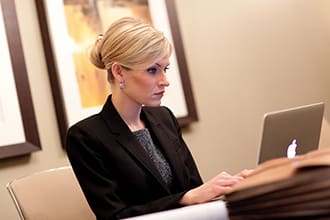 Join one of our experienced family law attorneys and learn about the divorce process, common issues, and participate in a Q and A session.
RSVP here.
Upcoming dates:
Tue, Dec 5 at 5:30pm
With
Attorney Mike Kyrios
Menomonee Falls Spousal Support Lawyers at Sterling Lawyers, LLC
Legal Options that Work for You
There are three basic separation paths depending on your situation. If you're not sure what to choose or are ready to take the next step, call to speak with an attorney for case-specific advice.
Uncontested
Help from the Pros for Simpler Cases
Starting at $2750
Best when you both agree on most separation issues
Get help preparing the paperwork
Ask question at legally complex points
Have peace of mind with your settlement
Mediated
Greater Level of Help for Amicable Situations
$3,500 - $6,500/couple
Most amicable process for long-term harmony
Neutral mediation attorney guides you from start to settlement
Reduce conflict by deciding on property division and custody matters together
Fraction of contested divorce costs
Contested
When You Need an Advocate in Your Corner
$499/mo - $100,000
Best for adversarial relationships
Necessary if abuse, substance abuse, or violence is present
Your personal negotiation and litigation team
Critical when trust is an Issue
Divorce and separation can be emotionally challenging, and when children are involved, it's even more complex. You need a Menomonee Falls divorce lawyer who can make the process streamlined and hassle-free.
Sterling Lawyers, located in Menomonee Falls, has a team of dedicated spousal support attorneys who are committed to relieving the stress of their clients during this difficult time. Our goal is to navigate the intricate process of spousal maintenance quickly and efficiently.
Our Menomonee Falls alimony lawyers take a personalized approach, taking the time to understand each client's unique situation while providing transparent quotes. We use a fixed fee structure, in contrast to the hourly billing utilized by other law firms, making our services cost-effective and tailored to your needs.
Having built an extensive reputation serving clients in the Greater Menomonee Falls area, our commitment is to streamline the process and make it affordable for clients as we find the most favorable outcomes for them. Our professional Menomonee Falls spousal support attorneys are equipped to handle various legal proceedings associated with family law, including property division, child custody and alimony. Our goal is to make the whole process effortless and fast, ensuring a clear resolution that reflects the decisions of both parties involved. Our attorneys possess the knowledge to guide you through the complexities of family law laws, providing you with the assistance you need during this challenging time.
We understand that family law cases can come with a financial burden. At Sterling Lawyers, we aim to alleviate that stress by offering fixed fee billing. This means you will know the cost upfront, allowing for better financial planning. Additionally, we maintain open communication throughout the transition, ensuring that you are always informed about the progress of your case and any financial implications associated with it. Our commitment is to reduce the financial and emotional strain during this process.
When choosing a Menomonee Falls alimony attorney, experience and a proven track record of success are vital to consider. Our attorneys have extensive experience in handling alimony cases in Waukesha County and the surrounding areas in Wisconsin. We are committed to client satisfaction and dedicated to achieving favorable outcomes. Our track record speaks for itself, as we have helped numerous clients navigate the complexities of spousal support, ensuring their rights are protected and their interests are represented.
When you're ready for quality legal guidance in your alimony case, you can trust Sterling Lawyers. Our commitment to personalized service and easing the difficult process sets us apart. Contact our team today to discuss your individual case and goals. We are here to guide you towards a positive resolution.
For Immediate help with your family law case or answering any questions please call (262) 221-8123 now!
Frequently Asked Questions
How is alimony determined in Menomonee Falls, WI?
A Menomonee Falls spousal support lawyer will explain that the court considers several factors, such as the length of the marriage, each party's earning capacity, and the needs of both spouses, when determining spousal support amounts.
Can spousal support be modified after it has been stablished in Menomonee Falls?
Yes, it can be modified under specific circumstances. If either the payee or the payer experiences a significant change in financial circumstances, a Menomonee Falls alimony attorney can help you file for a modification in the court.
How long will I need to pay or receive spousal support in Menomonee Falls, WI?
The duration of alimony typically depends on the specifics of your case. A Menomonee Falls spousal support lawyer can examine your situation and provide you with an estimate of the expected duration based on Wisconsin state laws and guidelines.
Sterling Lawyers, LLC in Menomonee Falls is formerly known as 'Sterling Law Offices, S.C.'