Menomonee Falls Divorce Mediation Attorneys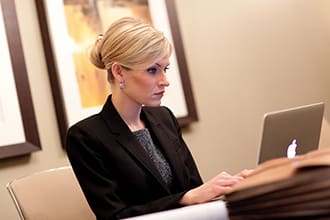 Join one of our experienced family law attorneys and learn about the divorce process, common issues, and participate in a Q and A session.
RSVP here.
Upcoming dates:
Tue, Dec 5 at 5:30pm
With
Attorney Mike Kyrios
Menomonee Falls Divorce Mediation Lawyers at Sterling Lawyers, LLC
Legal Options that Work for You
There are three basic separation paths depending on your situation. If you're not sure what to choose or are ready to take the next step, call to speak with an attorney for case-specific advice.
Uncontested
Help from the Pros for Simpler Cases
Starting at $2750
Best when you both agree on most separation issues
Get help preparing the paperwork
Ask question at legally complex points
Have peace of mind with your settlement
Mediated
Greater Level of Help for Amicable Situations
$3,500 - $6,500/couple
Most amicable process for long-term harmony
Neutral mediation attorney guides you from start to settlement
Reduce conflict by deciding on property division and custody matters together
Fraction of contested divorce costs
Contested
When You Need an Advocate in Your Corner
$499/mo - $100,000
Best for adversarial relationships
Necessary if abuse, substance abuse, or violence is present
Your personal negotiation and litigation team
Critical when trust is an Issue
Sterling Lawyers is a highly respected and dedicated law firm exclusively practicing family law in Menomonee Falls, Wisconsin. Nestled in the heart of Waukesha County, this thriving city is renowned for its exceptional schools, close-knit community, and picturesque parks, creating an idyllic environment for families and individuals alike.
Recognizing the emotional toll that family law matters can take, Sterling Lawyers is here to provide the compassionate guidance and support you need. We understand the complexities and sensitivities involved in divorce mediation cases, and our team of knowledgeable attorneys is committed to helping you navigate the process with empathy and care. As compassionate advocates, we stand by your side, ensuring that your rights are protected and your voice is heard.
Our Menomonee Falls divorce mediation lawyers have an alternative dispute resolution process that empowers couples to find amicable solutions outside of the courtroom. This approach offers numerous benefits, including lower costs, reduced stress, and greater control over the outcome. Getting in contact with a Menomonee Falls divorce attorney will help facilitate productive discussions, guiding both parties towards mutually beneficial agreements.
At Sterling Lawyers, we firmly believe in the importance of personalized attention and tailored solutions for every client. We take the time to understand the unique dynamics of your situation, allowing us to develop strategies that address your specific needs. Whether you are facing a divorce or any other family law matter, our divorce mediations lawyers are here to provide the support and guidance you require.
Our commitment to accessibility extends beyond our exceptional legal services. Sterling Lawyers offers competitive fixed fee rates, ensuring that cost is not a barrier to receiving the quality representation you deserve. We take great pride in surpassing your expectations and making the legal process as smooth and efficient as possible.
We believe that investing in the community is a fundamental aspect of our firm's values, and we actively seek out opportunities to do so. Our team members volunteer their time and resources to various local charities and organizations, and we are proud to sponsor events that benefit the community as a whole.
We are driven by our passion for helping families navigate the intricate landscape of family law. Our dedicated mediation attorneys are not only legal professionals but also trusted advocates, committed to fighting for your rights and best interests. With cost-effective solutions tailored to your unique circumstances, we aim to surpass your expectations and provide the guidance you need to move forward confidently.
If you are facing a family law matter in Menomonee Falls, Wisconsin, Sterling Lawyers is here to support you. Contact us today to schedule a consultation with a divorce mediation lawyer. Let us help you navigate the complexities of family law with compassion, integrity, and unwavering advocacy.
For Immediate help with your family law case or answering any questions please call (262) 221-8123 now!
Frequently Asked Questions
How can a divorce mediation lawyer in Menomonee Falls, WI help me navigate the divorce process amicably?
Mediators act as facilitators to assist couples in determining what is best for their circumstances rather than making informed decisions or giving legal advice.
What are the benefits of opting for divorce mediation with the help of an attorney in Menomonee Falls, WI?
By engaging a divorce mediation attorney in Menomonee Falls, WI, you can experience several advantages. Divorce mediation promotes open dialogue, allowing you and your spouse to maintain control over the decision-making process and find creative solutions that work for both parties. Additionally, divorce mediation is typically more affordable and less time-consuming compared to traditional litigation.
Can a divorce mediation attorney in Menomonee Falls, WI help with post-divorce disputes?
Yes, a divorce mediation attorney in Menomonee Falls, WI can assist with post-divorce disputes. Even after the divorce is finalized, conflicts may arise regarding child custody modifications, visitation schedules, or spousal support adjustments.
Sterling Lawyers, LLC in Menomonee Falls is formerly known as 'Sterling Law Offices, S.C.'