Menomonee Falls Property Division Attorneys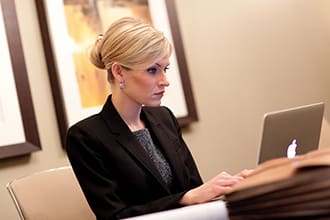 Join one of our experienced family law attorneys and learn about the divorce process, common issues, and participate in a Q and A session.
RSVP here.
Upcoming dates:
Tue, Dec 5 at 5:30pm
With
Attorney Mike Kyrios
Menomonee Falls Property Division Lawyers at Sterling Lawyers, LLC
Legal Options that Work for You
There are three basic separation paths depending on your situation. If you're not sure what to choose or are ready to take the next step, call to speak with an attorney for case-specific advice.
Uncontested
Help from the Pros for Simpler Cases
Starting at $2750
Best when you both agree on most separation issues
Get help preparing the paperwork
Ask question at legally complex points
Have peace of mind with your settlement
Mediated
Greater Level of Help for Amicable Situations
$3,500 - $6,500/couple
Most amicable process for long-term harmony
Neutral mediation attorney guides you from start to settlement
Reduce conflict by deciding on property division and custody matters together
Fraction of contested divorce costs
Contested
When You Need an Advocate in Your Corner
$499/mo - $100,000
Best for adversarial relationships
Necessary if abuse, substance abuse, or violence is present
Your personal negotiation and litigation team
Critical when trust is an Issue
Our focus is on assisting individuals and families with the intricacies of family law, with particular attention to property division matters. When working with us, you will work with a knowledgeable Menomonee Falls family law lawyer.
Our office is located in Menomonee Falls, an interconnected community that highly values strong family bonds and the welfare of its residents. The attorneys at Sterling Lawyers have a deep understanding of the unique challenges faced by families embroiled in legal disputes. They are committed to providing compassionate guidance and unwavering support during these trying times.
At Sterling Lawyers, you will find empathetic allies who genuinely care about your well-being. Our team of seasoned Menomonee Falls property division attorneys recognize the emotional toll that legal proceedings can take. Our attorneys foster a nurturing and understanding environment where you can freely express your concerns and aspirations. We strive to be compassionate advocates who are fully dedicated to your cause. With their comprehensive knowledge of property division laws in Menomonee Falls Waukesha County, and Wisconsin, they ensure that you receive fair and equitable outcomes.
Our firm takes immense pride in the enduring impact we have on our clients' lives. Beyond providing legal representation, we strive to create a positive and lasting experience. We firmly believe that a compassionate approach is instrumental in helping our clients overcome their struggles. We provide personalized care and guidance throughout the entire process, ensuring that you never feel alone.
By entrusting your property division matters to Sterling Lawyers, you can rest assured that you will receive the support and attention you deserve. We are here to alleviate your burdens and champion your rights. Our commitment to excellence and unwavering dedication to our clients sets us apart as a trusted resource in the Menomonee Falls community.
Here in Menomonee Falls, and the greater metro area, our firm has earned a reputation for providing exceptional legal services and invaluable support to families in need. We are deeply ingrained in this community and understand the values that define it. Through our compassionate advocacy, we aim to make a positive impact not only on the lives of our clients but also on the broader community.
When you select Sterling Lawyers for your debt and property division needs, you can expect nothing less than attorneys who are unwavering in their dedication to your cause. We are here to guide you through the challenges you face, safeguard your rights, and ensure that your voice is heard. Trust us to provide the necessary skills and unwavering support during these difficult times.
From social media mentions to thousands of client testimonials, you can see how the attorneys at Sterling Lawyers leave a lasting impression on our clients and the community. Their compassionate advocacy creates a positive ripple effect that extends beyond the legal realm. By prioritizing your needs and well-being, they empower you to navigate the complexities of family law with confidence and resilience.
Sterling Lawyers is more than just a law firm; we are a steadfast support system during trying times. Our commitment to compassion and advocacy resonates with our clients, leaving an indelible mark long after their interactions with our attorneys. Experience the positive, lasting impact of working with Sterling Lawyers as we stand by your side, helping you overcome challenges and achieve the best possible outcomes.
For Immediate help with your family law case or answering any questions please call (262) 221-8123 now!
Frequently Asked Questions
How is property divided during a divorce in Menomonee Falls, WI?
A Menomonee Falls property division lawyer would explain that Wisconsin is a community property state, meaning marital property is typically divided equally between the spouses, taking into consideration factors such as the length of the marriage and each spouse's contributions.
Are retirement accounts considered marital property in Menomonee Falls, WI?
Yes, a Menomonee Falls property division attorney would clarify that retirement accounts, such as 401(k)s and pensions, are considered marital property if they were accrued during the marriage and would be subject to division during divorce.
How can I protect my separate property in a divorce in Menomonee Falls, WI?
To protect your separate property, a Menomonee Falls property division lawyer can help you establish a prenuptial or postnuptial agreement, or provide guidance on properly documenting and maintaining separate property to avoid commingling with marital assets.
Sterling Lawyers, LLC in Menomonee Falls is formerly known as 'Sterling Law Offices, S.C.'