Janesville Paternity Attorneys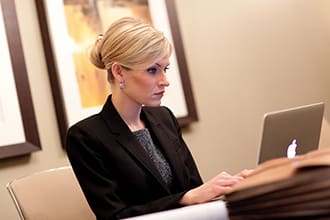 Join one of our experienced family law attorneys and learn about the divorce process, common issues, and participate in a Q and A session.
RSVP here.
Upcoming dates:
Janesville Paternity Lawyers at Sterling Lawyers, LLC
Legal Options that Work for You
There are three basic separation paths depending on your situation. If you're not sure what to choose or are ready to take the next step, call to speak with an attorney for case-specific advice.
Uncontested
Help from the Pros for Simpler Cases
Starting at $2750
Best when you both agree on most separation issues
Get help preparing the paperwork
Ask question at legally complex points
Have peace of mind with your settlement
Mediated
Greater Level of Help for Amicable Situations
$3,500 - $6,500/couple
Most amicable process for long-term harmony
Neutral mediation attorney guides you from start to settlement
Reduce conflict by deciding on property division and custody matters together
Fraction of contested divorce costs
Contested
When You Need an Advocate in Your Corner
$499/mo - $100,000
Best for adversarial relationships
Necessary if abuse, substance abuse, or violence is present
Your personal negotiation and litigation team
Critical when trust is an Issue
The emotional labyrinth one embarks on during paternity cases is filled with complexities and challenges. Consultation with an experienced Janesville family law attorney can streamline this journey, alleviating the stress that comes with such legal proceedings. With Sterling Lawyers, you will be provided the necessary guidance to navigate through this emotional process, ensuring you are well-informed and supported every step of the way.
The Emotional Maze in a Paternity Case
Sterling Lawyers stands out with a dedicated team of attorneys committed to their clients' best interests during family law cases. Their unique approach involves understanding your specific legal needs and tailoring their services, accordingly, focusing on quick and effective resolutions. They set themselves apart with their dedication to providing personalized attention, ensuring that no stone is left unturned in protecting your rights.
Your Needs, Your Way: Customizing Your Paternity Case
Understanding your unique personal needs during this intricate legal process is a cornerstone of the service provided by our paternity lawyers. Their personalized approach involves taking the time to understand your unique situation, offering transparent quotes that align with your specific needs. With a fixed pricing structure, you can put your worries about escalating costs aside. This attention to detail has ensured their consistent delivery of high-quality legal services to their clients in Janesville.
Years of Experience on Your Side
With an extensive background in supporting clients, Sterling Lawyers has gathered a wealth of knowledge about the paternity process. Dedicated to making the process easier and more affordable for clients, their attorneys are well-versed in ensuring the smooth processing of such cases. Their track record has resulted in client reassurance, guaranteeing that each case is handled with utmost confidence and proficiency.
Our Focus on Smooth Paternity Proceedings
We are committed to ensuring minimal disruptions during paternity proceedings. Our goal is to streamline the legal process for their clients, mitigating stress and unnecessary delays. With a well-rounded approach to handling related family law matters such as property division, child custody support, or alimony, our commitment to achieving a clear resolution favoring our clients' needs.
You Are Not Alone in Family Law
Paternity cases often require considering numerous factors such as children's welfare, financial implications, and emotional well-being. Therefore, Sterling Lawyers offers modification services, knowing that circumstances are likely to change over time. Their Janesville paternity attorneys provide ongoing support, ensuring that clients are kept in the loop at each step. Beyond initial consultation and representation, they provide clients with regular updates, further supporting them with a plethora of resources including educational workshops and access to legal research materials.
Choosing Who Represents You
When choosing a family law attorney, a proven track record and relevant experience in similar cases can supply clients with peace of mind. Sterling Lawyers offers exactly that, consistently protecting the best interests of children and ensuring fair distribution of assets among other services. The selection of such a proficient team helps as a step towards promoting peaceful resolution during this cumbersome process.
Navigating Your Paternity Case
The paternity process can become complicated, with multiple steps including filing documents, negotiation and, in some cases, court proceedings. Our lawyers undertake the challenge of navigating these potentially complex paternity cases, providing strategic advice and advocating for clients' best interests. Their unique approaches ensure a higher likelihood of achieving a favorable resolution for their clients.
Knowledge is Power: Why a Paternity Consultation Matters
Before starting the paternity process, it's of utmost importance to consult with a Janesville paternity attorney. By scheduling a consultation, individuals can better understand their legal rights and potential outcomes, helping them navigate through potential risks. Such a consultation can empower individuals by providing clarity, preserving evidence, and establishing a solid foundation for a successful case.
Looking Ahead on Your Paternity Case
Navigating the complicated process of paternity can be less daunting with Sterling Lawyers. This trusted choice for paternity cases in Janesville, Wisconsin, offers the perfect balance of a personalized approach and extensive experience. Their commitment to ensuring smooth proceedings and providing ongoing support sets them apart. This local law firm is here to assist you in achieving a positive outcome in your legal case with accessible and dedicated service. Reach out and schedule a consultation today.
For Immediate help with your family law case or answering any questions please call (262) 221-8123 now!
Frequently Asked Questions
How can paternity be established for my child?
If unmarried, you can establish paternity by signing a Voluntary Paternity Acknowledgment form after the birth or through a paternity case in court with the help of a Janesville attorney. Genetic testing can determine biological paternity with nearly 100% accuracy.
What are my rights as an unmarried father in Janesville, WI?
As the biological father, you have the right to seek custody or placement rights and a legal relationship with the child. You have the obligation to provide child support. But rights are not automatic - you must take legal steps to establish paternity.
How long do I have to establish paternity in Janesville, Wisconsin?
If you want to establish paternity and associated rights/duties, it's important to act promptly. Generally you must initiate the legal process before the child's 5th birthday. After age 5, different limitations apply.