Janesville Child Custody Attorneys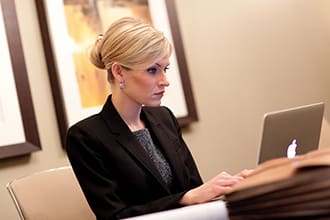 Join one of our experienced family law attorneys and learn about the divorce process, common issues, and participate in a Q and A session.
RSVP here.
Upcoming dates:
Janesville Child Custody Lawyers at Sterling Lawyers, LLC
Legal Options that Work for You
There are three basic separation paths depending on your situation. If you're not sure what to choose or are ready to take the next step, call to speak with an attorney for case-specific advice.
Uncontested
Help from the Pros for Simpler Cases
Starting at $2750
Best when you both agree on most separation issues
Get help preparing the paperwork
Ask question at legally complex points
Have peace of mind with your settlement
Mediated
Greater Level of Help for Amicable Situations
$3,500 - $6,500/couple
Most amicable process for long-term harmony
Neutral mediation attorney guides you from start to settlement
Reduce conflict by deciding on property division and custody matters together
Fraction of contested divorce costs
Contested
When You Need an Advocate in Your Corner
$499/mo - $100,000
Best for adversarial relationships
Necessary if abuse, substance abuse, or violence is present
Your personal negotiation and litigation team
Critical when trust is an Issue
The road to resolving child custody cases can often be overwhelming, fraught with emotional upheaval, and complex legal procedures. This challenging situation calls for the assistance of Janesville divorce lawyers who can streamline the legal process and alleviate the stress that comes with it. Having a professional attorney alongside you can provide the much-needed assurance, guidance and legal insights that make navigating the child custody process less intimidating and more manageable.
Find Guidance for Your Child Custody Case in Janesville
Sterling Lawyers in Janesville, Wisconsin, serves as a beacon of reliability to clients seeking assistance in child custody matters. Their proficient team of attorneys is dedicated to relieving their clients from the burden of legal proceedings and works towards expeditious and favorable resolutions. Our goal is to simplify the challenging process, ensuring the best interests of our clients are at the forefront. The firm's unique approach to client service and our exceptional understanding of family law sets us apart from competition.
A Custom Plan Designed for Your Family
Sterling Lawyers understands that each child custody case in Janesville has its own set of intricacies. The lawyers invest time in understanding every client's unique predicament, providing transparent pricing structures based on individual needs. Offering a fixed fee pricing model, they ensure fairness and transparency to their clients, eliminating the common apprehension of escalating legal costs. The provision of comprehensive high-quality legal representation without the fear of escalating costs is one of the numerous advantages of working with a law firm that offers a personalized approach.
Our Unparalleled Knowledge Sets Us Apart
With its deep roots in family law, our law firm is known for serving clients with excellence. Our profound understanding of child custody cases reassures clients that their matters are being handled competently. The firm's dedication towards making the process affordable and expeditious enables clients to receive the support they need without unnecessary delays or financial hardships.
Minimizing Disruptions During Your Case
Sterling Lawyers are committed to minimizing obstructions and maximizing resolution during child custody proceedings. Their approach towards making the legal process easy and quick helps clients navigate through this trying phase of life seamlessly. Their proficient lawyers are adept at handling associated legal proceedings like property division and support matters. They are dedicated to achieving a clear resolution that resonates with both parties' decisions, thus reducing conflict and fostering collaboration.
Support That Extends Beyond the Courtroom
Navigating child custody matters requires a holistic view that considers factors such as the impact on children and financial implications. Sterling Lawyers understands that circumstances change and offers modification services to adapt to evolving circumstances in an existing agreement. Our child custody attorneys offer continuous support to their clients, assisting them beyond the initial consultation and legal representation. They are committed to keeping their clients informed and updated on their case's progress. The firm also offers additional resources and services such as educational workshops and legal research materials.
Picking the Right Attorney Matters
Choosing an attorney is a significant decision. It helps when the attorney has a successful track record dealing with similar cases. Our track record instills confidence in their clients, which contributes to a peace of mind during such tumultuous times. Protecting the best interests of children, ensuring assets distribution, and promoting amicable resolutions are the focus points of Sterling's attorneys. An attorney's knowledge of family law, familiarity with local courts and judges, negotiation and litigation aptitude, and a strong client advocacy role make choosing an attorney from Sterling Lawyers a wise decision.
Strategically Guiding You Through Each Step
Navigating child custody cases involves several stages including an initial consultation, filing documents, negotiation, and potentially court proceedings. Sterling Lawyers' knowledge and understanding of legal cases enable them to guide their clients through the manifold stages. They provide strategic advice and advocate for their clients' best interests. The firm employs unique tactics to effectively navigate through family law cases, ensuring a higher likelihood of achieving a favorable resolution.
Take the First Step – Consult Our Team
Starting with the child custody process necessitates a consultation with a well-versed attorney. This consultation with Janesville child custody attorneys enables individuals to understand their rights and explore available options. Our lawyers are available to schedule a consultation and determine your eligibility. A consultation can empower individuals by providing them a clear understanding of their rights, available options, and probable outcomes. A consultation can help uncover legal complexities that require an attorney's knowledge and understanding. Early consultation helps prevent legal pitfalls, preserve evidence, and establish a strong foundation for a successful case.
Trust Sterling Lawyers for Your Child Custody Needs
Navigating a child custody case requires professional legal guidance. Our family law firm offers this guidance with our seasoned knowledge, personalized approach, ongoing support, and commitment to smooth proceedings. The complexities involved mandate a seasoned attorney by your side. Located in Rock County, Sterling Lawyers stands out as a trusted choice for representation in Janesville. They encourage prospective clients to reach out to them to discuss their individual cases and understand how their legal assistance can help achieve a positive outcome.
For Immediate help with your family law case or answering any questions please call (262) 221-8123 now!
Frequently Asked Questions
How does the court determine child custody arrangements in Janesville, Wisconsin?
Janesville child custody lawyers will explain that Wisconsin courts determine custody based on the "best interests of the child." Factors considered include the wishes of the parents, the child's relationship with each parent, each parent's ability to provide care, and the child's adjustment to home, school, and community. A Janesville child custody attorney can help gather evidence to demonstrate why a certain custody arrangement is in the child's best interests.
What types of child custody are available in Janesville?
Janesville child custody attorneys will explain the options, including sole legal custody (one parent has decision-making authority), joint legal custody (parents share decision-making), sole physical custody (child lives primarily with one parent), and joint physical custody (child splits time between both parents' homes). An experienced child custody lawyer in Janesville can advise which arrangement is likely to be approved by the court based on your case specifics.
How much will a child custody case cost in Janesville, WI?
A Janesville child custody attorney can provide an estimate of costs based on your unique circumstances. Factors include the level of contested issues, amount of preparation needed, and whether settlement is reached or trial required. A child custody lawyer in Janesville will clearly explain fee structures and can suggest cost-saving strategies. Reaching settlement earlier often reduces overall legal costs.