Janesville Spousal Support Attorneys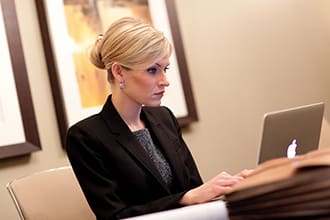 Join one of our experienced family law attorneys and learn about the divorce process, common issues, and participate in a Q and A session.
RSVP here.
Upcoming dates:
Tue, Dec 5 at 5:30pm
With
Attorney Mike Kyrios
Janesville Spousal Support Lawyers at Sterling Lawyers, LLC
Legal Options that Work for You
There are three basic separation paths depending on your situation. If you're not sure what to choose or are ready to take the next step, call to speak with an attorney for case-specific advice.
Uncontested
Help from the Pros for Simpler Cases
Starting at $2750
Best when you both agree on most separation issues
Get help preparing the paperwork
Ask question at legally complex points
Have peace of mind with your settlement
Mediated
Greater Level of Help for Amicable Situations
$3,500 - $6,500/couple
Most amicable process for long-term harmony
Neutral mediation attorney guides you from start to settlement
Reduce conflict by deciding on property division and custody matters together
Fraction of contested divorce costs
Contested
When You Need an Advocate in Your Corner
$499/mo - $100,000
Best for adversarial relationships
Necessary if abuse, substance abuse, or violence is present
Your personal negotiation and litigation team
Critical when trust is an Issue
Seeking alimony can stir up many overwhelming emotions and uncertainties. With your financial stability and quality of life at stake, having compassionate legal guidance to simplify this complex process is key. At Sterling Lawyers, our team of knowledgeable spousal maintenance attorneys in Janesville, Wisconsin is committed to supporting you through each step with care and compassion. With us as your advocate, we can minimize the hassles and relieve the stress, helping you move forward confidently.
Traversing Through Alimony in Janesville
Sterling Lawyers is regarded as a leading family law firm for spousal support representation in Janesville and throughout Rock County, Wisconsin. Each Janesville divorce lawyer focuses exclusively on family law matters and have successfully guided numerous clients through spousal maintenance cases over the years. We aim to make the process as efficient and seamless as possible, reducing delays so you can achieve a favorable resolution promptly. Our team works diligently to secure fair terms that reflect your needs and protect your best interests. With our attorneys' thoughtful guidance and compassion, you can feel at ease knowing your case is in the most capable hands.
Crafted Solutions for Your Unique Spousal Support Needs
Every case involves unique personal and financial circumstances. Sterling Lawyers understands this complexity. Our alimony lawyers take the time to understand the specifics of your situation in Janesville so we can provide tailored recommendations to address your needs. We offer fixed fee pricing, so you can benefit from high-quality legal representation without ever worrying about surprising legal bills piling up. Our responsive team listens attentively to your concerns, clearly explaining your options so you feel empowered to make informed decisions. Whether your case involves securing spousal maintenance or contesting unfair demands, we craft customized strategies designed to yield the best possible outcome.
Unraveling Complexity with Our Vast Family Law Experience
With decades of exclusive experience in family law matters, our alimony attorneys possess the skills and insight needed to efficiently handle the intricacies these cases entail. We are intimately familiar with Wisconsin's spousal maintenance laws and guiding clients through the process of negotiating fair agreements or litigating when necessary. Our team works to make this complicated process smooth and cost-effective for you. We have successfully represented many clients seeking or contesting alimony terms over the years throughout Janesville and Rock County. You can feel confident our extensive background provides us with the competence to effectively take on your case.
Efficiently Streamlining Your Family Law Case
We understand that drawn-out court battles over spousal support takes a major toll financially and emotionally. Our priority is to reduce unnecessary delays and disruptions by streamlining the legal process for our clients. Our spousal support attorneys aim to help you achieve a timely resolution that reflects your needs and desired outcome. We have the litigation experience to take your case to court if required, yet we also understand the value of efficient cooperative negotiations. Our comprehensive representation includes assistance with property division, child-related arrangements, and other aspects of divorce. By delivering a well-rounded approach, our lawyers can smoothly guide you to an optimal resolution.
Unwavering Legal Support Throughout Your Journey
Obtaining a spousal support order does not necessarily end our legal support. Over time, changes in circumstances may require revisiting your case and modifying the terms through proper legal channels. Sterling Lawyers provides ongoing family law representation to assist clients with these modifications seamlessly. Even after your case concludes, our lawyers remain available as a trusted resource to address any questions or concerns that emerge down the road and advise you of any pertinent legal changes. We also offer referrals to financial advisors, therapists, or other professionals to support you during this transition. At Sterling Lawyers, our commitment does not end when your immediate legal needs are resolved. We maintain relationships for the long term.
Choosing the Key Spousal Support Attorney for Your Success
Selecting the best lawyer to represent your interests is arguably one of the most crucial choices you can make. At Sterling Lawyers, our team has successfully handled numerous cases over many years serving Janesville and Rock County. Our focused family law experience provides clients with confidence, knowing their case is being handled by knowledgeable attorneys familiar with local judges and legal practices. As your advocate, we work passionately to protect your rights and secure fair terms, either obtaining or contesting spousal support depending on your circumstances. Having an attorney well-versed in family law guide you through the required legal steps and negotiations is truly invaluable. Let Sterling Lawyers leverage our knowledge to support your goals.
Understanding What to Expect in the Legal Process
The process begins with an initial consultation where we thoroughly evaluate your situation and options. If we determine pursuing spousal support is prudent, we begin gathering documentation and evidence to file a motion petitioning the court for a support order. Negotiations typically follow as we advocate for suitable terms on your behalf, and potentially reach a settlement agreement. However, if an agreement cannot be reached cooperatively, contested litigation may ensue requiring court appearances. Throughout this process, we keep you informed and provide strategic advice to help you make the best decisions. Our family law lawyers can guide you through each stage smoothly by leveraging our extensive experience successfully handling these intricate cases.
Your Initial Consultation for Informed Decision-Making
Consulting with a knowledgeable spousal support attorney is strongly advised to understand your rights and options. At an initial meeting, we can evaluate your eligibility under Wisconsin law based on factors like marriage length, income levels, and standard of living. Attempting to navigate this complex legal process without experienced legal counsel poses risks and could lead to unfavorable outcomes. Let us empower you with information so you can make informed choices. With our extensive background and familiarity with family law nuances, we can help you avoid pitfalls and build a strong case from the start.
Spousal support proceedings can be complicated, emotional affairs. But you do not need to endure this challenging process alone. The spousal support lawyers at Sterling Lawyers are here to support you with knowledge, guidance, and compassion every step of the way. Our personalized approach, extensive family law knowledge, commitment to efficiency, and ongoing support provide clients with the highest level of service. We understand the intricacies involved and can help simplify the process while advocating strategically on your behalf. To discuss your needs in Janesville, Wisconsin and explore how we can assist with your case, please contact our office today to schedule a consultation.
For Immediate help with your family law case or answering any questions please call (262) 221-8123 now!
Frequently Asked Questions
Can spousal support affect taxes in a Janesville, WI divorce?
Yes, spousal support payments are deductible for the paying spouse and considered taxable income for the recipient when filing annual tax returns. This often partially offsets the financial costs and tax burden of spousal support for both parties involved.
How long does spousal support typically last after a divorce in Janesville, WI?
There is no fixed duration for spousal support - it depends on the facts of each case. Support may be short-term, such as for a few years, intended to provide transitional assistance until the recipient can become self-sufficient after a long marriage. Or it may be a longer term if the recipient spouse is unable to fully support themselves due to age, health, or other factors. The court will determine a reasonable duration based on both spouses' situations and needs.
If I have primary child custody after divorce, how does that impact spousal support?
Having greater physical placement of minor children will likely result in a slight reduction in the amount of spousal support ordered, since the custodial parent has increased costs. However, child-related costs are also factored in, so receiving primary placement does not automatically preclude also getting spousal support in appropriate cases.