Janesville Collaborative Divorce Attorneys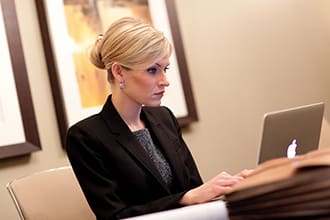 Join one of our experienced family law attorneys and learn about the divorce process, common issues, and participate in a Q and A session.
RSVP here.
Upcoming dates:
Tue, Dec 5 at 5:30pm
With
Attorney Mike Kyrios
Janesville Collaborative Divorce Lawyers at Sterling Lawyers, LLC
Legal Options that Work for You
There are three basic separation paths depending on your situation. If you're not sure what to choose or are ready to take the next step, call to speak with an attorney for case-specific advice.
Uncontested
Help from the Pros for Simpler Cases
Starting at $2750
Best when you both agree on most separation issues
Get help preparing the paperwork
Ask question at legally complex points
Have peace of mind with your settlement
Mediated
Greater Level of Help for Amicable Situations
$3,500 - $6,500/couple
Most amicable process for long-term harmony
Neutral mediation attorney guides you from start to settlement
Reduce conflict by deciding on property division and custody matters together
Fraction of contested divorce costs
Contested
When You Need an Advocate in Your Corner
$499/mo - $100,000
Best for adversarial relationships
Necessary if abuse, substance abuse, or violence is present
Your personal negotiation and litigation team
Critical when trust is an Issue
Going through a collaborative divorce can be an incredibly emotional journey filled with challenges and complex decisions. With so much at stake, including financial assets, child custody arrangements, and the overall wellbeing of your family, having an experienced attorney by your side to offer guidance and support through this difficult process is crucial. At Sterling Lawyers, our team of compassionate and knowledgeable attorneys in Janesville, Wisconsin is dedicated to helping you successfully navigate this critical time in the most streamlined and hassle-free manner possible. With our assistance through every step, we can relieve your stress, protect your best interests, and achieve an outcome that allows you to move forward on a positive note.
Navigating the Journey of Collaborative Divorce
We have developed a strong reputation for providing excellent legal representation for individuals going through collaborative divorce in Rock County. Each Janesville divorce lawyer at Sterling Lawyers focuses solely on family law matters, and have extensive experience handling the complexities of family law, including property division, child custody arrangements, spousal maintenance, and developing comprehensive settlement agreements. We are committed to minimizing disruptions and reducing conflict through respectful negotiations, always protecting the needs of any children involved. Our goal is to streamline this complicated process to make it as effortless and fast as possible for our clients. With our dedicated team guiding you through the legal process, you can feel confident knowing you have compassionate yet strong advocates on your side.
A Personalized Approach to Your Unique Needs
At Sterling Lawyers, we understand that every case is unique. That is why we take the time to understand the specifics of your situation so we can provide recommendations tailored to your needs. We offer transparent, fixed fee pricing, so you can receive cost-effective legal representation without worrying about surprise hourly charges adding up. Our collaborative divorce attorneys aim to reduce stress by being accessible and responsive as we guide you through the process. We know this is an emotional time, and our lawyers actively listen to your needs and concerns while providing sound legal counsel. Whether you require assistance with property division, spousal maintenance, child custody issues, or drafting settlement agreements, we craft customized legal strategies to address your specific circumstances.
Our Extensive and Focused Family Law Experience
With decades of combined experience practicing family law exclusively, our lawyers have the knowledge and skills to efficiently handle the intricacies involved in your divorce. We are intimately familiar with the collaborative law process, cooperative negotiation techniques, and the documentation required. Our team works diligently to make the process affordable and streamlined, so you can move forward with your life without getting bogged down in endless delays or excessive expenses. At Sterling Lawyers, we have successfully guided numerous clients through collaborative divorces in Janesville and surrounding Rock County communities. This extensive experience provides us with a higher level of competence and confidence when taking on new cases, giving our clients the assurance that their case is in the most capable hands.
Our Commitment to Seamless Proceedings
One of our top priorities at Sterling Lawyers is to reduce disruptions and maximize timely resolutions for our clients during family law proceedings. We know that drawn-out court battles can take a major toll, both emotionally and financially. Our collaborative divorce lawyers make it a priority to streamline the process for you, reducing unnecessary delays so you can achieve the outcome you desire in the shortest timeframe possible. We work diligently to foster an atmosphere of collaboration, guiding both parties toward solutions that reflect their wants and needs, not just court-imposed decisions. At the same time, we have the litigation experience and willingness to take your case to court if needed to protect your rights. By providing comprehensive family law representation, our attorneys deliver a well-rounded approach to smoothly resolving your case.
Continued Support Throughout Your Case
The family law process does not always end once the paperwork is filed, and agreements are made. Over the years, circumstances can change that lead to the need to revisit arrangements and modify terms of your divorce through the courts. Sterling Lawyers provides ongoing family law representation to guide clients through these modifications smoothly. Even after the case is finalized, we continue to be a resource, keeping clients informed if any legal changes occur that could impact their settlement agreement. Our collaborative divorce lawyers make themselves available to address any additional questions or concerns that may come up. We also offer referrals to financial advisors, therapists, or other professionals who can provide support through the transition. No matter where you are in your journey, our attorneys are here to offer reliable guidance.
The Cornerstone of Choosing a Lawyer
Selecting the right collaborative divorce attorney to represent you is arguably one of the most important choices you can make during this process. At Sterling Lawyers, our team has successfully handled many family law cases over the years. Our decades of focused experience with the ins and outs of family law in Janesville and Rock County provide clients with peace of mind that they have an advocate who is familiar with local courts and judges presiding over their case. As your representative, our priority is to protect your best interests and ensure fair property division and child custody arrangements, while promoting peaceful resolutions. Having a knowledgeable family law attorney on your side to offer strategic advice and guide you through the negotiations and legal requirements is truly invaluable. Let our Sterling Lawyers team support you with compassion throughout your case.
What to Expect During the Legal Process
The collaborative divorce process involves several main steps, starting with an initial consultation where we learn the details of your situation and provide advice on available options. If collaborative divorce is deemed suitable for your circumstances, we begin by filing the petition and other required documentation. With both parties committed to reaching a settlement agreement, we enter negotiations through a series of four-way meetings with you, your spouse, and your respective attorneys present. These constructive discussions continue until mutually agreeable terms are reached on all issues, including property division, child custody, and spousal maintenance. If needed, child or financial professionals may provide input to help inform negotiations. Once a comprehensive settlement agreement is completed, we file for dissolution with the court and the judge enters the final divorce decree. Throughout this process, we work closely together to navigate any challenges, advocating for solutions in your best interest.
Take Control of Your Case
If you are considering collaborative divorce, the first step is to schedule a consultation with an experienced lawyer. This initial meeting allows us to explore your situation in depth, advise you of your rights and options, and determine if you qualify for the collaborative process. Eligibility is dependent on you and your spouse's willingness to voluntarily disclose information and negotiate in good faith. Attempting to navigate a family law without sound legal guidance can be extremely risky and could lead to negative financial or familial outcomes. By educated yourself through a consultation, you will feel more empowered to make the best decisions for your family. There are nuances and complexities in family law that as seasoned attorneys, we can explain and help you avoid potential pitfalls. Do not go down this road alone. Allow our knowledgeable lawyers are here to support you from the very start, paving the way for a smooth process and favorable resolution.
You do not have to handle the challenging process of family law on your own. The collaborative divorce attorneys at Sterling Lawyers are here to provide the knowledge, guidance, and support you need to successfully navigate this journey in Rock County and Janesville, Wisconsin. From our tailored approach catered to your specific situation to our extensive experience handling family law matters with care, you can feel confident entrusting us with your case. We are committed to minimizing disruptions through constructive negotiations and maintaining open communication every step of the way. Even after your case is resolved, our lawyers continue to be a valuable resource for any questions or changes that may arise over time. If you are ready to move forward, contact our Janesville office today to schedule a consultation. We are ready to help facilitate agreements that protect your rights while laying the groundwork for an amicable new chapter ahead for you and your family.
For Immediate help with your family law case or answering any questions please call (262) 221-8123 now!
Frequently Asked Questions
What happens if a full settlement cannot be reached collaboratively in Janesville?
If needed agreements cannot be reached, both spouses would have to hire new litigation lawyers and proceed to court. All prior communications in the collaborative process remain confidential and inadmissible in litigation.
What are the main differences between collaborative divorce and traditional litigation if I was considering either option in Janesville, WI?
Collaborative divorce emphasizes cooperation and full disclosure between both spouses and lawyers. The Janesville collaborative divorce lawyers cannot go to court if the collaborative process fails, which motivates negotiated settlement. Litigation focuses on legal arguments and court determination of contested issues.
What types of divorce issues can be resolved through collaborative law in Janesville?
Most divorce matters like property division, child custody, support, and more can be negotiated collaboratively. But issues like domestic violence may still require litigation for safety. A collaborative lawyer can advise if collaboration is appropriate.