Janesville Military Divorce Attorneys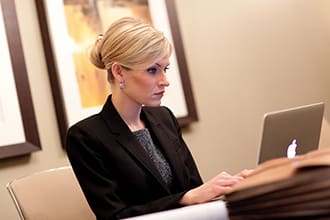 Join one of our experienced family law attorneys and learn about the divorce process, common issues, and participate in a Q and A session.
RSVP here.
Upcoming dates:
Tue, Dec 5 at 5:30pm
With
Attorney Mike Kyrios
Janesville Military Divorce Lawyers at Sterling Lawyers, LLC
Legal Options that Work for You
There are three basic separation paths depending on your situation. If you're not sure what to choose or are ready to take the next step, call to speak with an attorney for case-specific advice.
Uncontested
Help from the Pros for Simpler Cases
Starting at $2750
Best when you both agree on most separation issues
Get help preparing the paperwork
Ask question at legally complex points
Have peace of mind with your settlement
Mediated
Greater Level of Help for Amicable Situations
$3,500 - $6,500/couple
Most amicable process for long-term harmony
Neutral mediation attorney guides you from start to settlement
Reduce conflict by deciding on property division and custody matters together
Fraction of contested divorce costs
Contested
When You Need an Advocate in Your Corner
$499/mo - $100,000
Best for adversarial relationships
Necessary if abuse, substance abuse, or violence is present
Your personal negotiation and litigation team
Critical when trust is an Issue
A military divorce goes beyond the typical heartache and stress associated with the dissolution of a marriage, carrying its set of challenges. Amid the emotional turmoil, it's crucial to have Janesville divorce lawyers who can ease the process, making it streamlined and hassle-free. Legal guidance plays a critical role during this time, especially in managing the added complexities of family law. Navigating these intricacies with experienced individuals can alleviate undue stress and hardship, allowing you to concentrate on healing and rebuilding.
Janesville's Trusted Military Divorce Attorneys
In Janesville, Sterling Lawyers has a reputation for offering unique and comprehensive services for individuals seeking representation in military divorce cases. The dedicated team of seasoned attorneys is committed to extracting clients from stress and delivering favorable results. The goal is to guide their clients through the complex path rapidly and efficiently, ensuring clients' best interests remain the primary focus. Their knowledge in this specific area distinguishes them from other law firms in the city. Sterling Lawyers diligently provides personalized attention to each client, enhancing the client-attorney experience and bringing peace of mind throughout the process.
Personalized Approach to Family Law
Understanding your unique military divorce needs in Janesville is crucial to navigating the legal landscape. At Sterling Lawyers, time is dedicated to comprehending each client's specific needs and tailoring services on this basis. They dig deep into the unique aspects of your case and provide clear quotes, modifying their services to meet individual requirements. Their fixed fee pricing structure offers cost-effectiveness and eliminates unpleasant surprises, often linked with hourly billing. The profound benefits of having inclusive, high-quality representation without apprehension over rising costs are apparent. Collaborating with a law firm offering a personalized approach increases client satisfaction and betters the chance for a beneficial outcome.
Extensive Family Law Experience
Sterling Lawyers has a history of serving clients with high standards, reflecting their extended experience in the field. The firm's attorneys hold a deep understanding of the military divorce process, committing to making it affordable and swift for their clients. This ensures necessary support is provided without causing undue delays or financial stress. Their practice in the field translates into a higher level of assurance and skill in managing family law matters, reassuring clients of capable handling of their cases.
Sterling Lawyers' Commitment to Smooth Proceedings
A legal matter, particularly a military divorce, can be disruptive, to say the least. Sterling Lawyers works diligently to minimize these interferences while maximizing resolution during family law procedures. They aim to streamline the process, unraveling complexities and accelerating the path to resolution. By handling different aspects of proceedings such as child custody, asset division, and alimony, they provide a comprehensive approach to legal cases. The firm is committed to a clear resolution that mirrors the decisions of both parties, promoting collaboration and reducing unnecessary disputes.
Ongoing Support through the Journey
Military divorce involves several considerations, such as children's wellbeing, financial implications, and emotional stability, among others. The changing circumstances may necessitate revisiting and adapting existing arrangements. Janesville military divorce attorneys at Sterling Lawyers stand ready to guide you through these modifications, providing ongoing support. This level of service extends the initial consultation and direct legal representation. Sterling Lawyers ensures clients are well informed about the progress of their cases, maintaining clear communication channels and frequent updates. The firm supports its clients with additional resources, such as access to legal research materials and educational workshops, maintaining a long-term relationship even after the immediate needs are addressed.
The Cornerstone of Choosing an Attorney
There is nothing more beneficial than having an attorney with an impressive track record and handling similar cases to yours. Experience and a proven track record become vital when selecting an attorney. Sterling Lawyers offers this to their clients, ensuring peace of mind during the entire process. Arguably, the focus of a military divorce is to protect the interests of the children, ensure fair distribution of assets, and promote peaceful resolutions. An attorney with in-depth knowledge of family law, familiarity with local courts and judges, and negotiating and litigation experience becomes an invaluable asset. An attorney's role is to act as a strong advocate for their client, guiding them through the legal process, and providing advice every step of the way.
Navigating the Path to Resolution
Understanding the process of family law can be daunting. It involves initial consultation, document filing, negotiation, and potentially court procedures. Each stage carries its level of complexity and challenges, compounded by legal ground rules and dealing with the other party. Our attorneys offer strategic advice and stand up for the best interests of their clients. The firm employs unique strategies to effectively deal with military divorce cases, improving the chances of achieving an advantageous resolution.
Why a Consultation is Crucial
When considering guidance with family law, a consultation with an attorney becomes a matter of utmost importance. This helps evaluate your situation, understand your rights, and explore available options. Sterling Lawyers stand available, ready to schedule a consultation, and determine your eligibility. Not seeking legal advice when dealing with family law can be a risky affair with serious implications. A consultation with Sterling Lawyers can empower you, providing clarity on your rights, available options, and potential outcomes. Early consultation becomes a key factor in preventing legal hiccups, preserving evidence, and setting a strong base for a successful case.
Military divorce, with its distinct set of challenges, can be a stressful process. Yet, having legal assistance from knowledgeable attorneys, such as those at Sterling Lawyers, can alleviate much of the related anxiety. Their personalized approach, extensive experience, commitment to smoothen out the process, and unwavering support reassures clients in their quest for achieving favorable outcomes. Their dedication to tailoring solutions to individual requirements and easing the difficult process sets them apart as a trusted choice for representation in Janesville, Wisconsin. We encourage you to take the next step and contact Sterling Lawyers to better understand your individual case, your goals, and how they can help you attain the desired outcome. Don't hesitate to reach out to Sterling Lawyers for a detailed consultation, your first step towards successfully navigating your case.
For Immediate help with your family law case or answering any questions please call (262) 221-8123 now!
Frequently Asked Questions
Will I lose my military benefits if I get divorced?
Getting divorced does not automatically mean you lose your military health insurance, commissary access or other benefits. However, an ex-spouse cannot remain a military dependent for benefits purposes. They may qualify for transitional Tricare coverage for a limited time. The military pension you earned during marriage is generally considered divisible marital property.
What if my spouse and I are stationed in different states? Where should I file for divorce?
Under the Servicemembers Civil Relief Act, you can file for divorce in the state where you maintain your permanent home state of record, where you are domiciled, or where the military spouse is stationed. Since you are stationed apart, factors like jurisdiction over any children, location of marital property, and state laws will help determine the best venue.
If I get divorced, can I keep living in military housing?
If you have dependent children, you may be able to remain in family military housing for up to one year after a divorce. However, for a member without kids, you will likely have 30 days to move out of military housing once the divorce is finalized. It is important to consider your housing options during this turbulent time.