Chicago Paternity Attorneys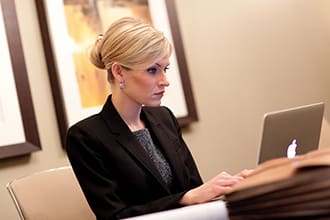 Join one of our experienced family law attorneys and learn about the divorce process, common issues, and participate in a Q and A session.
RSVP here.
Upcoming dates:
Chicago Paternity Lawyers at Sterling Hughes, LLC
Are you ready to move forward? Call (312) 757-8082 to schedule a strategy session with one of our attorneys.
Understanding your paternity rights can be an overwhelming experience, filled with emotional turmoil and legal complexities. Sterling Hughes, a well-regarded law firm based in Chicago, Illinois, is adept at guiding individuals through this intricate process. Each Chicago family law attorney brings a wealth of knowledge to the table, making the process more manageable and less strenuous for clients. The well-versed lawyers walk you through each step, offering reassurances and advocating your rights.
Charting the Delicate Path of Paternity
Sterling Hughes stands out as a trusted choice among clients seeking representation. Their seasoned team of lawyers is deeply committed to alleviating clients' stress and securing favorable outcomes. The team's primary aim is to navigate you through this complex legal landscape swiftly, safeguarding your best interests. Their profound understanding of this legal territory sets them apart from other law firms in the city. They pride themselves on offering meticulous attention to each client's case, enhancing the overall experience of their clientele.
Unique Circumstances Require Unique Solutions
We understand the intricacies of your unique paternity requirements. By taking the time to understand clients' specific needs, the firm is able to tailor its services accordingly. We provide transparent quotes that reflect your unique situation, eliminating surprises associated with hourly billing. Clients can enjoy peace of mind knowing they will receive comprehensive, high-quality legal representation without hidden costs. Let us put our personalized approach to work for you, leading to increased satisfaction and optimal outcomes.
Unrivaled Understanding in Family Law
With a track record of successfully serving clients in Chicago, Sterling Hughes boasts an impressive repertoire of handling complex cases. Their attorneys have a nuanced understanding of family law that instills confidence in clients. The firm is committed to making the process affordable and efficient, ensuring their clients receive much-needed support without unnecessary delays or financial burden. The firm's extensive experience translates into competence and confidence when handling sensitive paternity matters, reassuring clients they are in capable hands.
Placing a Focus on Your Resolution
We are committed to minimizing disruption and streamlining the legal process for their clients during sensitive family law proceedings. We want to make the process effortless and fast, ensuring minimal disruption and a timely resolution. Our lawyers are adept at tackling legal proceedings from property division and child custody to alimony, providing a well-rounded approach to family law cases. The firm strives to achieve a clear resolution that reflects both parties' wishes, fostering collaboration and reducing conflict.
The Comprehensive Support of Sterling Hughes
Steering through paternity concerns requires the careful consideration of multiple elements such as child welfare, financial consequences, and emotional health. Sterling Hughes stands prepared to shepherd clients through these changes while offering sustained support, as situations tend to shift with time. The firm's promise endures beyond the preliminary consultation and legal presentation, consistently keeping clients filled in on the course of their family law pursuits. We also provide additional  resources – from legal research documents, instructional seminars and more, reinforcing our commitment to enduring client partnerships.
The Backbone of a Successful Case
Opting for a law firm that boasts a wealth of experience in dealing with cases similar to yours becomes pivotal. The established success history of Sterling Hughes imparts trust and assurance to clients throughout the legal journey. The firm's accomplished lawyers are deeply committed to upholding the well-being of children, safeguarding equitable asset distribution, and encouraging amicable settlements. Connecting with an attorney who possesses intimate knowledge of local courts, judges, and has a strong background in negotiation and litigation could substantially influence the result of your case.
A Guide to Family Law Success
The path to resolution in paternity cases involves a series of steps including initial consultation, filing necessary documents, negotiation and potentially court proceedings. Our seasoned attorneys can guide clients through each stage, providing strategic advice and advocating for their best interests. Despite the common challenges or complexities that can arise during legal proceedings, we utilize proven strategies to effectively navigate cases, increasing the likelihood of achieving a favorable resolution.
Your Trusted Ally Through the Intricacies of Paternity Law
It is crucial to obtain quality legal assistance when dealing with paternity matters given the complexities involved. Initiating the legal process requires consulting with an attorney who can evaluate your situation, helping you understand your rights and explore available options. Not seeking legal advice when dealing with family law matters can lead to potential risks and implications. A consultation with a dedicated attorney can empower individuals by providing them with a clear understanding of their rights, options and potential outcomes. Reach out today to discuss your individual case and learn more about how we can assist you in achieving a positive outcome in your legal matter.
For Immediate help with your family law case or answering any questions please call (312) 757-8082 now!
Frequently Asked Questions
In Chicago IL, can paternity still be established if my child's father is unwilling to cooperate?
Yes, paternity can still be established in Chicago even if the alleged father is unwilling to cooperate. The court can order genetic testing without his consent to determine biological paternity. If testing confirms he is the father, the court can enter orders for custody, child support and other matters over the father's objections. An experienced attorney can obtain court orders to compel testing and establish parental rights.
Who can initiate a paternity action in Chicago?
In Chicago, either the mother, alleged father, or child (through a representative) can initiate a paternity court action. The mother most often files a Petition to Establish Paternity to determine the child's legal and biological father. But if unsure, the alleged father may file a case requesting testing to confirm parentage. Once the child is an adult, they can also file to establish paternal rights and obligations.
Can I request child support retroactively once paternity is established in Chicago?
Yes, once paternity is legally established in Chicago, the court can order child support retroactive to the date of the child's birth. So even though paternity was uncertain before, the father can be responsible for past support once confirmed. Seeking back support is time limited, so it is important to establish paternity sooner rather than later.