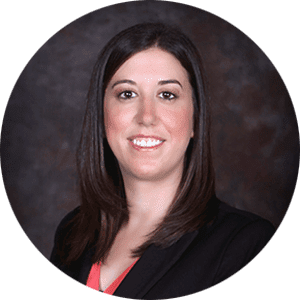 Practice Areas:
Divorce, Child Custody, Collaborative Law, Mediation
Primary Location:
Schaumburg, IL
Experience:
Licensed Since 2011
Average Client Rating for
Katie VanDeusen

About Katie VanDeusen
(also known as Katie C. VanDeusen, Katie Colleen VanDeusen, Katie C. Galanes, Katie Colleen Galanes)
Katie knows divorce isn't easy. Where many shut themselves off to their client's emotional state, Katie chooses to fully engage instead.
"I understand that these are very difficult times, so I try to come up with a plan to help you move forward with the next step in your life in the most amicable way possible. I try to be a listener and take into account peoples' goals and concerns as it relates to their particular case." – Attorney Katie VanDeusen
Her empathy and compassionate style makes her a fierce and effective presence in the courtroom. Every day, Katie uses her unique perspective and strong work ethic to provide a fresh perspective for her clients.
No matter what brings you to her office, you can always expect patient guidance and thoughtful advice throughout the process. But in addition, Katie will take guidance from you: her client's goals and concerns shape how she approaches each case.
She's happy to provide helpful advice, both legally and confidentially. With Katie, you always know she's looking out for your best interests.
No family law issue is too challenging – attorney Katie VanDeusen is skilled in handling divorce, child support, paternity, resolution of parenting responsibilities, asset evaluations, and any other problem you might run into. Additionally, she is adept at handling post-decree issues such as college contributions or modifications to existing support.
Detail-oriented and passionate, no stone will be left unturned when Katie is on your side. Whether you're facing a divorce for the first time, or need help enforcing orders you'll be in good hands.
Are you ready to move forward? Call (312) 757-8082 to schedule a strategy session with one of our attorneys.
In 2008, Katie graduated from the University of Illinois, Urbana-Champaign before going to law school. She earned her Juris Doctor from The John Marshall Law School, graduating cum laude in 2011. While in law school, her interest in family law was sparked when she served as a judicial intern in the Domestic Relations Division of the Circuit Court of Cook County. Even before graduating, she became very familiar with the difficult issues people face and was determined to make it her area of practice.
An active member of the community, Katie knows the western suburbs well and grew up in Wheaton, Illinois.
Outside of work, Katie enjoys spending her free time relaxing and having fun with family and friends. She also loves running and staying active, completing her first half marathon in 2015.