Chicago Divorce Mediation Attorneys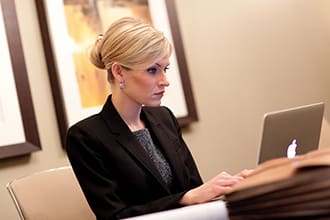 Join one of our experienced family law attorneys and learn about the divorce process, common issues, and participate in a Q and A session.
RSVP here.
Upcoming dates:
Chicago Divorce Mediation Lawyers at Sterling Hughes, LLC
Are you ready to move forward? Call (312) 757-8082 to schedule a strategy session with one of our attorneys.
Understanding divorce mediation's intricate complexities and emotional undercurrents can feel overwhelming. This process, paramount in any legal case, often necessitates navigating a sea of emotional turmoil and legal intricacies. We believe in a tailored approach, ensuring every step taken in this journey is handled delicately. By bringing in the assistance of a skilled Chicago divorce attorney, the tension subsides, and a clearer path emerges.
Chicago's Reliable Attorneys for Divorce Mediation
Sterling Hughes has been providing holistic legal assistance to those navigating the path of family law. Their dedicated team of seasoned lawyers upholds a reputation of professionalism and compassion, ensuring their client's best interests remain at heart. They excel in making an otherwise lengthy process as simple and straightforward as possible. Their team is the leading choice due to their track record of successfully navigating numerous family law cases.
Personalized Legal Services
Understanding the uniqueness of every case, we provide a personalized approach to your legal needs. The firm takes the time to understand each individual's unique situation, providing transparent quotes and tailoring services to meet each client's requirements. One of their distinctive features is their fixed fee pricing structure which eliminates the fear of unexpected costs. Therefore, you receive comprehensive yet cost-effective legal representation, contributing to increased client satisfaction and better outcomes.
Bringing Extensive Experience to Family Law
Sterling Hughes has demonstrated an extended history of serving clients successfully, built upon their deep understanding of the legal process. With a focus on streamlining the legal process, they help their clients get the support they need, without unnecessary delays or financial strain. The firm's vast experience translates into confidence when managing family law matters, reassuring clients that their cases are in capable hands.
Committed to Providing a Simple Process
We are committed to minimizing disruptions during legal proceedings, striving to make the divorce process as effortless and fast as possible. This minimizes disruptions to clients' lives and emphasizes a timely resolution in cases. our divorce mediation attorneys are adept at handling legal proceedings such as property division, child custody and support, and alimony. They foster a collaborative environment ensuring both parties' decisions are clearly reflected, reducing conflict.
Comprehensive Support through the Mediation Journey
A plethora of factors are to be considered when going through conflicts in family law, such as the impact on children, financial implications, and emotional well-being. Recognizing that circumstances can change over time, we offer modification services to adapt existing arrangements. Our lawyers provide ongoing support through these modifications. They maintain clear communication channels and provide regular updates, further ensuring client satisfaction even after the immediate needs have been resolved.
The Significance of Choosing an Experienced Attorney
Working with an attorney who has handled similar cases with success is crucial for a favorable outcome. Sterling Hughes has been endorsed by many clients for their professionalism and mastery in family law, instilling confidence in clients during the complex process of family law. Protecting the best interests of children, ensuring fair distribution of assets, and promoting peaceful resolutions is their prime focus.
Understanding the Mediation Process
The process of divorce mediation includes an initial consultation, filing documents, negotiation, and potentially court proceedings. We guide clients through each stage, providing strategic advice and advocating for their best interests. We employ unique strategies that navigate cases effectively, ensuring a higher likelihood of achieving a favorable resolution.
The Importance of Consulting an Attorney
Starting divorce mediation requires an understanding of your rights and available options. We encourage individuals to consult with one of their attorneys to assess their situation. Seeking advice from a divorce mediation attorney can empower individuals by providing clarity regarding their rights, options, and potential outcomes. Failing to seek such advice could lead to legal pitfalls and undesirable outcomes. Therefore, an early consultation is beneficial to prevent any such circumstances.
For Immediate help with your family law case or answering any questions please call (312) 757-8082 now!
Frequently Asked Questions
Can mediation help reduce conflict when children are involved in a Chicago divorce?
Yes, mediation can help reduce conflict when children are involved in a Chicago divorce by focusing parents on developing an amicable co-parenting plan. The mediator facilitates agreement on issues like custody schedules, decision-making, and minimizing disruption for kids. Positive communication techniques and the child's best interests are emphasized. This promotes peaceful resolution and joint parenting going forward.
How can mediation balances power differences between spouses in a Chicago divorce?
In a Chicago divorce mediation, power imbalances between spouses can be balanced by the mediator ensuring both participants have a voice and equal input into decisions. Shutting down bullying, asking open-ended questions, and drawing out the less assertive spouse helps give control to both sides. A mediator should remain neutral and keep communication productive, rather than allowing either party to drive negotiations.
Can mediation help resolve divorce disputes over business ownership in Chicago?
Mediation can be very helpful for resolving complex divorce disputes involving jointly owned businesses in Chicago. A mediator experienced in valuing, dividing or selling companies can guide productive negotiations on separating shared business assets and interests fairly. Creative solutions taking tax impacts or continuity needs into account are explored, with mediation allowing more flexibility than court rulings.