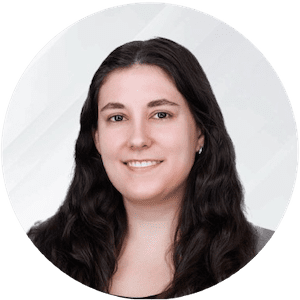 Practice Areas:
Divorce, Child Custody, Child Support
Primary Location:
Naperville, IL
Experience:
Licensed Since 2022
Average Client Rating for
Ryan Shope

Attorney Ryan Shope is a doer, meaning she gets things done and always finds a way to accomplish her goals. From a young age she knew she wanted to be an attorney. She didn't have any family members who were attorneys to look to for help. Instead, she forged her own path. That is why, to this day, the day she graduated from law school is one of the proudest moments in her life.
As a child, she not only knew she wanted to be an attorney, but she even knew she wanted to pursue family law. Her parents went through a divorce when she was a kid, so she saw up close how difficult it is to go through these cases. As the child in the case, she felt the difficulty in coping with change, and she saw that it was just as difficult for her parents. Now, with the skills she has, her goal is to help people move through their divorces as seamlessly as possible and find their best possible outcome.
Now that she's been practicing as an attorney, she has seen her goal come to fruition. Ryan not only advocates for her client's needs, but she also empowers them with her knowledge and shows them that they have authority over their lives. She believes that too many attorneys just take their client's money and push them through their case. Ryan knows there is a better option. She meets her clients with empathy and walks alongside them through their case.
The time going through a divorce or custody case is often one of the hardest things a person goes through. People come into these cases feeling emotional, angry, and hopeless. Ryan looks to understand her client's needs, shows them the path forward, and walks it with them. Every time a client thanks her for her work, she knows she chose the right path in life.
Are you ready to move forward? Call (312) 757-8082 to schedule a strategy session with one of our attorneys.
One key moment in her life that solidified her desire to help people was working for the Cook County State Attorney's Office while in college. She worked for victims of crimes and advocated for their needs. They were coming from extremely difficult situations and seeing the impact she could have on others has stuck with her.
When Ryan isn't hard at work, she likes to spend her time doing other things she finds rewarding. That might be playing tennis with friends or traveling to see new places, or it could be taking time off to watch a movie on the couch with her cat.
Ryan understands that rest is important for someone to be able to succeed in life. That's one of the reasons she loves her job because her efforts allow her clients to have some moments of needed rest while they walk their new path in life.